Splitting PDF online is easier than some users might think. This skill is necessary for full-fledged work with PDF documents. Separate PDF files if you don't need extra pages of a file to work on later. Work online, as this method is available on any operating system. Therefore, it can be accessed very easily and quickly. In this article, we will tell you about the best online PDF splitters where anyone can split PDF pages and delete pages without much effort.
1. PDF Candy - PDF splitter, editor, converter and so much more
PDF Candy is a powerful service to split PDF files online. You can do that in one of the 4 available modes: split into single-page files, split by page ranges, merge pages, and delete pages. Adding files is intuitively simple, either by clicking a button or using drag & drop. Integration with Google Drive and Dropbox is supported.
The selection of pages is very intuitive - click on a page's thumbnail or type in the page number. Press "Select all pages" and "Deselect all pages" to split PDF online in a couple of clicks. To separate PDF pages without errors, you can press the magnifying glass icon to preview pages. If something goes wrong user can always reset progress with the "Start over" option.
After splitting the PDF file, you can save all the resulting pages as an archive or save an individual page manually. In addition, you can create a link for the file, which will be available for 7 days.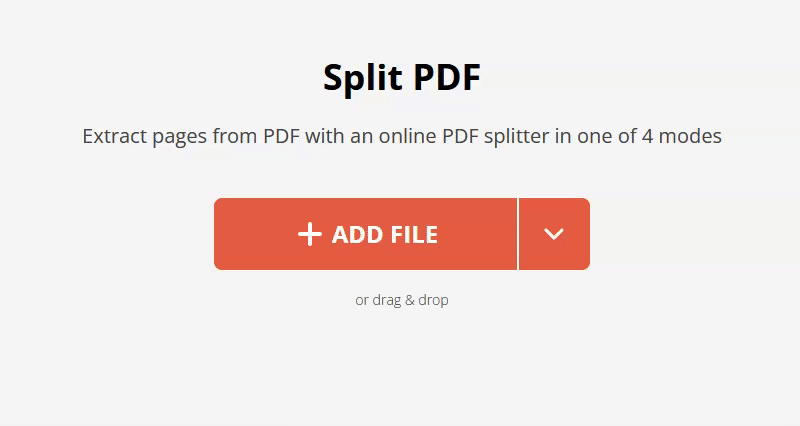 Advantages
4 modes of splitting PDF pages;
Online PDF splitter is available in multiple languages;
After document splitting, the user can save certain pages of PDF;
Additional tools for working with PDF documents. PDF Candy offers a full-featured online PDF editor.
2. PDF24 Tools - split PDF online in a bulk
PDF24 Tools helps you to split PDF format files online easily. The service allows you to work with quite unique modes, such as halve pages, even/odd pages, and pages per PDF modes. To select pages manually you need to choose Custom mode. Also noteworthy is the ability to split multiple documents at the same time.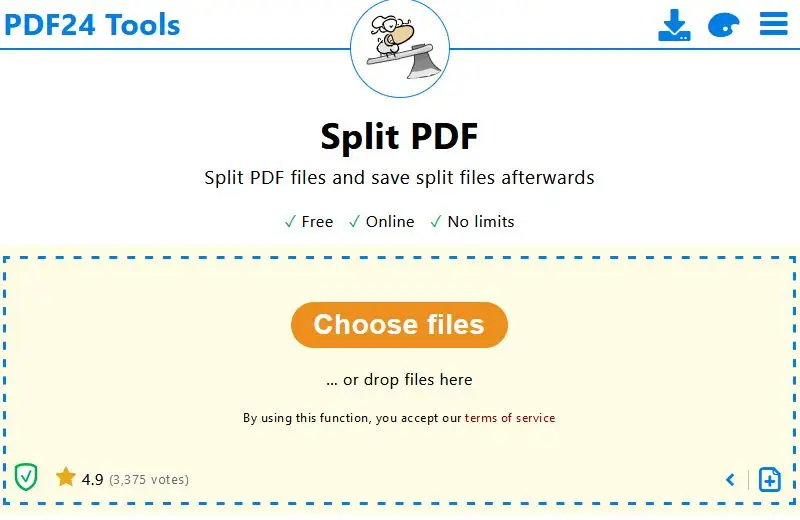 Advantages
Handy splitting PDF modes of extracting pages;
Free online PDF splitter with no hidden premium features;
Processing of several files at once;
Send files by email right after you split PDF.
Disadvantages
3. Sejda - website for splitting PDF online without hassle
Sejda splits PDF documents using a range of free and subscription tools. Free set includes extraction of every page into PDF, visual selection of pages, split of every X page, and choice of every even page. Handling of PDF splitter is basically intuitive, you can adjust thumbnail size using the slider in the upper right corner of the workspace. Additional options like customizing the result names are available.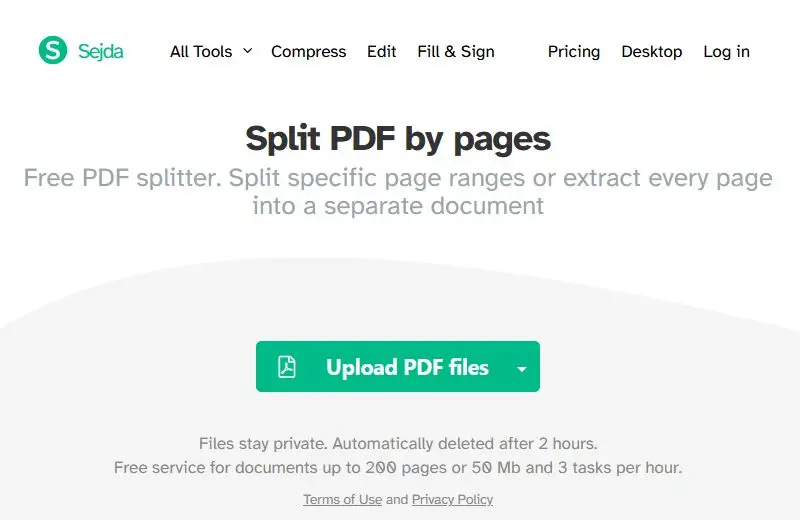 Advantages
Possible to customize result names;
Split PDF without activation of a premium account or PRO version;
The files can be shared by the link.
Disadvantages
Online PDF splitter that offers a standard set of tools;
Split every even page mode does not work correctly.
4. Adobe Acrobat DC - split PDF online using the most popular service
Adobe Acrobat DC is the complex PDF editing that allows users to separate PDF files into multiple PDFs. However, it is possible to divide PDF into parts only if you use the free version. With Adobe, you can split a PDF file according to the number of pages, maximum file size, or top-level bookmarks.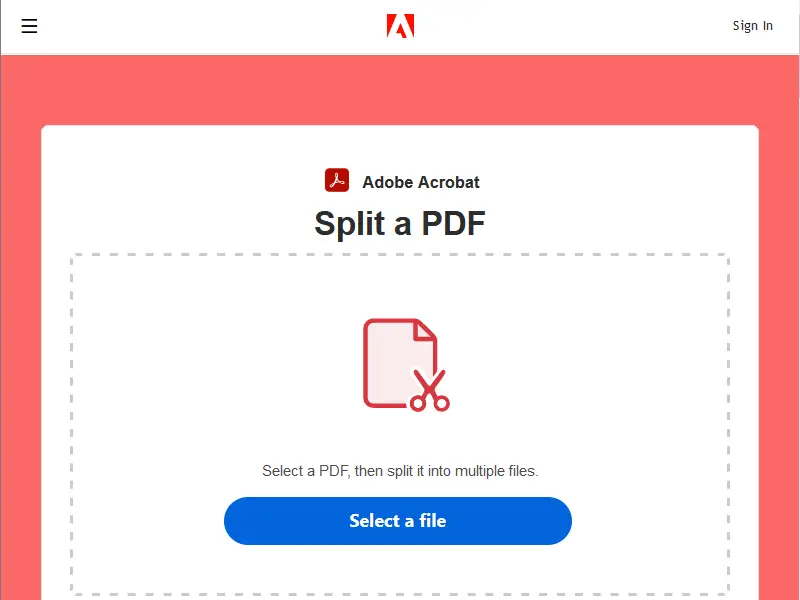 Advantages
A wide range of splitting PDF modes;
Create and synchronize backups to access data from different devices;
PDF splitter with an error-checking system.
Disadvantages
To split PDF in an advanced mode you have to go PRO;
Registration on a cloud resource and entering personal data is required.
5. Smallpdf - divide PDF online in a minute
Smallpdf is a rather popular service for processing PDF files. The "Split PDF" tool lets you extract pages by selecting one page at a time manually. Or simply press "Shift" to select multiple pages at once. By entering page numbers, you can specify a range to split PDF pages accordingly. To split each page and get multiple PDF files, you have to purchase the PRO version.
Advantages
Divide multiple PDF pages at once;
Preview the document before downloading;
Files are completely deleted from the servers after one hour of uploading.
Disadvantages
You need a PRO account to split PDF into multiple parts or to change the name of the resulting document;
The free version is good enough only for rapid PDF splitting tasks.
6. PDF2GO - separate PDF file in a few steps
With PDF2GO, you can split any PDF document no matter the length or file size into sheets. When uploaded, the file is divided into separate PDF pages, and it is up to the user which pages to save, and which to delete. Sorting in ascending and descending order can simplify the task. Such modes as split selected pages, split into equal parts, and split every few pages are available. The magnifying glass icon at the downloading stage supports viewing the metadata and structure of the document.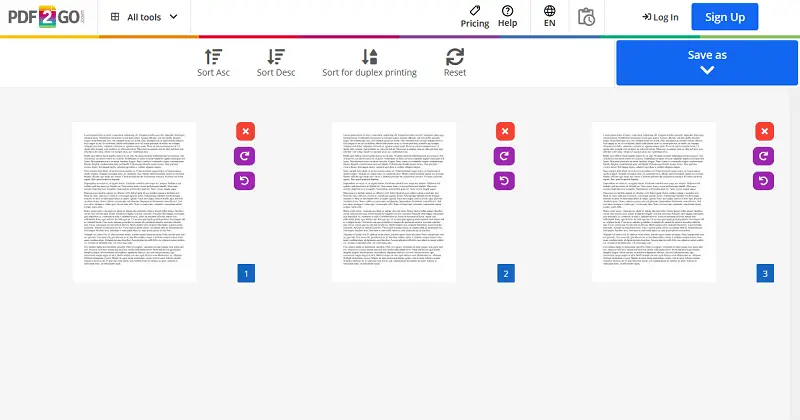 Advantages
Score bar visualizing the process of uploading;
The Reset button enables you to undo the entire process;
QR-code can be used to send the result file to other person;
Downloading stage has a variety of actions with processed files;
PDF splitter has an "Add File Example" button used for checking the functionality of the tool.
Disadvantages
Only manual mode is provided for splitting PDF;
Advertisement block.
7. 123apps - online PDF splitting for beginners
123apps is a simple PDF page splitter for separating pages. To start working with the file download it and then follow the instruction on the monitor. The application is perfect for plain tasks with small documents.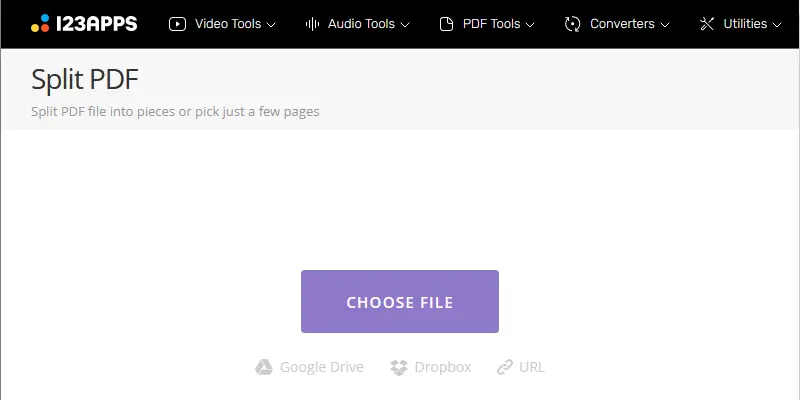 Advantages
Every selected page of PDF can be saved as a separate PDF file;
Possibility to insert Web Address (URL) to upload the file.
Disadvantages
The online PDF splitter has problems with splitting large PDFs;
After pressing the "Select all button" the rotation and multiple page selection functions don't work;
Banner advertising at the top of the page.
8. iLovePDF – PDF splitter for online usage
iLovePDF is a web-based PDF separator that helps you divide PDF files in just a few clicks. The app is incredibly simple to use. Uploading your PDF file and indicating the pages you desire to separate is required. You can split single pages, multiple pages, merge PDF pages, or even all of them at once. The final step is clicking the "Split" button.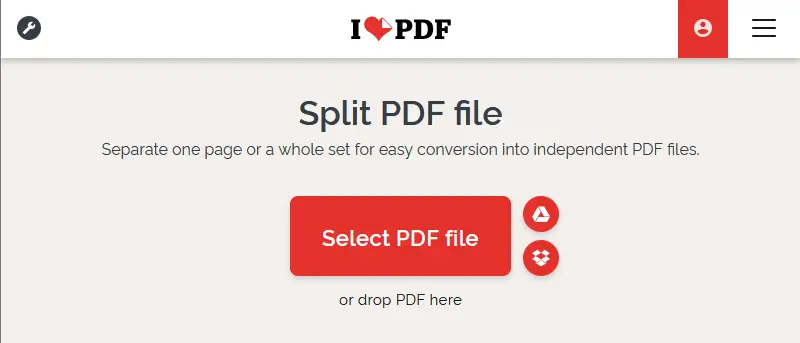 Advantages
Advanced options for customizing your files;
Supports multiple languages;
Add files for document splitting through Dropbox or Google Drive.
Disadvantages
Lots of advertising;
No batch splitting.
9. Soda PDF - web-based PDF breaker service
Using Soda PDF as a PDF splitter is easy. All you need to do is upload the PDF document you intend to split, choose the pages to keep or delete, and hit the "Split" button. The tool will split the document into multiple documents according to your chosen settings. It is the optimal choice for businesses and professionals in search of a productive way to handle their documents online.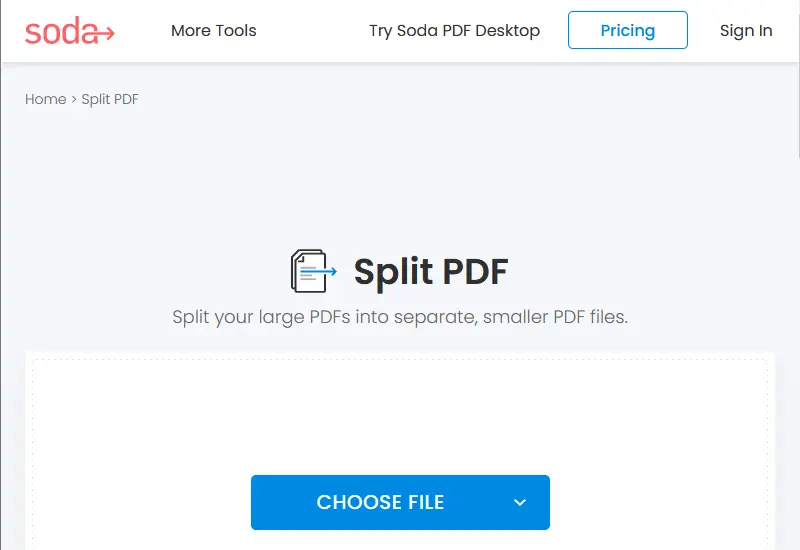 Advantages
Neat interface allows for rapid upload and splitting of PDF files;
Division of PDFs is automated.
Disadvantages
No customization;
No possibility of multiple files processing;
May not be compatible with newer operating systems.
10. PDFChef – split PDF into pages online
PDFChef provides an online service that facilitates the division of PDF documents into smaller parts. It's perfect for when you need to divide large PDFs into more convenient sizes. The interface is a breeze to operate. You can upload your file and then specify the number of pages you wish to split PDF documents into.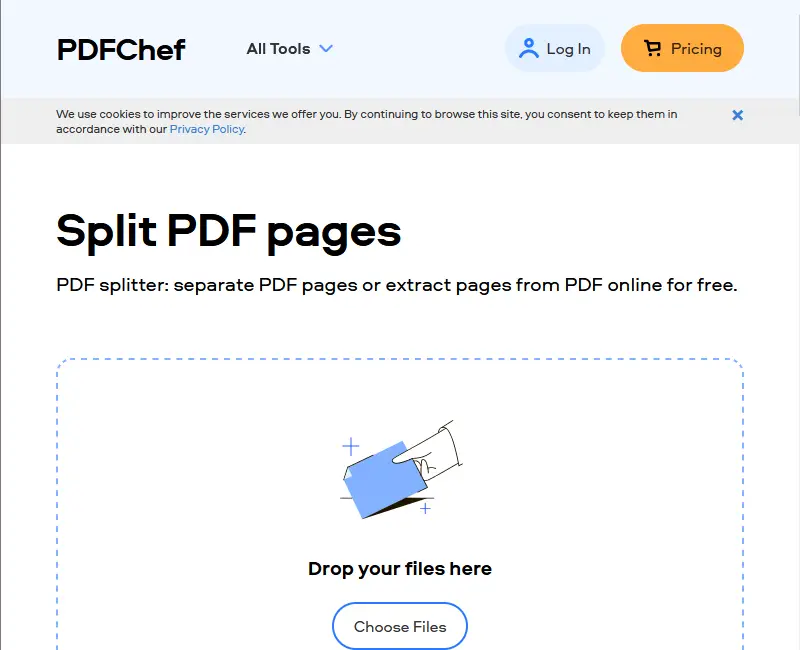 Advantages
Supports processing of numerous files at a time;
Fast PDF cutter;
Presence of basic PDF editing tools.
Disadvantages
No splitting modes;
Can only handle files up to 50 MB in size.
11. Xodo – efficient PDF page splitter
Xodo serves as a powerful online tool for document splitting. It is easy to use and requires no installation. All that is necessary is to load your PDF file, identify the PDF pages to be extracted, and click "Split". Overall, Xodo Splitter is an ideal solution for those looking to quickly and easily split their PDFs online.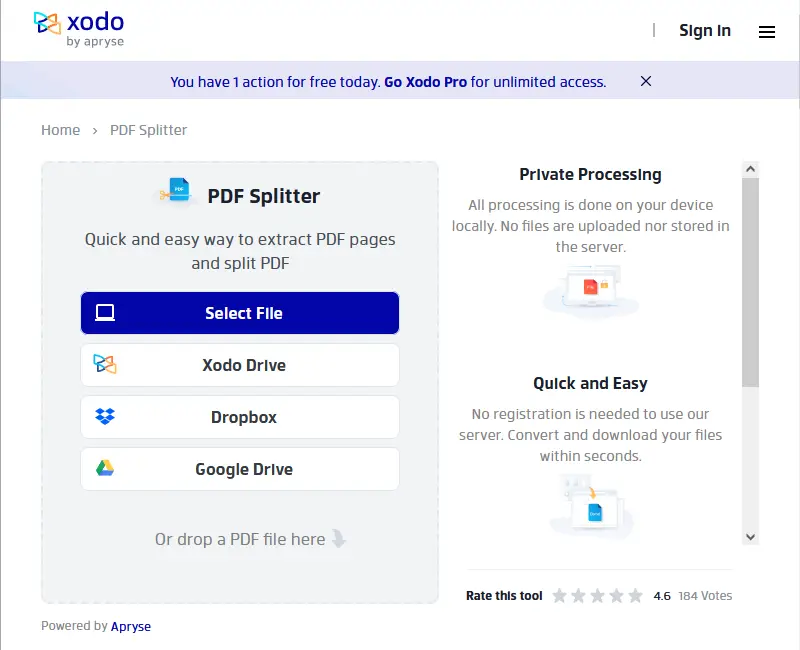 Advantages
Online PDF splitter has its own cloud storage;
In-built rotation feature;
Straightforward guide.
Disadvantages
Only 1 free action per day;
User can split PDF into multiple files only in Pro version;
Long uploading time.
Reasons to Separate PDF Pages
With the rise of digital documents and forms, PDFs are increasingly common. Separating a PDF can be an effective method of arranging the documents and facilitating access to certain information. Here are some reasons why you might want to split a PDF:
Separate confidential information from public documents by means of PDF breaker.
You have multiple documents requiring to be merged into a single document.
You want to extract certain pages from a larger document.
You have a large document that ought to be broken up into smaller sections for easier viewing.
You have an outdated document that needs to be updated with new information.
You desire to send different parts of the same document separately.
Remove PDF pages or images from a PDF file with PDF separator.
Splitting a PDF can save you time and effort, while also allowing you to maintain control over your documents and keep them organized. Utilizing online PDF splitter is an easy and efficient way to get the job done quickly and accurately.
Summary on Ways to Split PDF Online
When choosing an online PDF splitter, it is worth considering your qualifications, the functionality of the service, and the complexity of the work performed. If your duties include constant work with PDF format documents, it is better to opt for a versatile product that can perform various tasks like PDF Candy.
More easy-to-use PDF tools