Part of the popularity of PDF documents is due to the fact that these files are difficult to edit. This means that if you send a PDF, you don't have to worry about someone accidentally changing the document.
However, there are times when a PDF file is too large, so knowing how to separate PDF pages into multiple pages would be ideal. In the past you would have had to download and possibly pay for software to split a PDF, but now there is PDF Candy.
If you need to separate pages in a PDF follow the directions below:
Upload document by clicking the 'Add file' button or drag-and-dropping PDF to the PDF separator. Besides, if you have a file on Google Drive or Dropbox, feel free to add it from there.
Set the 'Split into single-page files' or 'Split by page ranges' mode (please read about the difference between these two modes below).
Click 'Split PDF' to separate PDF pages for free.
Download the result or upload back to Google Drive or Dropbox.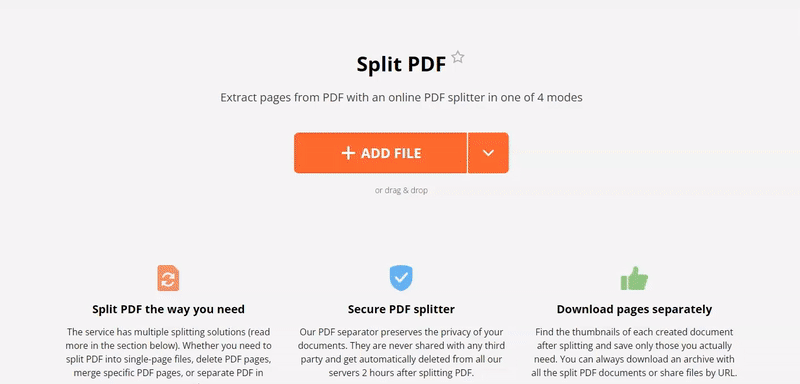 2 modes to separate PDF pages online
We provide a free way to split PDF, no download is required, too. We also offer two splitting modes:
Split into single-page files
This takes every individual page of a PDF and turns each into a separate PDF file. This may be helpful if the files contain unique and free-standing information.
This option allows you to group pages in a PDF and turn those groups into new files. For example, you can split PDF so pages 1-4 and then 5-7 are stand-alone PDFs. This is useful if the marketing team only needs the first five pages of a report and the financial department needs the last three.
You can either type the page numbers into groups the way you want to split them (i.e. 7-12,20-31) or hold the SHIFT key and click the first and the last page of the interval you want in the preview section. Note that the previewer will only show the first 200 pages of the PDF.
Other handy PDF tools
Now that you know how to separate PDF pages, keep exploring PDF Candy for other cool features such as:
Compress PDF to make documents smaller so you can easily share it with colleagues or friends.
Rearrange PDF pages if you see that their current order is incorrect.
Enjoy the simplest 'PDF to Word' converter to turn a PDF document into an editable DOC or DOCX format.