When working with digital documents in PDF format, it is often necessary to remove unnecessary content from the documents. Those who have at least once worked with PDF files know how difficult it can be to find a decent service to delete pages from PDF.
Today we're going to talk about 3 free ways to quickly and efficiently remove pages from PDF. 2 of these methods don't require you to install any additional software and make sure it is compatible with your device and OS. The third method is the Windows-based one.
Method 1: Delete PDF pages online with PDF Candy
By far the easiest way to process files is to use a relevant online service. Indeed, open a website, drag and drop the file, remove PDF pages and save the resulting file. Below you will find step-by-step instructions for this method.
Open the PDF page remover and upload the document using the "+ Add File" button.
The data will then be uploaded to the server. After that you will be presented with a page-by-page layout of the PDF. For a closer look at each page, click the magnifying glass icon. It is located in the upper right corner of each thumbnail.
Now you have to choose which pages you want to delete. To do this, click on the page thumbnail. You can also delete pages in PDF in another way – type the page numbers manually into the field below the thumbnails.
Click the "Delete pages" button to start the document processing. Following a short wait, the free service will inform you that the file was successfully processed and is ready to be downloaded.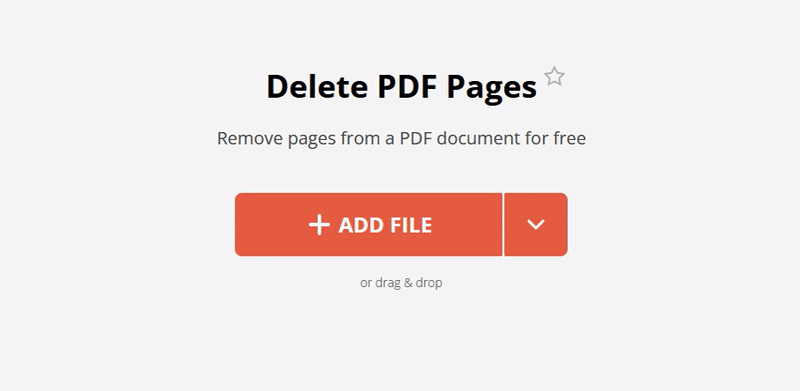 Additional features of online PDF page remover
Not only one can upload a file from PC or mobile device memory, it is also possible to upload documents from Google Drive and Dropbox cloud. Uploading the output file back to these storages is available, too.
You can continue editing the file on the resulting page. For example, use a PDF editor or password protect the file.
Click the "Share" button to create a permalink for the file. The link is valid for 7 days. Share it to quickly transfer the file to your colleagues. This way you won't need to additionally compress PDF for email.
Advantages of the online way to delete page from PDF
Quick removal of unnecessary content in just a few simple steps;
The service works on all devices, regardless of the technical characteristics of the gadget and installed operating system;
All you need is a reliable Internet connection;
Free use;
Simple, convenient, and straightforward interface.
Method 2: Delete pages from PDF in a browser with the "Print" option
This is another effective way to remove pages from PDF without resorting to third-party programs. It works in any browser with the built-in PDF viewer.
Open the document in the browser: right-click a PDF, select "Open with" and indicate the browser you are using on your computer. Say, Google Chrome, Firefox or Edge.
Next, click the "Print" button or use the Ctrl+P combination in a browser of your choice.
The Print Preview settings window opens. Here you need to specify the range of pages to be saved, i.e., left in the document. Don't forget to set "Save as PDF" option.
Click "Print" to delete PDF pages and create a new file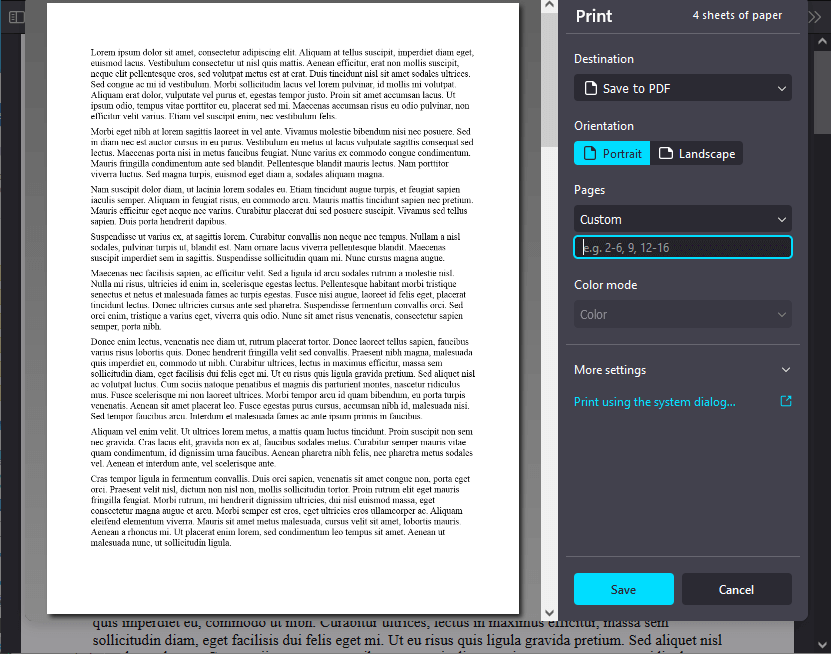 Advantages of removing PDF pages in a browser
Fast and easy processing;
No third-party programs or online platforms are required;
Suitable for all PC models, regardless of specifications and OS version.
Method 3: Remove pages from PDF offline
This way requires the installation of PDF software on your PC. Therefore, to get started, you need to make sure that your computer meets the minimum system requirements, and you have enough free space on your hard drive:
Operating system: Windows 11, 10, 8, 8.1, 7, Vista
Processor: 1.33Ghz processor ( faster processor for netbooks is required);
RAM: 512 MB RAM.
If your PC meets the stated requirements, you can proceed to delete pages from PDF with this program.
Download PDF Candy Desktop, install and open it.
Click the "Delete pages" icon to proceed.
Drag and drop a document or add it from Windows explorer.
Type in the pages to be deleted and click the "Add page" button to confirm the selection.
Click "Split" to process the file.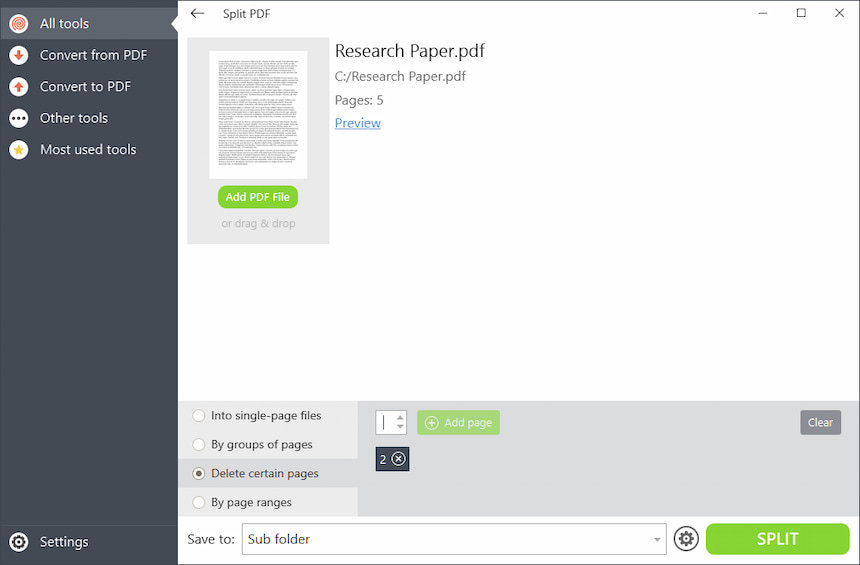 Advantages
Does not require an Internet connection;
Fast data processing and conversion;
Simple and intuitive interface. Thanks to this, there is no need to spend time studying the program;
Works on all devices running Windows;
Perfect to remove page from PDF if it's confidential;
The program includes many additional tools, making it a universal tool for working with PDF.
Conclusion
So, we have described three ways to delete pages from PDF. Which one you choose is up to you. Each of them has positive and negative sides, so the choice depends on the tasks at hand, your experience and qualifications, and the technical characteristics of your device. The online methods are really quick and are suitable for a one-time job. The offline PDF page remover is the top choice if you're planning to work with confidential documents.