Knowing how to compress a PDF for email is an ideal approach to swiftly and easily transmit substantial documents without concerning yourself with email size limitations. It allows you to decrease the dimensions of a PDF document, making it simpler and quicker to attach to an email. By compressing a PDF, you can diminish its size by up to 90%, permitting you to send multiple large documents in just one email.
Learn how to make PDF smaller for an email with ease using one of the 5 free ways we reviewed in this article.
1. How to Compress PDF for Email Online?
It is by far the easiest, fastest, and safest way to deal with the problem of too large PDF file size. Just try it yourself - the interface is very intuitive, and the whole process can be completed in several clicks.
Land on "Compress PDF" tool's page: hit the corresponding button on our homepage.
Upload file to PDF compressor: you can either load a document from your desktop or from Google Drive or Dropbox.
Set PDF compression level: choose the one you need. Read about the compression levels below.
Reduce PDF size: click the "Compress" button to initiate the process.
Download a new file: save the document to your device.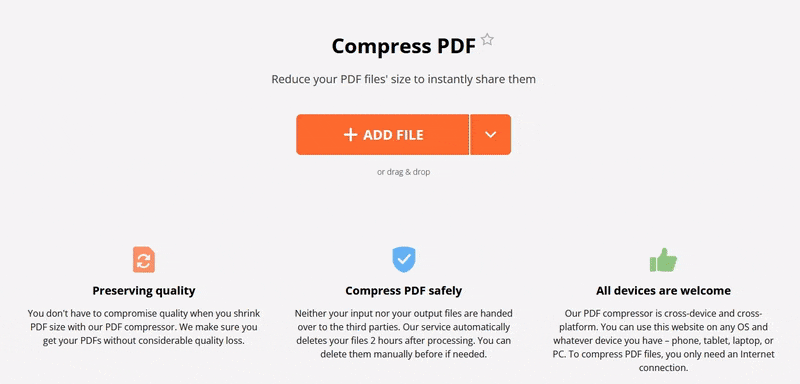 PDF Compressor: Description of Compression Levels
We offer two PDF compression levels:
Maximum compression to get the file of the smallest size possible.
Recommended compression to achieve the perfect balance between size and quality after you shrink PDF.
Regardless of which mode you choose, you will notice a big difference in size. You will most likely be able to compress PDF to email without any inconvenience. If the PDF is still too large to email, it'd be advisable to compress it and then split PDF into two documents.
2. Reduce PDF Size with PDF Candy Desktop
Compressing a PDF to send in an email is a breeze thanks to PDF Candy Desktop for Windows. It's an all-in-one PDF editor, converter, compressor, and more. Here is a step-by-step guide to compressing PDFs for email:
Download the program on your Windows PC and open it.
Select the "Compress PDF" tool. Choose the files you need to compress. Alternatively, it is possible to drag and drop them onto the tool icon.
Pick the folder where you want to save the compressed documents and click the "Compress" button.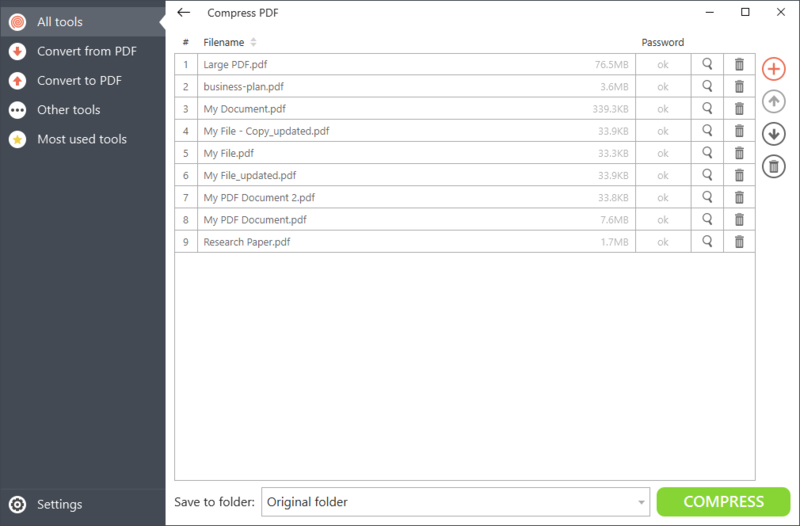 Using a desktop application offers several advantages for compressing pdf files for email. You can reduce the size of your document while maintaining high standards. The program supports batch processing and lets you compress multiple PDFs at once, saving you time and effort. It ensures security for delicate documents before sending them through email or other channels.
3. How to Make a PDF Smaller for Email with Acrobat
Acrobat is a popular and powerful tool for working with PDF documents. With Acrobat, users can easily reduce the PDF size. Here's how:
Open your PDF file in Adobe Acrobat and go to "File" > "Save As Other" > "Reduce File Size".
Select your preferred optimization level.
Click the "Save" button.
Compressing PDFs in Adobe is easy and takes only a few steps. It's an effective method of shrinking large PDFs when you need to send them via email, lightening the load on both sender and receiver alike!
4. Compress PDF Using Google Drive or Dropbox
The second best way of solving the problem of sending large files is to use cloud storage like Google Drive or Dropbox. Both services provide user-friendly tools for compressing PDF files for email. Log in to your account, upload a PDF file here, and send the link to it to your addressee.
5. Making PDF Smaller for Email with an Archiver
Another great option to shrink PDF is to zip it with relevant software or service.
Keep in mind that there are different archivers available on the market. For example, people with different operating systems may face the problem that their OS does not recognize the zip format. In such a case they cannot open it correctly.
However, if you do not have the file compressors pre-installed in advance, it will be your option to reduce PDF size.
What Are the Size Limits for Emailing?
Concerning attachment size, email providers have their own set of restrictions. To prevent any difficulties, it is wise to retain the overall size of attachments lower than the suggested limit.
Most email providers suggest keeping file sizes under 20MB, however, some may have higher or lower limits. Say, if we talk about sending files via email, Gmail and Yahoo have a limit of only 25 MB per letter.
For Hotmail as well as Outlook the limit is only 10 MB. Knowing your provider's restrictions and how to compress PDF for email is key in making sure the file goes through.
To avoid any size issues, you can compress your PDF before sending it. Compressing a PDF reduces its size significantly and simplifies the process of attaching and sending via email. It also helps ensure that the material of your document stays intact and understandable after being compressed.
How to Compress a PDF for Email: FAQ
1. What's the best method for making PDFs smaller for email?
Answer: Leverage the power of online services with a powerful PDF compression tool.
2. What is the maximum size PDF I can transmit through email?
Answer: Most email services limit attachments to 25MB or less, consequently, it is advisable to keep your PDF file size under those numbers.
3. How to email a large PDF file?
Answer: You can split PDF of large size into parts and compress them.
4. Can I compress multiple PDFs at once?
Answer: Yes, you can employ a web-based service or desktop program to condense several PDFs in one go.
5. What is the difference between compressing and resizing a PDF?
Answer: Compressing reduces the file size of a document, while resizing changes its dimensions without affecting its file size.
What Else to Do if PDF Too Large to Email?
Shrink the dimensions of your PDF. Employ a PDF compression tool to make your PDF smaller before transmitting it in an email.
Convert to PDF/A. Turn your PDF to the ISO-standardized PDF/A format, as it is designed for long-term archiving and smaller file sizes.
Compress images. Reduce or downsample any images in the PDF, as this can greatly reduce its overall size.
Convert to grayscale. If color isn't important to the content of your document, convert it to grayscale or black and white before compressing it, as this will also lessen its dimensions.
Remove unnecessary elements. If there are any pages in your PDF document that are not necessary for its purpose, consider removing them prior to reducing its size for emailing.
Compressing PDF Files for Email: Key Takeaway
In this article, we learned how to compress a PDF for email online and for free. A variety of strategies can be applied to compact a PDF for emailing. You can use Adobe Acrobat Pro, a free online compressor, or third-party software like WinZip or 7Zip. Each method compresses your PDF files differently, so be sure to choose the one that fits your needs best.
Explore more PDF tools
Edit PDF - do whatever you want with your PDF files: edit PDF, play with zoom, draw, add new text, and images, and many more.
Extract text - a very useful tool when you don't need to send the whole PDF file to someone. Extract text from PDF pages in no time!
Add watermark to PDF - add a logo to show the ownership.