While email communication is the common format of formal interaction with colleagues, sometimes frustrating restrictions can become a problem. For example, if we talk about file sizes that can be sent via email, Gmail and Yahoo have a limit of only 25 MB per email, while for Hotmail as well as Outlook the limit is only 10 MB.
Learn how to compress a PDF for email with ease using one of the ways we reviewed in this article.
3 ways to send large PDF files via email
It is by far the easiest, fastest and safest way to deal with the problem of too large PDF file size. Just use our instructions below and try it yourself - the interface is very intuitive, and the whole process can be complete in 3 clicks.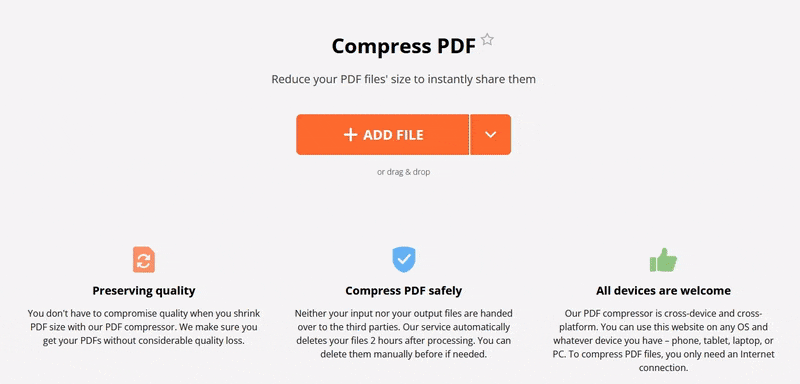 Use Google Drive or Dropbox
The second best way of solving the problem of sending large files is to use cloud storage like Google Drive or Dropbox. Upload a PDF file here and send the link to it to your addressee.
Shrink PDF with an archiver
Another great option is to zip your large PDF file with a relevant software or service. Keep in mind that there are different archivers available on the market. For example, people with different operating systems may face the problem that their OS does not recognize the zip format, so they cannot open it correctly. However, if you do have file compressors like WinZip or 7-Zip pre-installed in advance, it will be your option to compress the files.
How to compress a PDF for email
Land on "Compress PDF" tool's page: hit the corresponding button on our homepage.
Upload file to PDF compressor: you can either upload a document from your desktop or from Google Drive or Dropbox.
Set PDF compression level: choose the one you need.
Reduce PDF size: click the "Compress" button to initiate the process.
Download a new compressed file: save the document to your device.
Compress PDF online using 2 compression levels
We offer two PDF compression levels: maximum compression to get the file of the smallest size possible and recommended compression to achieve the perfect balance between size and quality after you shrink PDF.
Regardless of which mode you choose, you will notice the big difference in size. You will most likely be able to attach your PDFs to an email without any inconvenience. If the file is still very large, it'd be advisable to compress a PDF and then split it into two documents. This tool is also available on our website.
In this article, we learned how to compress a PDF for email online and for free. Now you can cope with any large documents with ease.
Explore more PDF tools
Edit PDF - do whatever you want with your PDF files: edit PDF text, play with zoom, draw, add new text, images, and many more.
Split PDF - a very useful tool when you don't need to send the whole PDF file to someone. Separate PDF pages in no time!
Add watermark to PDF - add a logo to show the ownership.