Anyone looking to join two PDFs or more is wondering where to find a free PDF merger. Combining PDF files can be used for a variety of purposes, including archiving, organizing, and sharing important documents. In addition, merging several PDF documents helps create a unified file without needing to manually transfer the text or images from each document. With many offline and online PDF combiners, it may take a while to choose the one that fits your needs the most. This article talks about 5 different methods how to merge PDFs.
1. How to Combine PDFs with the PDF Candy Free Online PDF Merger
Utilizing PDF files is an optimal method to store and share documents, but sometimes you need to unite multiple docs into a single one. This free online PDF combiner offers an easy way to do just that. Here's a guide for merging PDFs using this platform:
Open the free online PDF merger in your browser.
Click "+ Add File(s)" and select the PDFs you wish to combine. You can transfer several documents at once. To upload more files, hit the "+" button on the left.
The uploaded PDFs will be seen in the preview. You can arrange them in the desired order. When ready, click "Merge files" to proceed to combine your PDF documents online.
After a sort processing, tap "Download file" to access your unified PDF.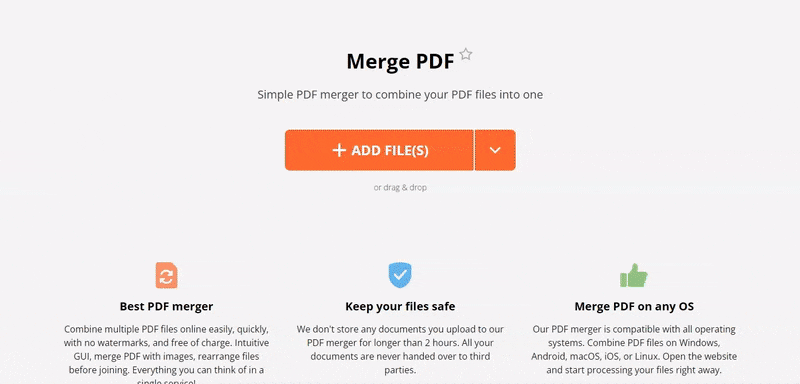 This website is a great approach to swiftly and conveniently merge PDF files online without needing any specific software or technical know-how. Here are just some of the pros of using the service:
It's free. This PDF combiner is free to use.
It's secure. All your data is encrypted and stored in a cloud environment, so your documents remain safe while they are being processed. Files are deleted after 2 hours.
It's fast. The whole process takes just a few seconds, and you won't be left waiting long for your merged PDF file to appear!
It's convenient. You can access the service without any hassle from any kind of internet browser. It is supported by Google Chrome, Safari, Firefox, Edge, and others - so no need to download and install any special software to use it.
It's easy. Even if you have never used a similar platform before, you will find that the task to merge PDF online is straightforward and intuitive!
It's efficient. Merge up to 100 PDF files online or combine PDF files with image files without needing to turn them into PDF format first.
It's compatible. You won't need to buy different versions of the same software for different OS. It works on Android phones, iPhone Max, ProMax, Plus, Mini, and SE; Windows PCs, iMacs, and MacBooks.
Combining PDFs together is a common task, and it can be performed quickly with the right tools. A lot of individuals are utilizing online platforms to complete this task. Using the web-based free PDF merger to combine PDF online comes with many benefits. With no installation or downloads required, you can have your files merged in just a few clicks. Joining several files into a unified document simplifies the management, sharing, and storage of the joined files. Add a password to protect the PDF that you just created. So if you need to join PDF files into one, give the free online PDF combiner a try!
In addition to all of this, it should also be noted that this tool can merge PDFs for free with images. Such popular formats as JPG, PNG, BMP are supported.
2. How to Merge PDFs with the PDF Candy Desktop for Windows
For Windows users who work with PDF documents, including combining PDFs, it may be beneficial to explore the functionality of this desktop application by the same developers as the online platform. Providing similar functionality, this program offers a throughout the experience of merging PDFs on your Windows PC. Below is the instruction on how to combine PDF docs with this editor:
Download the PDF merger for free and install to a computer or laptop.
Open the software and locate the "Merge PDF" tool. Upload the documents you wish to join together.
Rearrange the files in the preview to the order you need them to be.
Once your files are processed, you will be able to find the resulting file in the selected folder on your PC.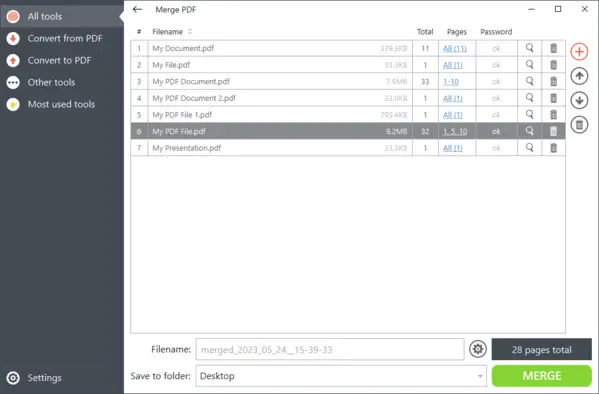 As you use your trial to merge multiple PDF for free, you will save time by eliminating the need to manually upload each individual PDF. Additionally, it simplifies the process of managing multiple documents by providing users with an easy-to-use interface for combining them.
The undoubted advantages of PDF Candy Desktop for Windows are the ability to work with password-protected files and to choose specific pages or page ranges for merging.
Pros:
It's free. You can try the software to combine PDFs for free before committing to the paid subscription.
It's high-quality. You merged files to keep the quality of the original PDFs.
It's private. PDF merging happens on your computer, ensuring maximum protection of any sensitive data.
It's capable. With full access, you are able to batch-process your files, merge only selected pages of various PDF files, and add password.
It's unlimited. There is no limit to how big your PDFs are or how many files you can combine.
It's offline. No internet connection is required to use this app for merging PDFs.
It's smart. Supplementary instruments include optical character recognition, various converting options, and more.
This PDF combiner is the ideal solution for those needing to merge PDF files on a regular basis. More to that, the application provides a functional toolkit for other manipulations with PDF documents. If you are a Windows user, consider looking into this app and you will see for yourself that this software was what you needed all along!
3. How to Combine PDFs for Free on the Adobe.com
This is a reliable resource for working with PDF files, including the ability to merge PDFs online. The developers are going with the tendencies in the IT world, therefore, like many of their competitors, they offer an online PDF combiner. Follow the guidelines to combine PDF files online with this website:
Open the combining PDF tool.
To upload your PDFs to merge, drag and drop your documents in the browser window or click the button "Select files".
If you do not have an account yet, the system will hint you to sign up for one.
Put the check mark next to all PDFs and all their pages you wish to be combined together.
Click the "Combine" button. Download your file.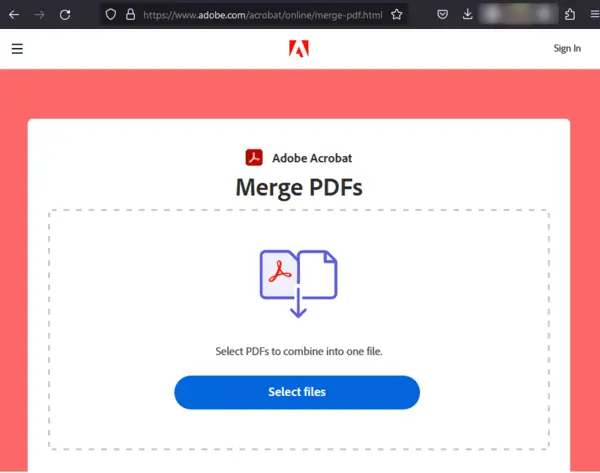 The preview of the files allows you to revise every page of each document you upload to later process through the online PDF merger. Using this PDF merger for free, you can remove pages in your PDF that are duplicates or irrelevant to guarantee that only pertinent information is included in the final file.
Pros:
A free online PDF merger with a long-time reputation.
Cons:
Even to try combining PDFs for free, you have to create an account.
For unlimited access, you will have to upgrade to the paid plan.
In conclusion, the service provided by Adobe is an excellent tool to combine your PDF online quickly and without any need for software installation. It is a great option for those who are looking for a simple solution to merge PDF online. Try this well-known free online PDF combiner and explore the additional tools it has to offer.
4. How to Merge PDFs for Free and Online with Sejda
Here is another website that can assist you to combine PDFs online. This is a tool to-go if you need to unite several documents into a solitary PDF file that is rather straightforward to use. Here is how to utilize this resource as a free PDF merger:
Go to the main website and locate the "Merge" icon.
Choose the PDF files you would like to combine by clicking the "Upload PDF & image files" button.
Reorder the files in the way you need them to appear.
Hit "Merge PDF files" at the bottom of the screen and wait for the process to finish.
Once finished, you can download your new merged PDF document.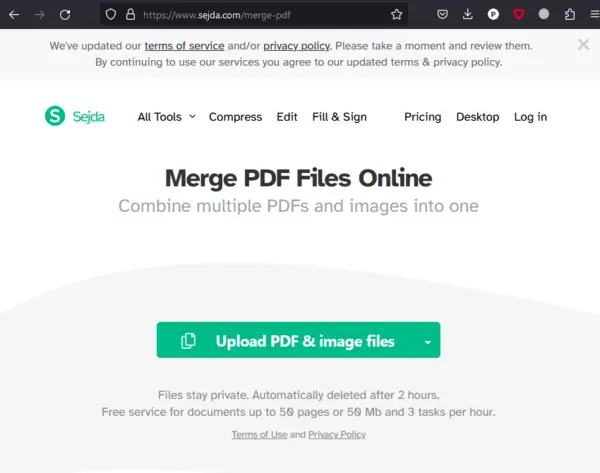 The ability to combine PDF docs online will help in creating a unified document. For instance, if you are asked to compile a portfolio of your work samples, merging PDFs is the instrument to complete this task. Uniting multiple PDFs with, let's say, writing pieces or even merge PNG images to PDF. This will simplify the process of presenting the portfolio.
Pros:
Simple online PDF combiner with a user-friendly interface
No need for expensive software to install on your device.
Cons:
Limited features compared to paid versions.
Maximum size is 50 MB per file.
Overall, Sejda is a reliable free online PDF merger. Although with the free version, you can only merge PDF online 3 times per day, this is still a good method to try to combine PDFs online. It is also secure since all files are deleted from the server after 2 hours of processing time, ensuring the privacy and security of your information.
5. How to Combine PDFs: Free and Online Website PDFChef
Combining PDF documents with this free PDF combiner is another option. It is beneficial to have your documents organized and easily accessible. Here's a comprehensive overview of using this service to merge PDF files online:
Open the website and find the PDF merger. Choose the tool to proceed.
Upload the PDF documents you plan to unite by clicking the "Choose Files" button or drop your PDFs directly into the window.
Arrange the order in which you want them to be merged by moving around with your mouse.
When you are happy with the result you see in the preview, hit "Save and download".
The main advantage to combine your PDF files online is that you can access and use them no matter where you are or what kind of device you are using. Especially, if you sign up for an account. All your processed files will be saved there for a period of time, so you can easily access them on a different computer or even on your phone. If you accidentally merged extra pages, you can always go back to your file and extract PDF pages you no longer need.
Pros:
Easy to use online free PDF combiner.
Cons:
Every page of all documents is displayed in the preview, if your files are large it will take a while to scroll through them.
Occasional pop-up ads to sign up appear on the main screen as you merge PDF online.
Utilizing the PDFChef free PDF merger is a good choice for swiftly uniting your files into a single document with no need to pay a charge or install any software on your device. With its intuitive design and user-friendly interface, you are able to combine PDF online and for free and online.
Free PDF merger: conclusion
Combining PDFs is often necessary for organizing and creating documents. You may need to merge PDF online to make it easier to view as a set of work samples rather than opening each document individually. The option to combine your PDF online allows you to alter elements rapidly and effortlessly without having to manually revise individual documents separately. Moreover, it's way more convenient for files sharing. Create a link for the file or upload it to cloud storages right away.
Besides using a web-based PDF merger, consider getting the offline PDF merger for easier and faster work with this format. For use at work, at school, or for personal projects, taking advantage of a this tool to use may be a great solution for you. Choose the free PDF combiner you like the most or try them all!