PDF Splitter is a great tool to manage multi-paged documents. Use it to delete extra pages that don't belong in the file anymore. This includes a portfolio when applying for a job, and only certain pages are relevant for a specific position. Or extracting PDF pages with the important data to be sent or shared faster.
Choose an online PDF splitter as it can be accessed on any device with a browser installed. Mind the price and choose a free one. Now, PDF Candy will suit you the best. It's basically a cross-device free online PDF splitter that can extract and delete PDF pages while on the go and whenever necessary.
How to split PDF online?
Open PDF Splitter in your browser.
Upload a document by clicking '+Add file' or drag-and-dropping it. Or add it from Google Drive or Dropbox.
Choose 'Split into single-page files' or 'Split by page ranges' mode.
Click 'Split PDF' to extract pages from the PDF file you uploaded.
Download the results in any preferable way (more on this below).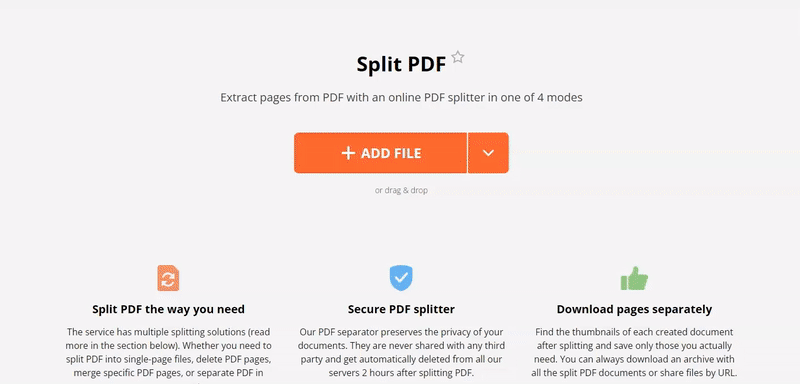 Ways to save, share and upload the output files
When using a PDF splitter, there are two ways of downloading the pages or PDF to your device. Save all the documents at once as an archive or choose to download some specific pages by clicking the relevant thumbnails.
As well as saving PDFs straight to your device, you can upload files to Google Drive and Dropbox cloud storages. Hit the relevant buttons on the resulting page of our free online PDF splitter.
The created documents can also be shared through a secure link. Click the "Share file" button to create a link for accessing the file. The link will be valid for 7 days and it contains a QR code for your convenience.
4 modes of online PDF splitter
Not only can you split PDF pages and save them as multiple individual files, but you can also extract PDF pages and merge them into a new file, or delete specific pages from a document.
The selection of these 4 modes is available in our free online PDF splitter after file uploading. The whole process is very easy thanks to the intuitive interface of the website.
More online PDF tools
'Merge PDF' tool will be handy if you'd like to combine PDF files you created with other documents and images.
If you're converting PDF files back and forth on the regular basis, the only bookmark you need to ease up your daily routine is PDF converter.
Use the watermark tool to add text or image as a watermark to your documents in a couple of easy steps.