Technology moves fast! Thankfully, no matter how far technology moves, we can still use more classic methods to get the job done. It can seem like a daunting task when you need to edit scanned PDF documents or scanned images. But it doesn't have to be!
With a little guidance, everyone can learn how to edit a scanned document. In this article we will look at popular types of scanned files and how to edit them online. You'll be surprised how easy and convenient it is!
What is a Scanned Document?
A scanned document is a digital replica of a physical document. The physical doc is usually a paper document that has been placed in a scanner to create an electronic version. The electronic version is commonly stored as a PDF document, JPG image, or TIFF file. Lean more information about formats below in this article.
Scanned documents are used to archive physical copies of important papers, store information digitally, and share them with others. Scanning documents is also helpful for digitally editing them, such as correcting typos or altering the layout. This process makes it easy to maintain and archive documents in an accurate, efficient, and secure way.
1. How to Edit a Scanned PDF Document Online?
Editing scanned PDF documents is not always an easy task. To help yourself out, try using an online tool that simplifies the process: PDF Candy! Here is a step-by-step how to edit PDF scan:
Open the online PDF editor in your browser.
Upload the desired file using the relevant button or from cloud storage such as Google Drive or Dropbox.
Use the "whiteout" tool to cover any area of the document and add new content with the "Text" and "Add image" tools.
Click the "Export" button when you are done.
Save the file or upload it back to the cloud.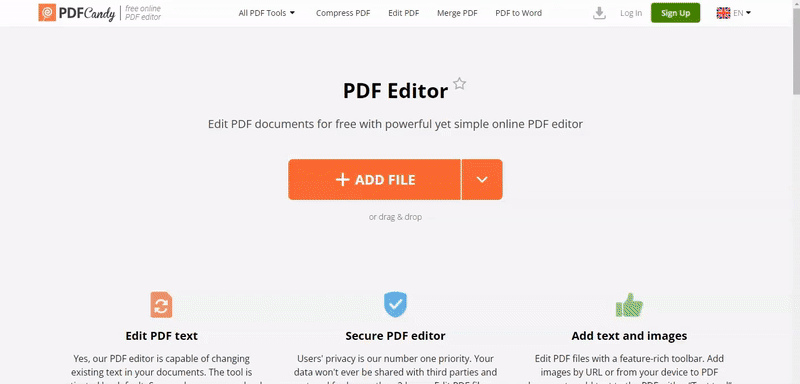 And voila! You have just modified your scanned PDF document! No complicated software or editing skills are needed.
Types of Scanned Documents
As we rely more and more on digital files, it's important to understand the differences between their types. Once you scan a document, the resulting file can be stored in a variety of different formats.
These formats are determined by the type of file that was scanned. Common formats for scanned documents include PDF, JPG, and TIFF. Each type of format has its own benefits:
PDF files are popular for their security features and compatibility with many devices.
JPG is great for sharing photographs and other images.
While TIFF is great for preserving image quality with a large file size.
Knowing the contrast between each format can help you choose the best options for editing PDF files.
How to Edit a Scanned Image?
Editing scanned images can be tricky, but a PDF converter offers a convenient way to do it. Here's how to edit a scanned document:
Upload your document to the online PDF converter.
The service allows you to select the page size, orientation, and margins. We recommend using the A4 and No margins settings.
Click "Convert file(s)" to initiate the process.
On the download page, you can use other tools or save the file on your device. Click "Edit" to open the converted image file in the online PDF editor.
After converting the scanned image document to PDF format, you can use the steps above to edit PDF according to your needs. Be sure to try it out!
Advantages of Online PDF Editor
PDF Candy offers a comprehensive and convenient solution for editing scanned documents. It is a web-based service that is compatible with multiple platforms and has a number of advantages:
Convenient and Easy To Use: Offers a simple and intuitive user interface that allows users to quickly and easily edit scanned documents.
Compatible across Multiple Platforms: Can be used on both Mac and Windows 11/10 operating systems, as well as online from any device with an Internet connection.
Online Privacy Protection: All uploaded documents are secure and are deleted soon after being processed to ensure that personal data remain private.
Variety of Options: Boasts a wide selection of features to meet most editing needs, such as adding or removing pages, compressing PDF files, converting to other formats, and more.
Free Service: For personal use, you do not need to pay any fees or membership charges to access the basic version of PDF Candy's editing capabilities.
Why Can't I Edit Scanned PDF?
It can be discouraging when you have a document that needs amending, but it's already been scanned. You can't just type in changes like you would with any other document. So why can't you edit scan documents?
The reason is that when you scan a document, it's converted into an image file. This means that any text within the document is no longer editable as text, but rather as part of the image. You can't select and change it like normal text.
However, all hope is not lost! If you have a scanned document that you need to edit, you can utilize OCR (optical character recognition) to convert it into an editable PDF. This service recognizes text in scanned documents and turn it into a digital file that is both searchable and editable.
Once the conversion is complete, you can open the new digital version of the document in a PDF editor to modify it. You can add text, remove text, or adjust formatting as needed. When you're happy with your edits, you can save the new version of your document as a PDF file.
With this technology, you no longer have to manually enter all of the text from your scanned documents – saving time and giving you more control over your files.
2. How to Edit a Scan Document in Adobe Acrobat?
Modifying a scanned document could be tricky, especially if you don't have the right tools. Adobe Acrobat is a powerful software that enables you to modify scanned documents. Here's the procedure:
Open the scanned document in Acrobat.
Then, click on the "Tools" tab. Select "Edit PDF". OCR tool will automatically convert PDF to editable file.
Edit the document. After all modifications are made press "File" > "Save as".
Pros:
OCR technology allows you to quickly scan and edit text on PDF without retyping it.
Retain the original formatting of the document.
Can add images, text boxes, annotations, and other options.
Cons:
Scanned document editor requires an active subscription to use all instruments.
Can be difficult to use for first-time users.
More expensive than other PDF editors.
3. Edit Scanned PDF in Word
PDF editing in Microsoft Word is easy and straightforward. The process involves converting the scanned document into a manipulable format and then editing it with the different features provided by Word. Heed these steps:
Run Microsoft Word, and click "File" > "Open".
Find the PDF file on your computer and press "Open".
You will see a message telling you that Word is going to convert the PDF file to an edit-ready Word document. Tap "OK".
When you are done with your edits, save the document by clicking on "File" > "Save".
Pros:
Editing scanned documents is possible without any additional software or tools required.
It's relatively easy to learn and use the tools offered by Microsoft Word for editing scanned PDF file.
Cons:
The OCR process may not always be accurate, which could cause errors in the updated document.
Revising a scanned document may take time-consuming due to its size and complexity.
4. How to Modify Scanned PDF in Google Docs
Editing a scanned document can seem like a challenging task. Fortunately, Google Docs makes it easy to edit PDF scan with its built-in OCR technology. Here is the procedure to follow:
Open the Google Drive app on your device and upload a scanned document.
Select the document and click "Open with" then tap "Google Docs".
The document will open in a new window with all of the text converted into an editable format.
You can now make changes to the document: edit text on PDF, change formatting, add highlighting or links, etc.
Upon completion, the document will be immediately synced to your Google Drive account, thereby granting you access to it from any device.
Pros:
Syncs with your cloud storage for easy access from any gadget.
Collaboration features make it easy to share documents with others and edit scanned PDF together.
Cons:
Not all file types are supported.
May not possess the capability to recognize handwriting or other complex formatting elements.
Can be slow if there is a lot of data in the document.
5. Edit a Scan Document in ABBYY FineReader PDF
It can be hard to rework a scanned document. Fortunately, FineReader is an effective PDF editor that simplifies it. Here's how to get started:
Download the ABBYY software.
Press "Scan" > "Scan to OCR Editor". Upload the scanned document you wish to edit. ABBYY FineReader will scan it and render it editable.
Once the document is opened, you can edit PDF: add images, and layout as desired by using the tools provided in the program.
When you are finished editing your document, save it in the desired format.
Pros:
It can be used for changing text, images, tables, and other elements of the document.
It supports popular file formats like JPEG, PNG, TIFF, and more.
It performs accurate OCR to ensure that the edits of scanned PDF document are applied correctly.
Cons:
This scanned document editor does not have a lot of features when compared to competitors.
Technical support is limited and may take some time to respond.
Reasons to Edit PDF Scan
Modifying a scanned document can be an invaluable asset to any consumer or business. Here are some of the perks of editing scanned documents:
Save Time. Editing a scanned document allows for changes to be made quickly, without having to re-type the entire document. This saves time and effort in making simple changes.
Accuracy. Manipulating a scanned document can improve accuracy by allowing you to verify that all information is correct before it is printed or sent digitally.
Ease of Use. PDF editor has editing capabilities built in, allowing for easy editing without having to download additional software.
Portability. Scanned PDF document can be stored in digital format, making files more portable with others.
Organization. Storing documents in digital format makes them easier to organize and find when needed.
These are just a few of the reasons why working on a scanned document is beneficial to both consumers and businesses alike. By taking advantage of the editing options available, you can save time and increase accuracy when dealing with important documents.
How to Edit a Scan Document: Tips
Scan your document at the highest resolution possible, so that you can edit it accurately.
Crop out any unnecessary background noise from the image to focus on the main content.
Change the contrast of the document, if needed, to make the text easier to read and edit.
Use the selection tool to select individual words or phrases for editing or manipulation.
Use an optical character recognition (OCR) program to convert scanned images into searchable and editable text files.
Make use of PDF editing tools to annotate scanned PDF documents and highlight important areas of the document for further editing or review.
Use Optical Layout Analysis (OLA) technology to extract from text ones for easier editing and manipulation of scanned documents.
Save your edited scan as a PDF document for easy sharing and distribution with other users.
How to Edit a Scanned Document - Conclusion
Editing a scanned document requires the same attention you would give to any other file. Make sure that you check all the details, such as spelling and grammar mistakes, punctuation errors, and incorrect tense or verb choices.
Finalizing the changes may be time-consuming, but will be well worth the effort in achieving an accurate, professional document. Take care to make sure that text is chosen carefully and that legal references are checked for accuracy. With careful attention paid to all these points, you should be able to produce good-quality results when editing scanned documents.
Try other tools