Anyone who has worked with digital documents in PDF format has often encountered poor design or outright data errors. Such flaws are hard to correct since PDF is difficult to edit. However, there are many online services that allow you to white out PDF files in a few steps and place new information on a white area.
Today, we'll tell you how to white out text in PDF to cover certain parts with white space. Follow the instructions below to get started.
1. How to Whiteout a PDF File Online?
Open the PDF editor in a browser.
Click the "+ Add file" button to load the PDF document, which you can further edit and remove unnecessary text or graphical objects.
Select the "Whiteout" tool with the eraser icon in the menu on the left. Use the mouse to stretch a rectangular area over the element you want to cover.
Click the green "Export" button to save the applied changes.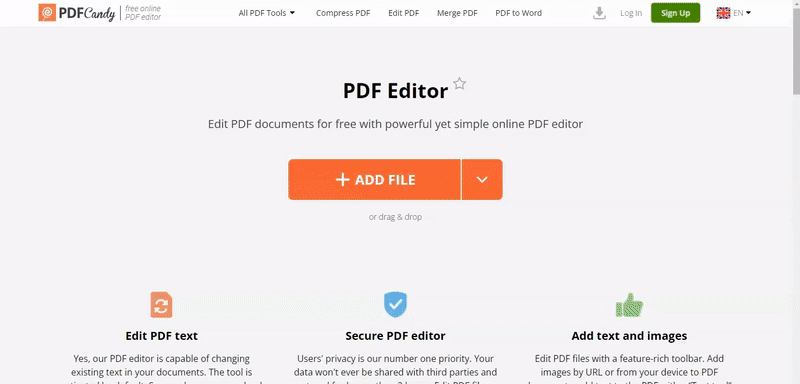 Add New Elements Over the PDF Whiteout Area
If you want to add another object like text, graphics, or image, open the online PDF editor again and select the recently saved file.
In addition to the option to white out PDF, our online PDF editor allows you to:
Edit the existing text to correct spelling errors and punctuation;
"Signature" allows the user to leave their own autograph in the document. You can do this in three ways: write the content in text, draw it with your mouse, or insert a ready-made picture into the file;
Draw with the "Pencil" tool directly on PDF pages. This allows you to underline or specify some information inside the text or graphics with a freehand;
Use the "Rectangle" tool to mark a specific area of the document;
The "Line" tool, according to the name, makes a straight line. Underline desired content, cross out incorrect information, and other manipulations based on the user's needs;
"Add image" inserts a graphical object. This can be done from the memory of your PC, tablet, or mobile device. As well as via a direct link to a picture from stocks and other websites;
"Underline" and "Strikeout", according to the name, affect the PDF text;
Highlight PDF: words, sentences, and whole paragraphs to draw the reader's focus to important information, such as the cost of contractor services in a contract, etc.
Our PDF editing service has all features to work completely online without cluttering up your hard drive space. You can upload the files from Google Drive or Dropbox cloud storage, and save them back to the needed storage after all modifications.
Advantages of Whiting Out PDF Online
Works on a free basis.
Does not require any installation.
Offers a great variety of tools for PDF editing.
User-friendly and intuitive interface.
Can be accessed from all devices, regardless of the OS (Windows 10/11, Linux, MacOS).
Does not require PC with high technical spec.
Fast data processing.
Google Drive and Dropbox support (both upload and download).
All uploaded files are permanently deleted within 2 hours.
Link creation for effortless sharing.
2. How to White Out a PDF in Microsoft Word?
Making use of Microsoft Word to conceal PDFs is a great choice for professionals who use the same editing tool for other work-related tasks. Word facilitates access and edit a PDF while preserving the original document unaltered. Here's how:
Open the PDF in Microsoft Word. A window will appear asking if you wish to convert the PDF to Word. Click "OK".
Click the "Insert" tab, choose "Text Box" > "Simple Text" to whiteout PDF.
Drag the box in front of the text/image. By right-clicking set the layout options.
Tap "Shape Format" to customize the text box.
Click "Save".
Pros:
Available on most devices, making it simple to access and erase PDFs from anywhere.
Has an intuitive interface that facilitates use for anyone, regardless of their experience level.
Cons:
Although Word can edit PDFs, its capabilities are limited when compared to dedicated PDF editors.
There is always the risk of data leakage when using a non-secure platform such as Word to work with whiting out PDFs.
3. Whiting Out Text in PDF With Adobe Acrobat
Adobe Acrobat provides a powerful tool for editing PDFs, and one can apply it to erase sections from PDF. This simple process can help you quickly and easily cover up any sensitive information in your PDF files without constructing them from scratch or starting over again with a different document format.
Open the PDF file with Adobe Acrobat.
Select the "Tools" tab and click on "Edit" > "Mark for Redaction".
Choose the "Text and Images" option.
Click and drag to choose the area you wish to make blank and whiteout on PDF. Click "Properties".
Set the settings and hit "Apply". In the appeared window tap "Yes" to delete hidden data.
Save your changes before closing Adobe Acrobat.
Pros:
The interface allows for quick and efficient PDF whiteouts without having to go back and retype the entire document.
You can use the whiteout feature to blur out sensitive information like social security numbers or other private data.
There are a variety of tools available that allow you to customize the look and feel of your whiteout edits.
Cons:
Investing in Adobe Acrobat can be an expensive option for individuals or small businesses needing to whiteout multiple PDFs.
The process of whitening out documents can be time-consuming because you have to go through each page one at a time.
There is a learning curve for anyone who has not used Adobe Acrobat before, so it may take some time to get comfortable with the software.
4. How to White Out PDF With Preview on Mac
A preview is a great option if you need to quickly white out text in a PDF without investing in expensive software or changing platforms altogether. It's also helpful if you need to make a quick edit before sending an important work file or sharing personal information securely online.
Open the PDF you want to white out in Preview.
Select the "Annotate" tool and click "Rectangle".
Draw a rectangle over the object you want to erase from PDF.
Choose the "Fill Color" icon from the toolbar located at the uppermost part of the screen.
Choose "White" from the color palette that appears and click anywhere on your document.
Hit "Save" to leave your changes permanently.
Pros:
Unlike other programs that require you to purchase a license or subscription, Preview is completely free.
All your PDF white outs are stored locally on your computer, so there's no risk of them being accessed by someone else.
Cons:
While Preview is great for basic PDF whiteout tasks, it doesn't offer any advanced features like editing PDF text or images.
If you're using a Windows or Linux computer, you won't be able to use Preview for whiteouts.
The whiteouts are not password protected, so anyone with access to your computer can view them.
Why Whiteout PDF Files?
Whiting out PDF instruments are an ideal method to edit PDFs without needing to create the document again. Here are some reasons why you might want to use them:
It's a quick and uncomplicated method to white out text in PDF, avoiding the need to fabricate the whole document.
Works for editing scanned PDF documents.
You can hide sensitive information in a PDF without deleting it permanently.
You can add corrections to existing text without having to retype them.
It helps keep the original document intact while making adjustments.
It's an efficient way to update or correct data in a PDF.
You can make modifications without leaving behind any trace of the original text.
You can erase PDFs quickly and easily, from anywhere.
It's an effective way to monitor the alterations made to a PDF.
You don't need any special software or technical skills to apply whiteout.
Whiteout tools let you make quick changes without the need to print out the document first.
Utilizing whiteout is an excellent method for editing PDFs swiftly and effortlessly, without the need to remake the document in its entirety. These tools provide an easy and efficient means of changing or correcting a PDF.
How to White Out a PDF: FAQ
1. Q: What is whiteout? What is meant by white out a PDF?
A: Whiteout a PDF means using a tool to remove or hide the content from a PDF.
2. Q: Can I white out an image on a PDF?
A: Yes, you can use an editing tool to select the image and apply a whiteout effect.
3. Q: How do I white out a signature on a PDF?
A: Select the signature with your mouse, then click on the whiteout tool in the toolbar to erase it.
4. Q: Can I undo my changes after whiting out PDF?
A: Yes, most editing tools have an "undo" button that will let you reverse any adjustments you've made.
5. Q: What is the best way to guarantee that I don't inadvertently remove any vital information when lightening info on a PDF?
A: To avoid mistakes, verify you carefully read through the document prior to altering anything and back up any important information before whitening out.
How to white out on PDF: Summary
In various cases, you may need to white out on PDF document. When it comes to whitening out PDFs, there are a few important things to keep in mind. Make sure you choose the right tool for the job, such as an annotation or drawing one. Pay attention to the color that you choose for your whiteout, as well as any other formatting settings that may apply. Finally, don't forget to save your work once you're finished. Don't worry if you made a mistake in an important document and don't know what to do. Our service will help you fix all the flaws in papers in just a few easy steps.
Additional online PDF editing tools
Split PDF if you figured your document contains some extra pages and you want to get rid of them.
Sign PDF in 3 different ways if you were working with some papers or contracts.
Crop PDF if you want to crop out the extra whiteout you previously added to your file.