Adobe Acrobat is a well-known and paid application that can be used to create, update, and compress PDF files. But what if you have a limited budget but still need to make a PDF smaller?
In this article, we will explain how to compress a PDF without Adobe and provide tips for reducing PDF file size on various operating systems.
1. How to Compress a PDF Without Adobe Acrobat: online solution
When PDFs were first adopted, Adobe provided the only way to edit, work and reduce PDF file size, too. Although PDFs could be viewed on any system, even something as simple as compressing PDF files file required their software.
Luckily, this is not the case anymore. Now there's PDF Candy, a free online toolkit that lets you instantly work with any document and compress a PDF online. No installation of the Adobe PDF compressor or any other software is required. Such PDF file size reducer can be used on any operating system as well as on a mobile device. Above all, it is free!
Here is how to make a PDF smaller with this service:
Open the online PDF compressor tool.
Click "Add file" or drag and drop it into the browser. You can reduce multiple PDF file size of multiple documents at once.
Select the PDF compression level for the output file.

Recommended compression - reduces PDF to a decent size, but maintains the recommended quality level of the document and images in it.
Maximum compression - makes the PDF of the smallest possible size, but the original quality of the document and images are not guaranteed.

Click "Compress" to proceed with the changes.
Use the "Download" button to save the newly compressed PDF on your device.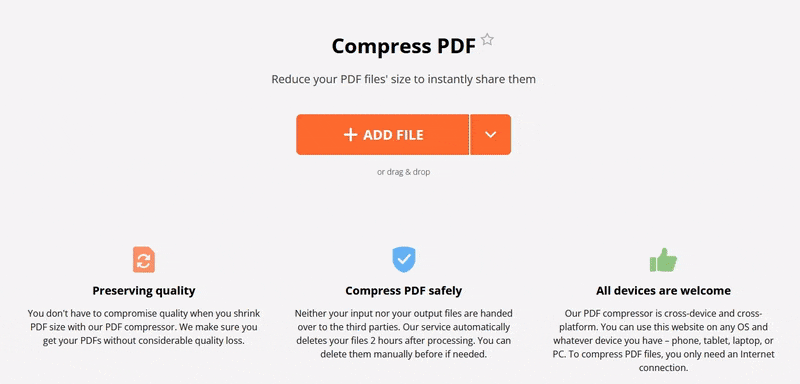 Pros of the free online PDF compressor:
You can access the tool for reducing PDF size anywhere and for free. To make a PDF smaller with this platform, you do not need to sign up or sign in. Just open the website and start working!
You don't have to download programs or apps to use the service. All you need to compress a PDF without Adobe is a device with internet access.
You don't need to worry about any private information being sold or transferred. We do not store or sell any of the data uploaded to it and all data is deleted after a set period of time.
You can use the PDF file size reducer and any device - iMac and Macbooks, Windows computers, Android and iOS phones. All you need is a browser.
After you compress PDF, you can either download the output PDF or upload it to Google Drive or Dropbox. You can also share it via a URL link containing a QR code.
More, apart from providing the instrument for compressing PDF files, the service has 46 other tools to further work with your documents. For instance, you can rearrange PDF pages to place the most important content first when sharing files with others.
2. How to compress a PDF file on Windows?
Are you looking for ways to compress a PDF without Adobe on Windows? You can download an install such software as PDF Candy Desktop, PDFelement, PDFescape Editor, or Nitro PDF. All of the offer more than just a PDF file size reducer.
With one of these PDF Compressors, you can also resize, rotate, crop, and convert PDF to Word to save your document as a text file or turn it into other formats, such as Excel, PPT, or JPG, and more. This makes it very convenient and easy to work with your documents without needing additional programs like Adobe. Additionally, it is fast and secure with no data loss or risk of viruses.
3. How to compress a PDF document on Mac?
If you wonder how to compress a PDF without Adobe on Mac, there are several options. Lightweight PDF or PDF Compress + are designed to make a PDF smaller only, while programs like Clever PDF or PDFsam Visual have multiple instruments in their toolkits.
Some PDF compressing applications are free while others have paid versions with an extended set of tools. As an alternative to all the third-party apps, you can even use Preview to reduce a PDF file size on Mac, which will also offer to sign a PDF and some other editing options. As an Apple user, search for a PDF compressor on a trusted website and only download them from the App Store to ensure that your computer does not get any malware installed on it.
4. How to compress a PDF file on a smartphone?
In case you want to have a PDF file size reducer on your phone, there are apps that will help you do just that! Similarly to the PDF compressing programs for PCs, mobile applications also come as specialized PDF file compressors or many-in-one toolkits.
For Android users, consider such apps as PDF Small, PDF Optim, PDF Utils, or All PDF. If you have an iPhone, the applications for you include PDF Compressor, PDF Size Compressor, PDF Extra, PDF Expert, and others. See the reviews and the functionality of each to determine which one will fit you best. Also, examine the cost to see if purchasing a particular mobile app is within your budget.
Why may you need to make a PDF document smaller?
PDF became one of the most commonly used formats because of its many advantages, such as:
Universal sharing capability. The sender and receiver can work on different operating systems and still view the same PDF.
Consistent formatting. Documents retain their layout and page size and cannot be edited without special software or websites.
Since PDFs allow you to include text as well as images, the size of the document can grow quickly. Reports with numerous graphs and other images may not be many pages, but may still be large files. They take up space on your computer and sometimes cannot be sent over email because of size limits.
When you compress a PDF it takes up less memory. In addition to this, once you reduce the PDF file size, you will be able to send it as an email attachment with no problem.
| Compressed PDF | Uncompressed PDF |
| --- | --- |
| Takes up minimal space on devices and in cloud storage | Occupies significant space on hard drives and cloud storage |
| Can be sent over email without problems and delay | May be too large to share via email |
| Fast loading and uploading speed | May take a long to upload online or load to open |
How to choose a PDF file size reducer?
Compressing your PDF files can be a great way to make sure that they do not take up too much storage or time to upload. And there are many tools available to help you do this. But how do you know which one is right for you?
The first thing to consider is the kind of PDF compressing solution that best fits your requirements. Do you need a free, online compressor or more advanced software? Are you looking for something that can reduce PDF file size in batch, or just one document?
Once you have decided which type of PDF compressor is best for you, it is time to look at the features each one offers. For example, some software and online platform offer multiple features such as PDF editor or different types of conversion options. If you need more than simply make a PDF smaller, look for a toolkit that offers the needed instruments.
Before downloading any program or signing up for an account with an online PDF compressor, ensure to read user reviews and see what other people think of it. Some programs may be buggy or slow, while others could be efficient and reliable. It is also important to check the compatibility with your operating system and whether it can process large files.
Finally, consider the cost of the PDF compressing utility. Some are free, but others require a subscription fee or a one-time payment. Make sure you get the best bang for your buck by reading about the features included in each version and comparing prices between providers.
By taking all these factors into consideration and doing some research before obtaining any program, you will be able to find a PDF file size reducer that meets all your needs and helps you easily compress PDF without Adobe Acrobat.
FAQ on compressing PDF
Q1. How much time does reducing PDF size take?
A1: It usually takes only a few seconds for a PDF to compress. Even relatively large files will process fast. However, batch compressing may take longer due to having to make smaller several PDFs at once.
Q2. Is PDF compressed automatically when sent via email?
A2. Generally, no. Depending on the email client or service you use, your files may or may not be reduced in size. To ensure that the size of your document is what you need it for email, compress your PDF for email first.
Q3. Does compressing PDF files reduce their quality?
A3. Reducing PDF size may degrade its quality as it removes information from the file to compress it. However, this is usually minimal and barely noticeable unless you are working with high-resolution images or graphics. More to that, many PDF compressors offer control over how much the document's quality while making it smaller.
Q4. What is the difference between a compressed PDF and a ZIP archive?
A4. Compressing and zipping both refer to reducing the size of a file by removing information from it. However, zipping is more commonly used for multiple files at once while compressing is usually done for single files, such as PDFs.
Q5. Can I protect my file after I compress the PDF online?
A5. Yes, there are tools to password-protect your PDF if you need to share a document that contains sensitive information.
How to compress a PDF without Adobe: conclusion
PDF is a widely-used document format that no longer has to be manipulated solemnly with Adobe Acrobat. Now that you know how to compress a PDF without Acrobat on any device, pick a PDF file size reducer or a multipurpose program or platform and make working with PDFs a fun and easy task!
Free PDF tools to consider
If the urge to identify content occurs, PDF OCR online service will help. 10+ languages are available for recognition.
Combine PDF and images together with the help of the "Merge PDF" tool and organize them the way you like.
Crop PDF to remove blank parts of the pages or extra margins.