Adobe Acrobat is a well-known and rather expensive PDF software available for Windows, macOS, and Android. But what if you have a limited budget and you still need to shrink PDF? In this article, we will explain how to compress a PDF without Adobe and provide more information on this issue.
How to Compress a PDF Without Adobe
To make a long story short, we'll start with the steps you need to take to compress a PDF online. No installation of Adobe Acrobat and paying for its expensive subscription is required. Perfectly works on iOS unlike Adobe!
Open the Compress PDF tool.
Click Add file or drag and drop it into the browser.
Select the PDF compression level for the output file.

Recommended compression - reduces PDF to a decent size, but maintains the recommended quality level of the document and images in it.
Maximum compression - compress PDF to the smallest possible size, but the original quality of the document and images are not guaranteed.

Click Compress.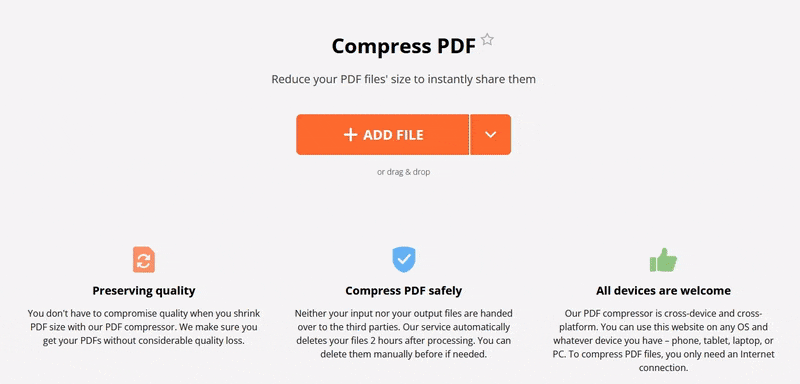 Now let's get into the theory.
What is PDF and how is it related to Adobe?
PDF has quickly become one of the most commonly used formats because of its many advantages, such as:
Universal sharing capability. The sender and receiver can work on different operating systems and still view the same PDF.
Consistent formatting. Documents retain their layout and page size and cannot be edited without special software or websites.
When PDFs were first adopted, Adobe provided the only way to edit, work and reduce PDF size, too. Although PDFs could be viewed on any system, even something as simple as reducing the size of a PDF file required their software.
Adobe Acrobat is a paid application that can be used to create, update, and customize PDF files. It has to be downloaded to modify PDFs, making it time-consuming and expensive to use for work.
Now there's PDF Candy, a free online toolkit that lets you instantly work with any document and compress a PDF without Adobe.
Why Compress PDF Documents
Since PDFs allow you to include text as well as images, the size of the document can grow quickly. Reports with numerous graphs and other images may not be many pages, but may still be large files. They take up space on your computer and sometimes can't be sent over email because of size limits. This is why you might need to make PDF smaller.
When you compress a PDF it takes up less memory. In addition to this, once you shrink PDF size, you will be able to send it as an email attachment with no problem and clear up digital space for other valuable items.
| Compressed PDF | Uncompressed PDF |
| --- | --- |
| Takes up minimal space on devices and in cloud storage | Takes up additional space on hard drives and cloud storage |
| Can be sent over email without problems and delay | May be too large to share via email |
Why Choose our PDF Compressor
First of all, we make it possible to compress a PDF without Adobe and for free.
You don't have to download programs or apps to use our service. All you need in order to compress a PDF online or use any of our tools is a device with the internet access.
You also don't have to worry about any private information being sold or transferred. We do not store or sell any of the data uploaded to it and all data is deleted after a set period of time. You can use our file size reducer and any of our other solutions, with no strings attached.
After you compress PDF, you can either download the output PDF or upload it to Google Drive or Dropbox. You can also share it via a URL link containing a QR code.
Bottom Line
PDFs are still as popular as ever as a document format with texts and images, but the PDF working process has evolved. You no longer have to pay for and download software like Adobe Acrobat in order to create and edit PDFs. We have a simpler solution.
Now you know how to compress a PDF without Adobe! It just makes sense to use our free PDF compressor instead of a paid app.
Free PDF tools to consider
If the urge to identify content occurs, PDF OCR online service will help. 10+ languages are available for recognition.
Combine PDF and images together with the help of 'Merge PDF' tool and organize them the way you like.
Crop PDF to remove blank parts of the pages or extra margins.