Utilizing the online crop feature is an incredibly useful tool for those who need to perform modifications to PDFs. Being able to crop a PDF online, users can remove unwanted elements from the text or select certain content to highlight or share.
Cropping PDF files online is quite easy even if you have little knowledge of computers or software. All you need to have is the right instrument. In this article, you will learn 4 different methods of how to cut a PDF file online. With detailed instructions, you will be able to quickly operate each of them and select the one that works best for you.
1. PDF Candy's free PDF cropper
This PDF cropping tool is an excellent method to effortlessly alter your PDF documents. The platform allows you to make changes to the dimensions of your PDFs by adjusting the area visible. Here is how you can crop a PDF online with this toolkit:
Go to online PDF cropper in any browser on your phone or computer.
Upload the PDF that requires cropping by clicking the "+ Add file" button or drag and drop it in the browser's window.
Set the cropping area by dragging the corners of the rectangle. Be aware that if your document has multiple pages, the program will crop all PDF pages. In case you only need to crop one or a few pages of the document, consider splitting your PDF first.
Click the "Crop PDF" button to start processing your file and wait until it is ready.
When finished, hit the "Download File" button or get a link to your cropped PDF by selecting the "Share" option.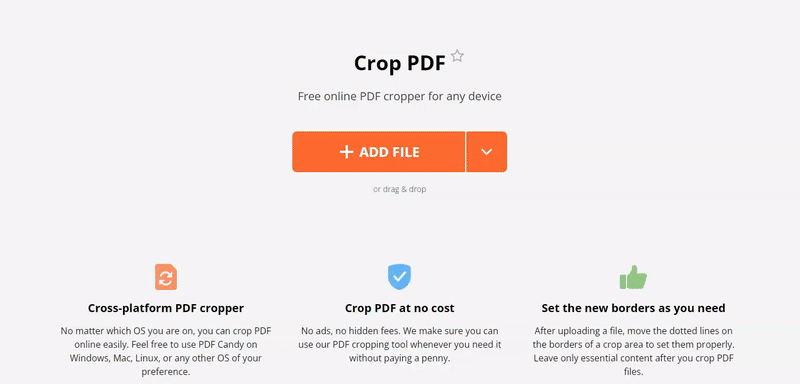 After you finish cropping your PDF, you can continue editing the file without leaving the online PDF editor. For instance, from the download screen, there is an option to compress PDF, add a watermark, edit PDF, or protect your file with a password.
Pros:
Service that allows to crop PDF online and free.
Has a simple user-friendly interface.
Supported by all browsers - Safari, Firefox, Google Chrome, Edge, and others.
Compatible with all phones and computers: iPhone Pro, Pro Max, Mini, Plus, SE; Android-based phones; Windows PC and laptops; iMac, MacBook Pro and MacBook Air.
The files are secure as they are deleted from our server after one hour.
Offers a variety of supplementary tools to edit PDF without taking storage of your device.
Employing PDF Candy to crop your PDF for free and online is an ideal solution. This toolkit is designed for quick and effortless changing of documents. It helps you to focus on the most important content, removing any distractions in the background. It ensures that all images and text fit into the desired frame or area. So give it a try today and see how easy it is to get the job done!
2. Cut PDF online with Abode
With its long history, Adobe Acrobat has become the lead software for working with PDFs. Despite the popularity of the desktop program, the developers now also give the option to crop a PDF online. Below is the instruction for using their online service to crop PDF pages.
Open the Adobe website and proceed to the cropping tool.
To upload your PDF to crop, click the button "Select a file".
If you do not have an account with Adobe yet, the system will hint you to create one.
In the menu on the left, locate the "Crop pages" instrument. Adjust the page settings to the desired crop.
Click "Crop" to save your changes. Download your file.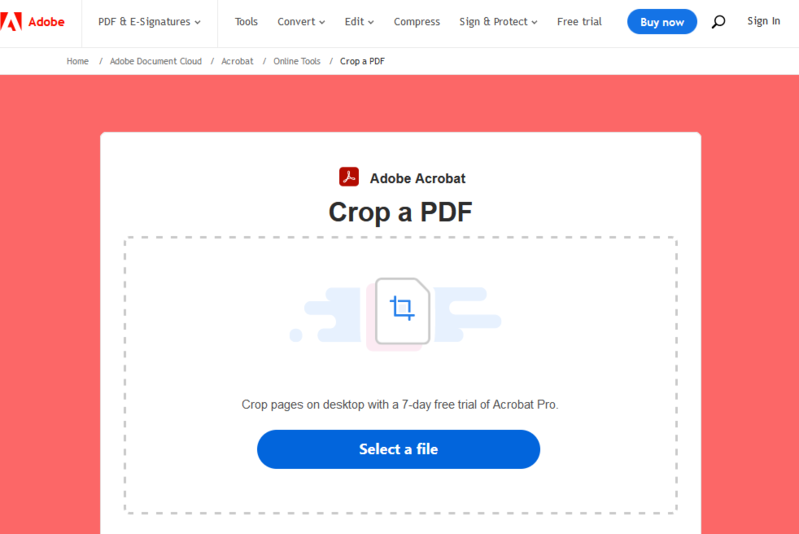 Pros:
The PDF cropping tool is very precise.
Multiple options for settings and the ability to set the page range to which the adjustments will be applied.
Cons:
You cannot crop PDF free with this service as the tool is only available with the upgraded access.
Exploiting Adobe Acrobat to modify PDFs on the web provides a rapid and reliable approach for changing your documents in this format. It is easy to use and reliable, making many users feel the worth of committing to the paid subscription. PDF crop online option is important for creating professionally-looking documents, whether they are for print or digital use and now you can do it online with the PDF editor you are used to.
3. Specifically designed website for cropping a PDF online
croppdf.com is an easy way to crop PDF online. This is an effective method to rapidly and conveniently trim a PDF. It is fast, simple, and secure. Plus, you can use it from anywhere with an internet connection! This guide will explain how to crop PDFs online using the platform, as well as list some pros and cons of the service.
Open the website in a browser.
Click the "Upload file" button or drop your files by dragging them into the window. The system identifies it automatically and removes margins.
Once the service finishes processing your file, the "Download" button will light up. Click it to save the cropped file on your device.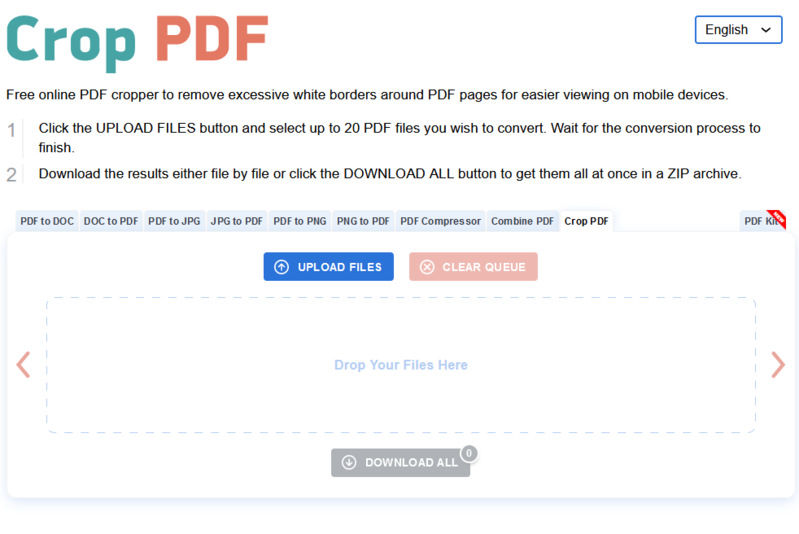 The online PDF cropper takes just a few moments to cup your file. Additionally, the platform offers users a PDF compressor and provides them with the ability to convert their documents to and from various formats. For example, you can turn your PDF to Word, or JPG to PDF, and more.
Pros:
Quickly upload and download files, including the option for bulk upload.
Lets you crop a PDF for free without having a paid account.
Cons:
No option to set the cropping area.
Has advertisements that are distracting.
Overall, croppdf.com offers a fast method to crop a PDF online and for free. This online PDF cropper can be used for aesthetic purposes. For instance, it will help frame an image or text by removing the extra margin space. It will make the content stand out more and looks much nicer than if left uncropped. This approach is often used in marketing materials, flyers, and brochures.
4. Crop PDF files online using Xodo
If you need to perform cropping a PDF online, look at Xodo web-based PDF editor. Whether to crop PDF pages or adjust margins, this website can help. Here is how to use it:
Visit the online PDF cropper.
Upload your PDF document from your computer or from your online storage service (Google Drive or Dropbox).
Manually drag the margins to adjust to the needed width.
When you are satisfied with the changes made, save the document by clicking "Apply". Download the modified file.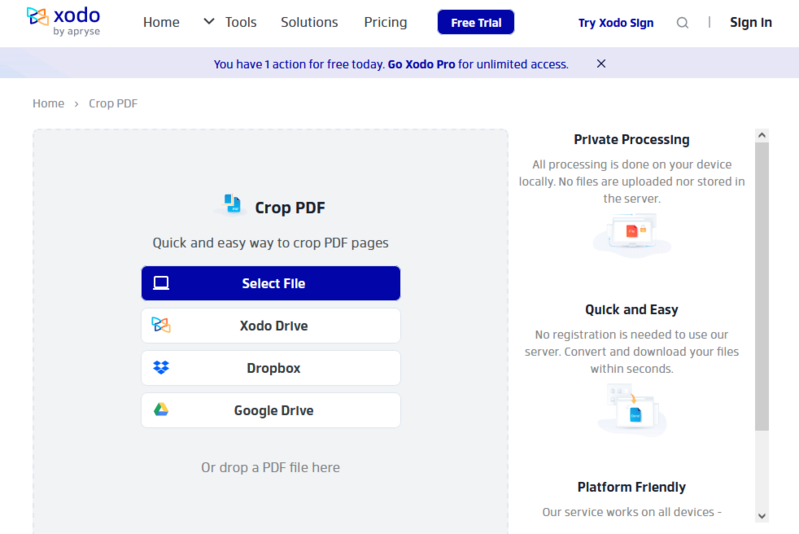 Pros:
Straightforward interface of the tool to crop a PDF online.
Compatible with cloud storage accounts.
Cons:
The free version only allows 1 operation per day.
Long processing time on some iOS devices.
Although the Xodo trial lets you access the tool once every 24 hours, you may find that this website fits your needs the most and decide to purchase the Pro account. Knowing how to crop PDFs online is helpful before printing them. If they are not cropped correctly, some of the content may be cut off when printed. This could affect its message or meaning, so it is important to make sure that any PDFs that need to be printed are correctly cropped beforehand.
Advantages of cropping a PDF online
Sure, you may install a PDF editor on your PC or laptop, or even mobile device. However, there are major advantages to utilizing an online PDF cropper.
Quick and convenient. Cropping PDFs online can be done in a few clicks, saving you time and effort.
Easy to use. Most cropping PDF applications are straightforward and user-friendly, even for novices.
Cost-effective. This method does not require expensive software or specialized skills. Moreover, many services offer to crop a PDF online for free.
Safe and secure. The data is securely stored in the cloud, reducing the risk of loss or corruption.
Compatibility. Editing PDFs digitally works with all operating systems and devices, allowing you to use the PDF cropper online on your phone or computer.
Accurate results. The results are precise thanks to advanced algorithms that optimize the cropping process.
Automation. Some tools also offer automation features such as batch processing and automated cropping of multiple documents at once.
Variety of options. You can choose from a range of options for cropping your PDFs including size, orientation, margin widths, etc.
Integration with other services. The majority of tools offer integration with popular cloud storage services such as Google Drive and Dropbox. This makes it easier to store and share your files after they have been cropped.
Using a PDF crop online website is an optimal approach to streamlining your workflow and managing your PDF files more effectively. It offers convenience, accuracy, cost savings, security, and more!
Services to crop a PDF online: conclusion
In conclusion, the process of cropping a PDF online is quick and easy to do. You are flexible to choose an online PDF cropping tool that has all the features you need. In case you do not like the one you pick, you can simply close the browser window and open another PDF cropping website without having to uninstall the software. Cropping PDFs online is an ideal method to cut down the file size, craft littler versions of documents, or simply adjust the formatting. With these tips in mind, you will be able to efficiently crop your PDFs online with ease!
Other articles you may find interesting
As you look for options to further work with your PDF online, consider reading our other articles on this topic. For instance, you may find yourself needing to add a signature to a PDF document electronically. Learn how to sign a PDF online to complete this task effortlessly and for free. You could also benefit from knowing how to operate an online PDF slitter to save certain pages of a PDF. Also, online and completely free.