It used to be impossible to edit PDFs. However, now that PDF editing is possible, it is the most convenient way to work with this format. Knowing that opening and editing PDFs requires a specialized program, many users wonder how to edit a PDF without Adobe Acrobat?
This article offers a full guide showing how to edit a PDF file without software installation. You will only need a browser and an Internet connection.
How to edit a PDF file without any software
A convenient way how to edit PDF without Adobe is to use an online PDF editor. Editing PDFs on the web does not require installation. All the necessary manipulations are performed directly in the browser in a matter of minutes.
PDF Candy is a free online PDF editor that has a wide range of handy tools for working with files of this format. It is suitable for occasional online PDF editing, as well as for professional daily use.
Below is the instruction on how to edit PDF without Acrobat:
Go to the PDF editor in a browser of your choice.
Add a file for modification. It can be uploaded from your PC as well as from Dropbox or Google Drive.
On the left side is the online PDF editor you will find the toolset. On the right side, there are the file pages' thumbnails.
The PDF editing instruments have a wide range of possibilities, like changing text, highlighting elements, adding images, etc. The full list of all the options is described later in this article. Apply what is needed.
Once you finish editing your PDF, hit the "Export File" button.
To save the document to your PC, click "Download file". Uploading to Dropbox and Google Drive is available, too.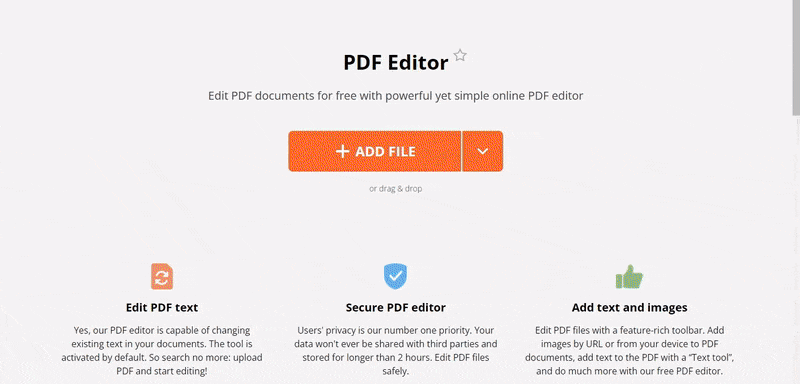 From the "Done" page, as an alternative to downloading, you can continue working on your file. For example, you can compress a PDF for faster upload when sharing.
Or you set a password on PDF to secure the information from unauthorized use.
As you see, editing PDFs without Acrobat or any other similar software can be done easily. Thanks to online PDF editors, everyone can make edits to their document at any time and at no cost.
Tools to edit PDF online
Each user may have a different request of what needs adjustments as they are editing a PDF document.
Here is the list of instruments that this PDF editing website offers:
"Hand" gives you the ability to move the page in any direction. To activate the tool of the online PDF editor, click the button with the hand symbol. You can now easily browse the file and move the content around;
The "Select" instrument allows you to choose an object for further work with it;
"Text" makes changes directly to the text content of the document. Select the area to edit with the left mouse button click. In addition, the text tool allows you to adjust some additional parameters. These are the color and size of letters, as well as the conversion of a phrase to "bold" or italic writing;
"Highlight text" that is the most important sentence, create a preliminary structure, or emphasize something. There are 10 basic colors available to highlight a PDF;
"Pencil" is probably the most common tool of any PDF editor. You can use it to draw a geometric figure, make small notes, and so on. 10 colors are available to the user, as well as an outline thickness setting;
The "Rectangle" feature allows you to highlight an area of the document, draw a rectangular figure for a header, and so on. Change the color of the outline and fill, as well as the thickness of the outline and opacity of the object. Such settings make the tool more flexible for the user's needs;
Use the "Whiteout" feature to remove unnecessary content;
Pick the"Line" to emphasize the desired information. The user can choose from 10 available colors, and adjust the thickness;
Point out with an "Arrow" to a certain area or sentence. Ten basic colors are available, as well as adjusting the size of the figure;
"Add Image" from your computer's memory or by linking to a picture on the Internet;
"Underline" and "Strikeout" part of the text in a document, respectively;
Create a "Signature" and then paste it into the document. You can write your own initials, draw it yourself or paste the ready variant from a graphic file. After that, it can be inserted into the document.
Use this toolkit to edit a PDF without Adobe on the way to the office, at home, while on vacation, and anywhere you go. Use the free online PDF editor on iPhone, Android, Mac, or Windows computers.
Reasons to edit a PDF
Editing PDFs without Acrobat can be a great way to quickly and easily adjust any document with no setup necessary. Below are a few reasons why you should consider editing PDFs without using additional software:
Easy to learn. Making edits to PDFs with a web-based service is clear and straightforward to understand. Most online PDF editing tools come with intuitive user interfaces that make the process easy for anyone to understand.
No need for installation. With an online PDF editor, you do not need to install any software or programs to make edits to PDF. All that is needed is internet access and a web browser.
Compatibility. PDF editing tools are compatible with all types of devices. So, modifications can be effortlessly done from any device or platform, such as Windows, Mac, Android, or iOS.
Security. When editing PDFs on the web, your data is secured in the cloud and encrypted to prevent unauthorized access. This makes it ideal for businesses that need to edit PDF documents while ensuring their security and privacy.
Cost-Effective. Most online PDF editors come at no cost or provide free trial versions, making them economical for businesses who do not want to purchase extra software.
Accessibility. When you edit a PDF online, your files are accessible wherever you are located, enabling quick and easy changes whenever necessary.
Overall, editing PDFs without Acrobat is an efficient way to rapidly and simply modify any document without requiring extra programs or installations. Online PDF editors are also secure, cost-effective, and accessible from anywhere with an internet connection.
Editing PDF vs editing Word
Editing a PDF file can be tricky. It is not as easy as editing a Word document, especially when you edit a PDF without Adobe. However, making edits to PDF instead of converting PDF to Word has several advantages.
When comparing PDF editing to working on a Word document, making changes to DOC or DOCX files is much simpler because it is all done within a simple text editor. However, when it comes to editing a PDF, you can ensure that the formatting is intact and your file can be opened on any device without losing its original look.
In addition to that, with the development of various offline and online PDF editors, you can easily add text and images, rearrange PDF pages, and format text without requiring any specialized software.
In conclusion, when contrasting editing a PDF file versus editing a Word document there is no clear winner between which one is better or easier for everyone. Surely, if you have a PDF file, it is much faster to edit PDF directly rather than perform conversion first.
However, the final decision depends on what type of editing you need to do and what resources are available at your disposal.
Editing PDFs without Acrobat: FAQ
1. Q: Is it possible to edit a PDF on my phone?
A: Yes, many mobile applications exist for both Android and iOS that facilitate editing PDFs from their phones with ease. You can also edit a PDF on iPhone or on other phones utilizing the online PDF editor.
2. Q: Can I add images to a PDF?
A: Yes, you can incorporate pictures into a PDF using the PDF editing tool. Moreover, you can extract images from PDF to edit them or use them elsewhere.
3. Q: Can I delete pages as I edit my PDF?
A: Yes, many web-based tools and applications let users remove PDF pages that are no longer needed.
4. Q: Can I draw on a PDF?
A: Yes, you can draw on a PDF by employing the corresponding tool of the desktop or online PDF editor.
5. Q: Can I make edits to scanned PDFs?
A: Yes, there is a way how you can edit scanned PDF documents without having specialized software.
How to edit a PDF without Adobe Acrobat: conclusion
PDF format offers a convenient way to create and keep documentation in electronic form. However, to edit PDF content, you will most likely need special software, which is often paid and needs to be installed on your computer.
In this article, you learned how to edit PDF files without Acrobat or any other PDF editing software. Explore the features of the free online PDF editor and make your work with files in this format a fun process!
Other convenient PDF tools
Now that you know how to edit a PDF file without software using PDF Candy, explore other ways to modify and improve your documents. Overall, the website offers 47 instruments to manipulate your PDF file.