Every computer user who works with documents has come to the need to edit text in PDF at least once.
However, it is not so easy to change text in PDF as this format is made for preserving the information in an untouched way. For example, the content of a contract, figures in the reports, privacy policy rules, etc. Hence, editing PDF text is a task one needs to explore in depth in order to be able to complete it.
This article explains an easy method how to edit PDF text with a free online PDF editor. In the tutorial below, you will find a detailed guide on editing PDF text online for free. It will be useful for lawyers, clerks, accountants, and all those who work with electronic PDF documents in one way or another.
How to edit text in a PDF with an online PDF text editor?
Being able to change the text in a PDF facilitates someone to make changes quickly and easily. For instance, if you need to make a correction, add new information, or update existing content. With the PDF Candy this can all be done within the document itself. Here is how to edit a PDF online with this website:
Open the free PDF editor in any browser on your phone or computer.
To begin, upload a PDF to edit. This can be done by using the "+ Add file" button or transferred from Google Drive or Dropbox.
As soon as a document is uploaded, the menu with the PDF editing options will be at your disposal. Click the "T" letter icon on the right. When hovering the cursor over it, double-click the text to alter.
Type in new text or change the existing text just like you do in any other text editor. You can edit the PDF text - delete or type additional letters and words; change the font size or color of text; adjust the writing style - bold and italic.
After editing PDF text and checking it, you can save the file. To do this, click the green "Export File" button in the upper right corner.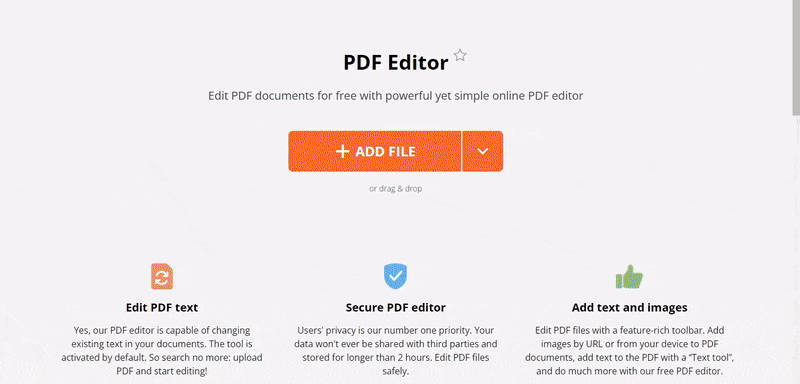 This PDF editing platform allows the user to maintain the formatting of the original document, which is important for professional documents.
Apart from being able to edit your PDF text online, you can also white out text in PDF to remove irrelevant or unwanted content.
You can also highlight text in PDF to stress certain parts of the content for your reader to pay attention to.
Why can't I still edit PDF text?
It can be frustrating when you open up a PDF only to find that you cannot change the text even with a PDF text editor. It is essential to comprehend why this occurs before you can work out a solution for how to edit text in a PDF.
Reason #1
Most PDFs cannot be edited due to the read-only settings. This means that the document's creator decided to prohibit editing the PDF when creating it, so you cannot change it. All you can do is view the content in its original form. To edit PDF text of such a file, you will need to get it in a different form. For example, you can convert your PDF to Word format and see if it solves the problem.
Reason #2
Another reason why you might be unable to edit your PDF is because it is a scanned document or an image file turned into a PDF. Such files are not editable because the text is essentially just a picture. You will need to use OCR - Optical Character Recognition - tool to convert the file into an editable format first.
Reason #3
Finally, you will not be able to complete PDF editing if your document is protected with a password. You will have to unlock it with the correct combination. If you do not know the password, contact the author to get permission. In case it is your old document that you do not remember the password, you can try to restore access with a PDF password remover.
Now that you understand why certain documents cannot be edited, you can move on to discover the techniques of editing PDF text where possible. With the right tools and knowledge, anyone can learn how to make changes to their PDFs and polish them.
Benefits of online PDF editor
Many people find themselves needing to edit text in PDF documents at some point. This is especially true for those who work with documents often or use them as part of their job. Being able to revise content and complete PDF editing can be a useful aptitude. There are many benefits of utilizing an online PDF editor.
Change text in PDF. The service recognizes the font and size of the text in the uploaded document. Which makes it very easy to delete unneeded text and add new content.
Fast speed of file processing. The web-based editor does not require you to have a powerful device.
Compatibility with a variety of devices. The PDF text editor works equally well on phones and computers of all brands and models - Androids and iPhones (Pro, ProMax, Plus, Mini, SE), Windows (7, 10, and other), and Mac (iMac, MacBooks Air, and Pro).
Edit PDF text online and for free. You do not need to purchase the PRO version for basic work.
User-friendly interface. All buttons and controls of the PDF editor are located in visible accessibility and have clear names on an intuitive level.
Feature-rich functionality. The service is equipped with all the necessary features along with additional handy options. These include post-creation conversion, merging, splitting, and more.
Convenient way for editing PDFs. You can upload files from the device's memory or from Google Drive or Dropbox. Files are stored for 2 hours.
High-quality data processing. PDF Candy easily recognizes PDF text, its size, font, and style. This allows you to quickly and efficiently make edits to electronic documents.
No watermark-free online PDF editor. There will not be a watermark added to your file after you edit the text in a PDF.
Additional features of the PDF text editor
PDF editing makes it possible for users to make changes in the text of documents quickly and easily. Moreover, one can add annotations and comments. This can be useful for both collaboration and providing feedback on documents. It also makes it easier for users to keep track of changes over time. Below is the list of other features that the free online PDF editor offers users:
As mentioned before, you can edit text in a PDF or add new text, set bold or italic, and adjust color and size.
You are able to highlight certain parts of the text and illuminate them in various colors and set the opacity.
Use the pencil tool to draw in PDF or otherwise annotate your document in a free way. Choose the color and stroke size.
You can add a rectangular figure with set stroke and fill colors, and opacity.
Whiteout extra parts of your PDF that you do not need anymore.
Draw a line or an arrow to indicate elements of a PDF you edit.
Underine the important content or strikeout those lines that need to be labeled to be modified or deleted.
You can also add an image to your PDF to illustrate points made. You can upload a file or paste a URL to it.
In the same online PDF editor, add signature for verification. To sign a PDF, you can draw it with your mouse or touchpad, type, or upload an image of your electronic signature.
For convenience, in the upper left corner of the working area, there are buttons "Undo" and "Redo". Undo the last action or return the content to the preliminary state respectively. These options will help the user to edit PDF online knowing that if you make a mistake, you can easily fix it
How to edit text in a PDF: conclusion
In conclusion, knowing how to edit PDF text is an essential skill for anyone who works with files in this format regularly or employs them within their occupation. It enables users to make corrections quickly and easily, ensures accuracy, and promotes the addition of annotations and comments. Utilizing the free online PDF editor also helps save time and money when completing PDF editing, so consider this your to-go tool whenever you need to add or change text in a PDF.
Other available tools to edit PDFs online
In addition to taking advantage of a free PDF text editor, make use of the PDF Candy website's other 47 tools for PDF editing before finalizing your work. Here are some that you may find useful next: