Every computer user who works with documentation has had to edit text in PDF at least once in his or her life. But it is not so easy to change, for example, the date of signing a contract or enter any new figures in the reports. Not all online and even professional offline editors can accurately recognize the font and size of text content in a document.
In the tutorial below you'll find a step-by-step guide showing how to edit PDF text online for free. It will be useful for lawyers, clerks, accountants, and all those who work with electronic PDF documents in one way or another.
How to edit text in PDF?
Open the PDF editor online in a browser.
To start editing, you need to upload a file. This can be done using the "Add file" button. You can also upload data from Google Drive or Dropbox. This way saves space on your computer's hard drive by storing the PDFS in the cloud.
As soon as a document is uploaded, the menu with the PDF editing options will be at your disposal. Click the "T" letter icon on the right. When hovering the cursor over it you will see the "Text tool" hit.
There are basic functions at your disposal: text replacement, as well as the ability to change the font size, color of letters and writing style (bold, italic). Click anywhere in the document where you need to edit PDF text. Type in new text or change the existing text just like you do in any other text editor.
After editing PDF text and checking it, you need to save the file. To do this, click the green "Export" button in the upper right corner.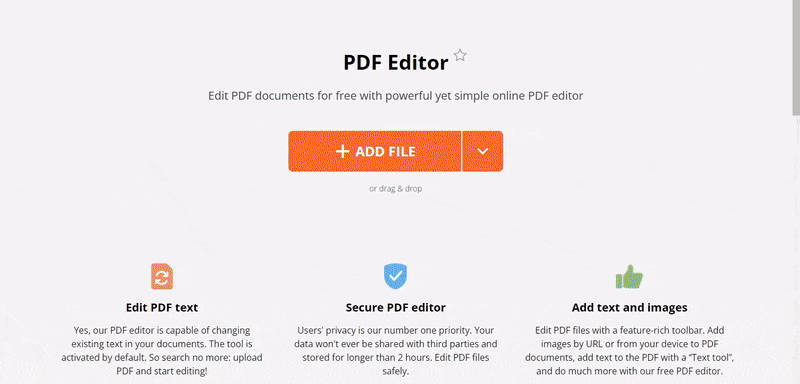 Additional features of PDF text editor
For convenience, in the upper left corner of the working area there are buttons "Undo" and "Redo", which undo the last user action or return the document to the preliminary state respectively. These options will help the user to edit PDF online without mistakes.
To the right are pages' thumbnails in graphical format. This way you can be sure you're editing the right page of a file.
After you edit text in PDF, the document can be saved to your device or uploaded to Google Drive, Dropbox.
You can delete created documents from the service whenever needed. Otherwise it will be available for 2 hours.
Not only you can edit text in PDF, there are plenty of other tools to edit PDF as you will. Read more about them in the relevant article on our blog showing how to edit PDF without software.
Benefits of online PDF editor
Fast speed of file processing. The service does not require you to have a powerful device.
User-friendly interface. All buttons and controls of the PDF editor are located in visible accessibility and have clear names on an intuitive level.
Feature-rich functionality. The service is equipped with all the necessary features as well as additional handy options. These include post-creation conversion, merging, splitting, and more.
Edit PDF text for free. The user does not need to purchase the PRO-version for basic work.
High quality data processing. PDF Candy easily recognizes PDF text, its size, font and style. This allows you to quickly and efficiently make edits to electronic documents.
Other available tools to edit PDF online
In addition, take advantage of all the website's 47 tools before the finalizing your work. Here are some that you might probably need next: