Editing PDF documents is quite a complicated task. Lawyers, accountants, and other professionals who have at least once come across files in this format know this. However, there are quite a few utilities that allow you to highlight a PDF, add watermarks, and change text without much effort.
Highlighting text in a digital document is required when it is necessary to draw the reader's attention to some essential points. For example, it can be the terms of the contract and other important things. So you do not have to download to your computer a lot of different programs and do not waste time studying them, use a free PDF editor online. Below we provide detailed instructions on how to highlight a PDF right in your browser on any device.
How to highlight PDF?
Open the PDF editor.
Click "+ Add File" and upload the document you want to edit. Note that you can download data from Google Drive and Dropbox cloud storage as well.
If the text of the uploaded document is recognized, click the "Highlight Text" button on the vertical toolbar on the right.
Select the highlight color and its opacity level.
Select the desired word, sentence, or paragraph using the mouse cursor. If you make a mistake at this stage, you can undo the last action with the arrow icon in the upper left corner of the working area or with the Ctrl+Z shortcut.
Save the result with a click on the green "Export" button.
Download the file to your device or save it to Google Drive and Dropbox cloud storage.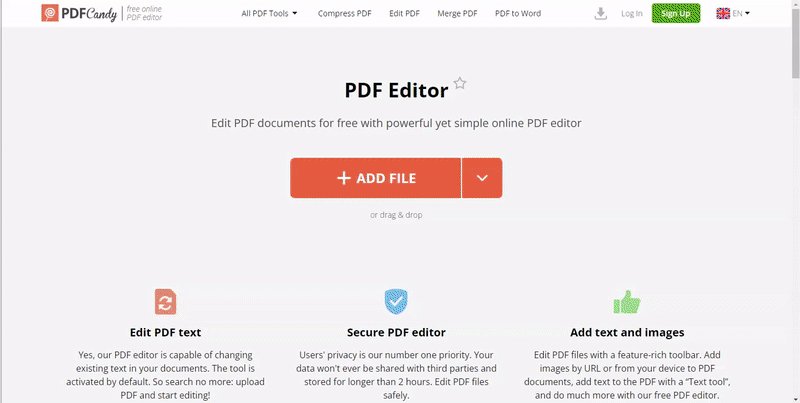 How to highlight a PDF if it's a scanned document
If your file is not a text but a graphical document and text is not clearly recognized, you can highlight a PDF with another "Rectangle" tool.
After uploading a document to Edit PDF service, select this tool from the toolbar on the left.
Set the strike and fill colors and opacity.
After that, simply highlight PDF area with the mouse cursor.
Save the document as described in step 7 above.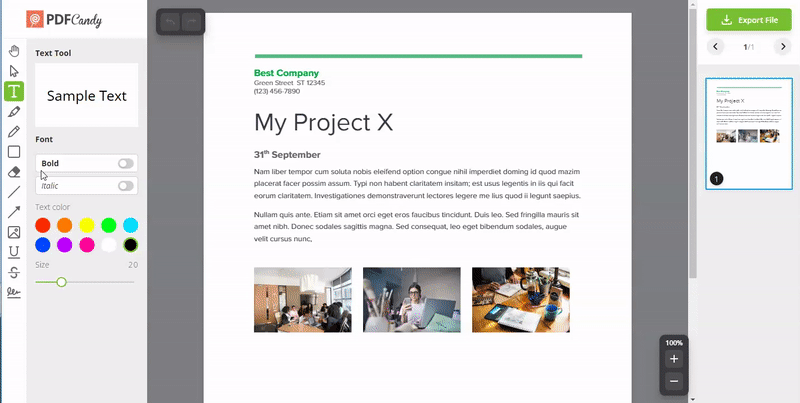 Advantages of online PDF highlighter
Does not require installation and doesn't consume space on your computer. Memory is required only to save the edited files.
In addition to the editor, the platform has many additional tools to convert and compress PDF, merge and split, rotate PDF and extract text or graphic objects from PDF.
The online method allows you to work with PDF files anywhere at any time.
Download and upload data from and to Google Drive and Dropbox storage saves space on your hard drive, too. This is relevant when working on a mobile device with a small storage space.
No additional programs, drivers, or utilities are required for use. A simple browser and an Internet connection is all you need. You can work on tablets and smartphones on public transport, in a queue, in a taxi.
In addition, the service does not require high performance PCs or mobile gadgets.
This PDF Editor is free, but allows processing one document in 60 minutes. To increase the number of editable PDF documents, purchase a PRO account at a modest cost.
Summary
Now you know how to highlight a PDF quickly and effortlessly. The website works on all browsers and operating systems, which allows you to use it on any device. Fast uploading and processing speeds will help you modify your file in just a few steps. This is especially relevant when it is necessary to correct a PDF file in a short period of time. We tried to gather in one place all the necessary tools for working with PDF. That is why the platform is so popular!
What else you can do after you edit PDF
Stay in the PDF editor and learn how to edit text in PDF: both existing and add new one.
Head over to PDF splitter and check how you can extract pages from PDF and even more using this tool.
Merge PDF that you highlighted with other documents or images.