Knowing how to highlight a PDF is required when you need to draw the reader's attention to essential points of a document. For example, it is useful for students who are studying a particular subject and want to quickly identify relevant information in textbooks or online documents, as well as for professionals who need to peruse lengthy contracts, reports, or other material. In this article we will present you three ways how anyone can highlight on PDF.
1. Highlight Text in PDF Online?
Instead of downloading a bunch of different programs onto your computer and wasting time learning them, use a free online PDF editor. Below we provide detailed instructions on how to highlight a PDF right in your browser on any device.
Open the PDF editor in any preinstalled browse like Mozilla, Opera, Chrome, etc.
Click "+ Add File" and upload the document you want to edit. Note that you can download data from Google Drive and Dropbox cloud storage as well.
If the text of the uploaded document is recognized, click the "Highlight Text" button on the vertical toolbar on the right.
Select the highlight color and its opacity level in the PDF highlighter.
Choose the desired word, sentence, or paragraph using the mouse cursor. If you make a mistake at this stage, you can undo the last action. This is done with the arrow icon in the upper left corner of the working area or with the Ctrl+Z shortcut.
Save the result with a click on the green "Export" button.
Download the file to your device or save it to Google Drive and Dropbox cloud storage.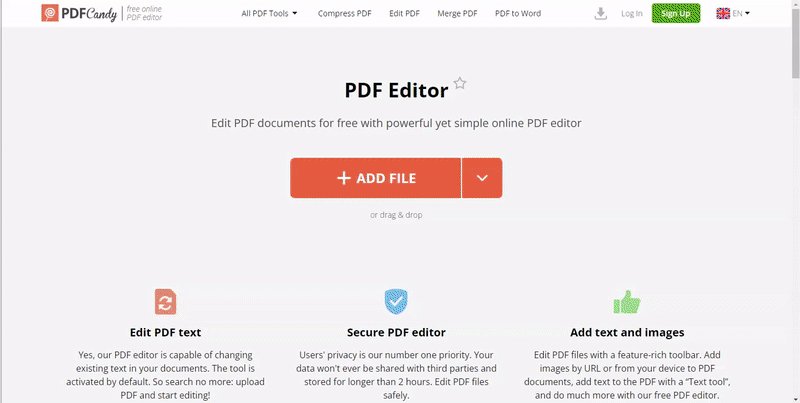 Advantages of Online PDF Highlighter:
Does not require installation and doesn't consume space on your computer. Memory is required only to save the edited files.
In addition to the editor, the platform has many additional tools to convert and compress PDF, merge and split, rotate PDF and extract text or graphic objects from PDF.
Supported by all famous operatin systems: Windows XP, Vista, 7, 8, 10, 11, Mac, iOS, Android.
The online free PDF highlighter allows you to work with PDF files anywhere at any time.
Download and upload data from and to Google and Dropbox storage saves space on your hard drive, too. This is relevant when working on a mobile device with a small storage space.
No additional programs, drivers, or utilities are required for use. A simple browser and an Internet connection is all you need. You can work on tablets and smartphones on public transport, in a queue, in a taxi.
In addition, the service does not require high performance PCs or mobile gadgets.
This online PDF Editor is free.
2. How to Highlight a PDF If It's a Scanned Document?
Why can't I highlight text in PDF? Many people question why they are unable to stress text in a PDF. The answer is simple: PDFs are not designed to be edited. They are designed to be read-only documents, meaning that any changes made will not be saved.
If you attempt to highlight text, the highlighting won't be retained. It also means that if you try to copy and paste text from a PDF into another document, the formatting of the original text wouldn't be preserved.
However, there are workarounds for both issues. If your file is not a text but a graphical document and text is not clearly recognized, you can highlight on a PDF with another "Rectangle" tool. Look how:
After uploading a document to Edit PDF service, select this tool from the toolbar on the left.
Set the strike and fill colors and opacity.
After that, simply highlight PDF area with the mouse cursor.
Save the document as described in step 7 above.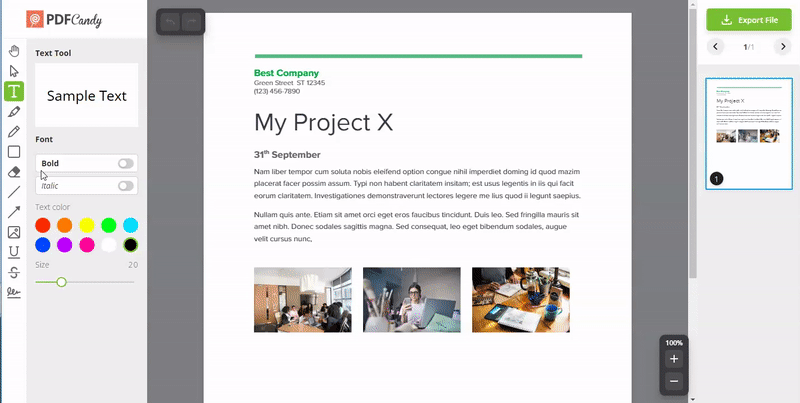 3. How to Highlight in Adobe Acrobat?
Highlighting PDF text is an easy task with the help of Adobe Acrobat. With this powerful tool, you can quickly and effortlessly emphasize any phrase in a PDF document. Here's how to do it:
Launch Adobe Acrobat and open the PDF file and select the "Text" tool from the top toolbar.
Select the "Highlight" button in the toolbar and pick the text you wish to draw.
The text will be highlighted in yellow, but you can also change the color by clicking on the "More Colors" option.
You can also adjust the opacity of the highlight by moving the slider below the color palette.
Once you are done, simply save your changes and close the document.
By following these simple steps, you can easily highlight any text in a PDF file using Adobe Acrobat. This feature is particularly useful if you want to mark up specific passages or point out an idea or concept. Give it a try!
Pros:
Adobe Acrobat's user interface is intuitive and easy to navigate.
You can select from a variety of highlight PDF colors and sizes to emphasize different elements on the page.
It has extensive editing capabilities, so you can make more than just changes to the highlights.
Cons:
Adobe Acrobat requires a subscription for full access to features.
Some older versions of Adobe Acrobat may not be compatible with newer versions of PDF files.
While program provides a wealth of features for highlighting PDFs, it falls short in some of the more sophisticated instruments available in other programs.
Why to Highlight a PDF?
Emphasizing documents is an excellent means of highlighting certain parts of a text. It also helps readers quickly find the most important information. PDFs are no different. PDF highlighter can help you organize and review your documents more efficiently.
Highlighting words in a PDF file facilitates the rapid detection of essential texts without perusing the whole document. You can keep track of important facts, figures, and topics that you may need for future reference.
Highlighting also allows you to make notes in the margin or in between lines of text. This simplifies the process of retaining important points when reviewing documents. Plus, any annotations you add to the PDF will stay with the document, even if it's shared with others.
Underlining text in a PDF document helps you quickly spot sections that require additional inquiry or elucidation. You can make notes directly on the page so you can come back to them later.
Utilizing text highlighter is an efficient route to guarantee that you don't miss out on essential data in documents you're reviewing.
FAQ
Q1: Can I highlight a PDF on my phone?
A1: Yes, you can open the PDF Editor on your phone (iOS, Android) and use its tools to pick out text and highlight it.
Q2: How do I know which parts of a PDF are highlighted?
A2: Look for colored lines or shapes around the text. This usually indicates that the text has been marked.
Q3: What is the best way to highlight a large section of text in a PDF?
A3: Utilize the highlighting tool to pick the first word, then hold down shift and click on the last word to select all text between them.
Q4: Is it possible to highlight words in different colors?
A4: Yes, you can highlight text in PDF with several colors.
Q5: Can I highlight only text or a specific area?
A5: You can do both: simply select the paragraph or a single word with the help of the "Highlight Text" button. Or just use a rectangle tool to highlight the desired area with text and graphics.
Summary
Hopefully, this guide has given you all the information you need to get started highlighting your PDF documents today. Online PDF highlighter facilitates ensuring that your PDF documents are organized and easier to read. With fast uploading and processing speeds our online service will help you modify your file in just a few steps. This is especially relevant when it is necessary to correct a PDF file in a short period of time. Moreover, the website works on all browsers and operating systems, which allows you to use it on any device.With practice and patience, you can make your documents much easier to follow and understand.
What else you can do after you edit PDF
Stay in the PDF editor and learn how to edit text in PDF: both existing and add new one.
Head over to PDF splitter and check how you can extract pages from PDF and even more using this tool.
Merge PDF that you highlighted with other documents or images.