Online JPG to PDF converter can benefit any user who wants to distribute documents in a professional, secure, and easy-to-use format. Transforming a JPG into a PDF guarantees that the document is visually appealing and provides a consistent viewing experience. This is ensured by the fact that, unlike photos in JPG or JPEG format, PDFs are opened the same way in all viewers.
Converting JPG to PDF is a great way to present media content in a more convenient and universal way. Quickly turn images into professional-looking documents that can be securely shared with others. Let's have a look at the top 12 online JPG to PDF converters that can do the job for you.
1. PDF Candy - the best JPG to PDF converter
Using the online JPG to PDF converting tool is one of the most preferred alternatives for transforming images into PDF documents. This service is an ideal choice for anyone who needs to easily change JPG files to PDF, as it offers a number of features.
This tool is pretty straightforward. You just need to open the JPG to PDF Converter, upload or drag and drop your JPG image files stored on your device or on Google Drive or Dropbox. Then re-arrange if necessary. Adjust the size (original, US Latter, or A4), orientation (auto, portrait, landscape), and margins (no, small or big) of the output pages. After that click the "Convert" button to start the conversion process. Download the PDF file to your device and you're done.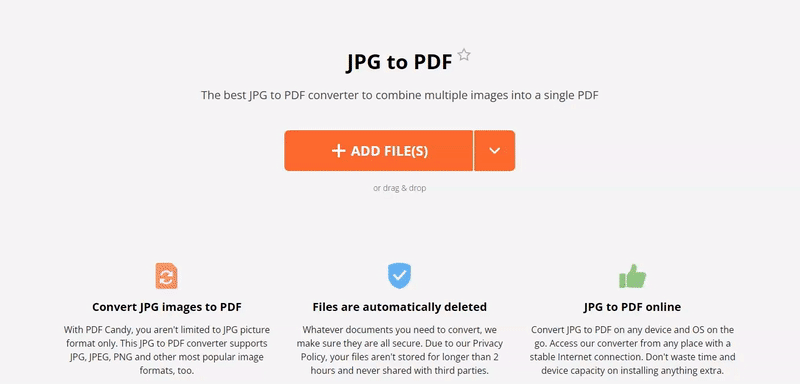 The benefits of using PDF Candy include:
Free of cost;
Allows choosing page size (A4, or US Letter);
Changing page orientation and margin sizes (no margin, big margin, small margin) is possible;
Multiple files combined to a single PDF document;
Secure JPG to PDF conversion process;
Files can be shared by sending a link (valid for a week);
Quick conversion process;
Convenient storage integration with DropBox and Google Drive (both uploading and downloading);
Supported by most popular browsers and OS (even Windows Vista).
If, however, you want to convert images to PDFs easily and safely, you should check out this online JPG to PDF Converter. This web-application is also suitable for converting PNG to PDF, BMP and TIFF.
2. Merge Images to PDF with SmallPDF
SmallPDF is a renowned online service that can assist you in transforming your images from JPEG to PDF. This free online PDF converter enjoys widespread popularity for rapidly and effortlessly turning pictures into PDFs.
Like many popular online image to PDF converters, it supports drag-and-drop, bulk conversion, and the ability to preview uploads.
Pros:
Choosing page orientation, layout, and margins are possible;
Secure and reliable;
Free version available for basic functions;
Rotation of files is also possible.
Cons:
The file capacity for the free version is capped at 5 MB;
Limited features on the free version of this online JPG to PDF converter;
For more features and larger file sizes you need to upgrade to Pro.
3. Turn JPG into PDF with PDF2Go
PDF2Go is an online platform that allows you to convert your image to PDF, documents, and spreadsheets. It is a superb option for transferring your JPEG files to PDFs with no extra software needed.
The lack of additional customization options is the downside of this JPG to PDF converter. Your photos will be converted as they are, which can be inconvenient for images that are mixed in vertical and horizontal orientation.
Pros:
To check the quality of the resulting file "Add example file" feature is possible;
You can convert with OCR;
Fix broken images option;
Users can choose the version of the PDF.
Cons:
Limited storage space;
Slow conversion speed compared to other image to PDF converters;
OCR and other options available only in Premium;
You can't choose to merge files or not.
4. Online JPG to PDF Converter by iLovePDF
This web-based application is perfect for those who need quick picture to PDF results in a matter of seconds. Just upload image and wait for the outputted PDF document to be generated automatically. The process is straightforward and the resulting PDF file can be seen on all devices. For your convenience, you can manually remove the created file from the site after you turn JPG or JPEG to PDF, this is a plus for the security of your content.
Pros:
Quick and easy conversion process;
Can join multiple images into a unified PDF file;
Convert JPG to PDF for free on Mac, Windows, iOS or Android;
Order file by name is possible;
Process bar shows how much time is left to wait.
Cons:
Has a cap on the number of conversions allowed;
Conversion process may take longer for larger files;
Limited document processing with the free version.
5. Turn Picture to PDF Using Convertio
With this service, you can quickly transform JPG to PDF document with high quality in a couple of easy steps. In addition, it provides capabilities like merging and compressing files. If you have added a different file format, this online converter will recognize it.
Photos are converted automatically in and there is no possibility to select the format of the output document as well as the margins. This can be a disadvantage when converting horizontally oriented or cropped images.
Pros:
Fast conversion time;
Easy-to-use JPG to a PDF converter;
Free and secure online service;
Supports a variety of image formats and output formats, including PDFs.
Cons:
Limited customization options for converted files;
File size limit of 100MB per conversion;
May not work with some older versions of browsers or operating systems;
Conversion of only 10 files per 24 hours is possible;
Only two simultaneous conversions can be performed.
6. Change JPG to PDF with Soda PDF
Soda PDF is an online tool that enables you to swiftly convert your JPG images to PDF documents. It gives you the ability to convert all of the pages in your PDF documents or just a portion of them. SodaPDF includes OCR capabilities to turn scanned JPGs into editable documents. Overall it's a reliable service to convert image to PDF online.
Pros:
It takes only a few clicks to get your file converted;
All data is encrypted and stored securely on their servers.
Cons:
Reduced capabilities for free users;
There are ads displayed on the platform that can be distracting;
Only one file at a time can be converted.
7. Online JPG to PDF Converter by Xodo
Xodo is a great internet application for converting images to PDF documents. One of the undeniable pluses of this website is the presence of its own storage - Xodo drive. It is also convenient to have a limit counter. Please note that this limit is not sufficient for testing. There are also no settings for the output PDF to be tweaked.
Pros:
Interface with simple and intuitive controls;
Secure and fast image to PDF conversion process.
Cons:
Not free, requires a paid license for full functionality;
For a free trial you need to sign in;
As a non-premium user you can not convert multiple JPG to PDF.
8. How to Convert JPG to PDF using HiPDF
Leveraging HiPDF, an one JPG to PDF Converter, is a straightforward and reliable approache to turn JPEGs into a PDF. It supports PDF editing and allows you to perform all conversions in your browser for free. Efficiency and security are maximized by combining this service with the popular bulk processing facility and encrypted connections.
Pros:
Easy way to convert JPG to PDF online;
The process is quick and reliable;
You can also convert other types of files such as Word, Excel, PowerPoint, etc. into PDFs.
Cons:
The quality of the resulting PDF may not be as high as when you use other converters;
You can only convert one file per day, which can be inconvenient if you need to transform numerous files rapidly;
The maximum file size allowed for conversion is 25 MB, which may not be enough for large documents or high-resolution images.
9. Turn JPG into PDF with Adobe Acrobat
Adobe Acrobat is a great tool for converting images between JPG and PDF. It's simple, and you can do it from the comfort of your own home. This website has the option to combine all JPG images into a single PDF file in case you have related images.
Pros:
Supports sharing files through cloud services;
Provides butch processing;
Secure and private;
Conversion process takes little time due to fast operations.
Cons:
No PDF files customization;
Can't merge several images to PDF at once for free;
Free trial lasts 7 days.
10. PDF Converter - an Online App to Convert JPG to PDF
It's a free online converter that permits users to change JPG to PDF. The tool is a reliable choice for quickly converting JPEG to PDF without installing any software on your computer or spending any money. But if you need more features, you'll want to look elsewhere.
Pros:
No software setup is required or any technical knowledge;
It supports various image types such as JPEG, BMP, TIFF, GIF, PNG, and more.
Cons:
Only one file can be selected at a time;
To create separate files you need to be a Pro;
No customization of the resulting file;
Without signing in you can do one conversion per hour.
11. Make PDF from JPG with Light PDF
This is an service for turning images and other files into PDF form. It is a user-friendly JPG to PDF converter and can be accessed from any device. Thanks to the friendly interface with various icons it is easy not to make a mistake while conversion.
Pros:
Easy and fast transformation of JPG file to PDFs;
Usable on any platform provided you have an internet connection;
Settings can be customized according to user preferences (e.g., page size, margins, etc.);
Can merge multiple files into one PDF.
Cons:
No way to edit or annotate the converted PDFs before downloading them;
Without the upgrade, you do not have the ability to batch-process PDFs and can only process 1 file at a time.
12. PDFFiller as a Way to Convert JPG to PDF Online
Employing PDFFiller for JPEG to PDF conversion online gives an effortless way to switch your picture to PDF.
Pros:
Edit the document before downloading;
Support for multiple formats - able to convert different file types such as XLSX, PPTX, etc;
Cons:
Some elements require a paid subscription;
Limited storage capacity - only 1GB of free space is available for basic account;
You cannot process multiple images at once.
Reasons for converting JPG to PDF
PDFs are widely accepted across different platforms, making them a great variant for sharing digital documents. By converting your image files from JPEG to PDF, you can easily share them without worrying about compatibility issues.
PDFs are also more secure than JPGs. Since they're password-protected, it's much harder for someone to access or edit the content without permission. This makes them ideal for sharing sensitive information.
Converting images to PDF can also make them easier to view. PDFs have a fixed size and resolution, so they'll look the same on any device. This eliminates any compatibility issues that might arise when viewing an image on different screens or devices.
With the help of an available online JPG to PDF Converter, transforming your pictures is now easier than ever. Just upload your file and let the converter do its job!
How to Convert JPG to PDF: Tips
Choose a web-based converter. Employing an online converter is the quickest way to interchange JPEG to PDF. Online converters are usually free and don't require any software downloads.
Verify the allowed file size. Many online converter websites have size limits for files they can convert. Make sure your JPG file is within the limit before you begin.
Optimize your file size. Compressing the file can significantly reduce the size of your JPG without sacrificing quality.
Make sure the file format is correct. Only JPG files with extensions like .JPG, .jpeg, and .jpe can be transformed into PDFs using an online converter. Other image formats like PNG or BMP will not work.
Ensure your device has a stable internet connection. A slow or unstable internet connection will affect your ability to upload and convert your JPG into a PDF quickly and efficiently.
Examine your PDF document prior to obtaining it. Before downloading, preview the PDF to make sure everything looks correct. This includes text position and layout elements such as tables or columns that may have been included in the original JPG file.
After converting your file from picture to PDF, save a backup copy. This is in case something happens during the conversion process and you need to start over or revert to the original version of the document.
Check for watermarks. Some online converters include watermarks on converted documents unless you upgrade to a paid subscription plan or premium version of their service. Be sure to read all terms before converting so you know what you're getting.
Look out for additional features. Some JPG to PDF converters offer additional options such as password protection, page orientation, page size, custom page numbers, and more.
Choose a reputable converter website. Choose a reliable online converter that has good customer reviews and ratings for its services. This way, you can be sure that your documents are safe and secure throughout the conversion process.
Conclusion
To sum up, it can be a fast and hassle-free way to convert your files using an online JPG to PDF converter. It is imperative to pay attention to the file size limit, the quality of the output PDF, and the speed of the conversion. It's also essential to guarantee that the converter you use is secure and reliable. Before converting JPG to PDF with a tool, make sure you read reviews and compare different options to find one that works best for you. Additionally, take some time to get familiar with the user interface of the particular converter you choose so that it's easier for you to use!
When you are done converting, you may face a new problem - your PDF is too big to send by email. In this situation, you can use an online PDF Compressor. You can also decide to get rid of some pages that do not contain any useful information. Finally, you can split the document and send it in parts.