If you are on a macOS, you know that certain file formats can be difficult to work with. PDF format offers more editing and customization features than JPG format. Also, PDF is more suitable for presentations, brochures or flyers. Because of this, you may need to know how to convert JPG to PDF on Mac.
In this article, we'll go over two ways of how to do that on a Macintosh computer. One is the image to PDF converter in Preview, the other is free online JPG to PDF converter. Instructions on both can be found below.
Method 1: Convert JPG to PDF on Mac with Preview
macOS offers a built-in software to work with PDF documents called Preview. Preview is a free, but limited tool that can be perfectly used to convert JPG to PDF on Mac. When using Preview, you cannot control the quality when turning a photo into a PDF. There is no guarantee that the resolution of the original picture will be carried over into the new file.
You also cannot control how the photo appears in the PDF because you have no control over the output document. For example, you can't choose margins around the picture or change the layout to be portrait or landscape. It is possible that if you use Preview to convert JPG to a PDF on Mac, your photo will end up distorted so that it fits the established print margins on a portrait page. You aren't able to edit existing text on a PDF with Preview, too.
Preview, of course, is limited to macOS only. You can only convert a JPG to a PDF on Mac and if you have a any mobile device or other operating systems you'll need to search for another JPG to PDF converter.
If you still want to use Preview to turn a JPG into a PDF, follow the steps below:
Locate the JPG you want to convert in Finder.
Right-click the image.
Click the Open With and select Preview option.
In the top menu, click the File and select the Export as PDF option.
Select the output folder and click Save.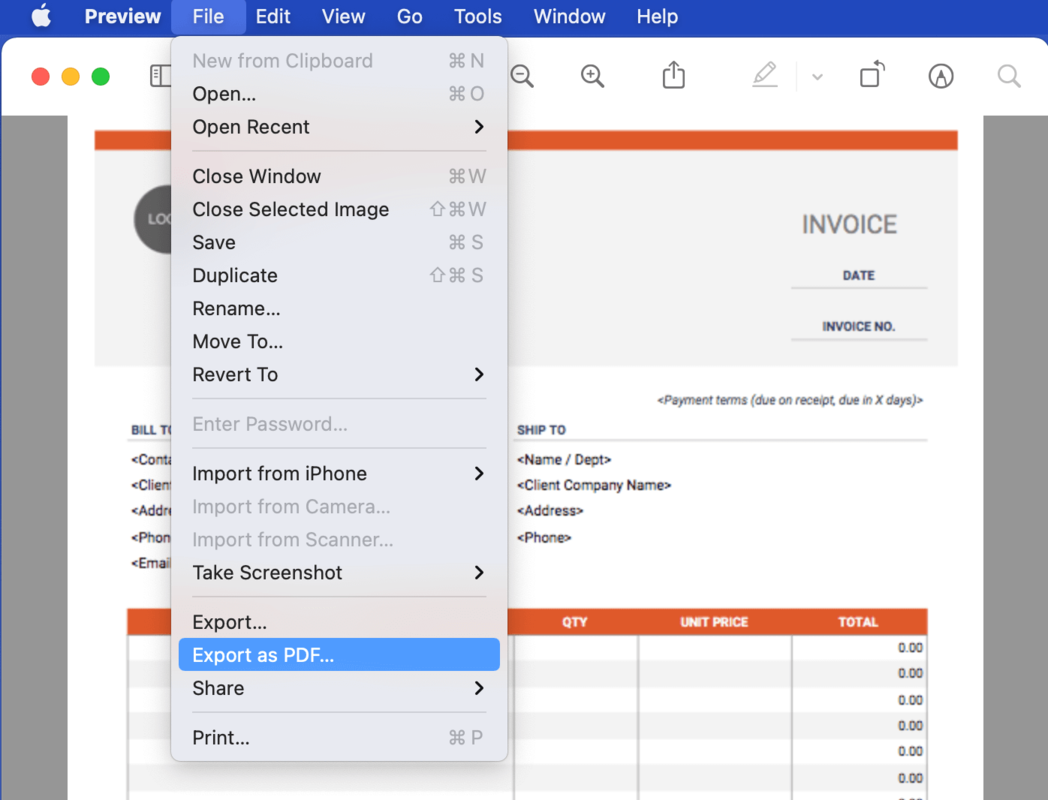 Method 2: Convert JPG to PDF on Mac and on any other device
If you want more control over the quality of the end result when you convert an image to PDF, you should look at this way instead of using Preview. We offer the service that is completely free and available online. This means you can convert JPG to PDF on Mac and any other OS that you might have. Here's a quick look at some of the benefits:
Control over layout and quality. The JPG and JPEG to PDF converter lets you set the page layout and margins of your new PDF.
Available on any device with the Internet access. All you need is a device with WiFi to use our tool, you're not tied to a specific OS or browser.
Free to use. There's no cost to using it, you can change your JPG or JPEG to a PDF free of charge.
Easy to share. You will have the option to download the file to your device, upload it to Google Drive or Dropbox, or create a link with a QR code.
If you're ready to easily turn JPG to a PDF online, follow the steps below:
Open the JPG to PDF converter.
Click +Add file and select the pictures you want to convert or open Finder and drag the files you want into the browser. Another option is to use Google Drive or Dropbox cloud storage to add a JPG or a JPEG.
You can select one or more pics to convert in a bulk. Rearrange the order of files by dragging and dropping them in the list. The order they display in the preview is how they will be placed in the new PDF.
Select the format and quality of the output file with the menus:

Size Options. Pick the page size of PDF document: Original Size, US Letter, and A4.
Page Layout. If you choose the US Letter or A4 size option, choose between Portrait and Landscape. If you keep Auto, then our tool will set this automatically.
Margins. There are three options: No Margin, Small Margin, and Big Margin.

Click Convert when you're done.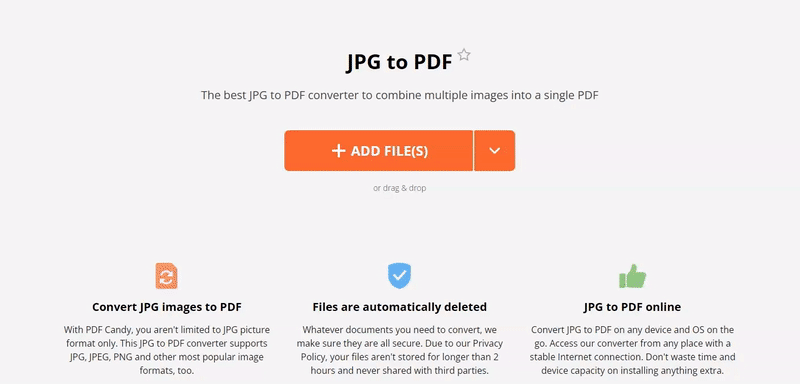 Now that you know how to convert JPG to PDF on Mac, you can work on editing your PDF. We have several solutions to update and edit PDFs such as merging, compressing, or cropping them.
Final thoughts
In this article, we've gone through two ways to convert JPG to PDF on Mac. You can either use Preview, the built-in but limited app to work with your images, or the free online JPG to PDF converter where you can control the outcome quality.
Discover more tools
Combine PDF together in one click. Images can be added for merging, too!
Use the PDF splitter to divide documents in 4 offered modes.
Sign PDF to add a signature to file in 3 ways: type in text, upload an image or draw the signature.