If you work with photos on a daily basis, then knowing how to convert multiple JPG to PDF online can turn out to be a lifesaver. Given the size of virtual images, turning a JPG into a PDF provides you with an easy way to compress and share large photos in a bulk as a single document while also maintaining consistent formatting.
Still, not all of us know the way to convert multiple JPG to PDF online and what's not less important for free. Fortunately, there are tools out there that do the work for you quickly, such as the JPG to PDF converter available at PDF Candy.
How to convert multiple JPG to PDF online
We have the best free JPG to PDF combiner out there. Big plus? You only need a browser to benefit from it. The conversion process is straightforward, too.
Open the JPG to PDF converter.
Add JPG or JPEG pictures in a bulk. Learn about all the file addition ways below.
Click the "Convert files" button to change JPG to PDF and merge the uploaded pictures into one document.
Download the output PDF, share it instantly via a URL or a QR code, or upload it to your Google Drive or Dropbox.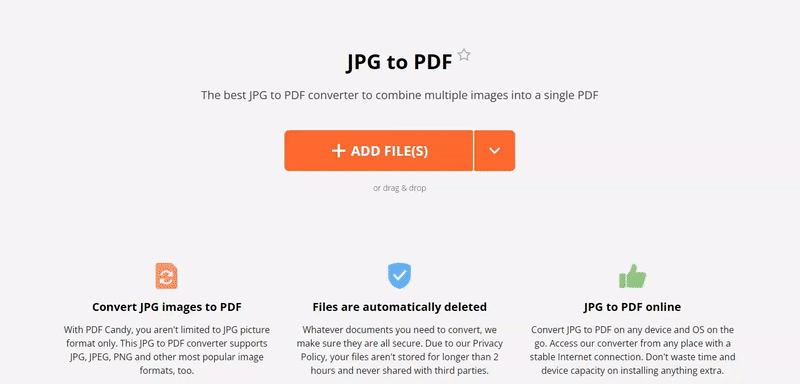 Useful JPG to PDF conversion features
Another advantage of the JPG to PDF converter is the ability to add files from sources other than your computer hard drive or smartphone memory. Our service supports integration with Google Drive and Dropbox. Since many of us store our photos in the cloud because of their size, this feature makes it easy to convert JPG to PDF.
Want to make changes to the output PDF file? PDF Candy offers a preview mode that you can use to view the final document and rearrange images as needed before converting multiple JPGs to PDF online. You can also customize the page size of the output file by selecting A4 or US Letter format. In each of these formats, you can select portrait or landscape orientation and adjust the margins of the PDF page.
All in all, we offer one of the easiest and most dynamic solutions out there to let you know how to convert multiple JPG to PDF online.
What else can you do with PDF?
If the created file turned out to be too large - compress it right after.
The "Add page numbers" service will number the pages of the output document.
Resize PDF pages to change size of pages in your PDF.