Are you looking for ways to password protect PDF on Windows 10? Three reliable and easy solutions are available to protect your PDF files from unauthorized access. Whether you are a student, a professional, or a business owner, you must ensure your documents' safety. In this article, we will discuss different ways to lock PDFs on Windows.
1. How to password protect PDF online
Windows 10 offers a few ways how to put password on PDFs, but using an online tool can be the simplest and easiest one. Web services are accessible and user-friendly, making it easy to encrypt PDF files on Windows 10 and 11 quickly.
Here is a step-by-step instruction on how to protect PDFs:
Open the PDF protector and click "Add File" to upload the PDF or drag and drop it.
Enter a password into the "Password" field and resubmit it in the "Re-enter password" below.
Click "Protect PDF" to start the password protection process.
A "Download File" button will appear once the process is finished.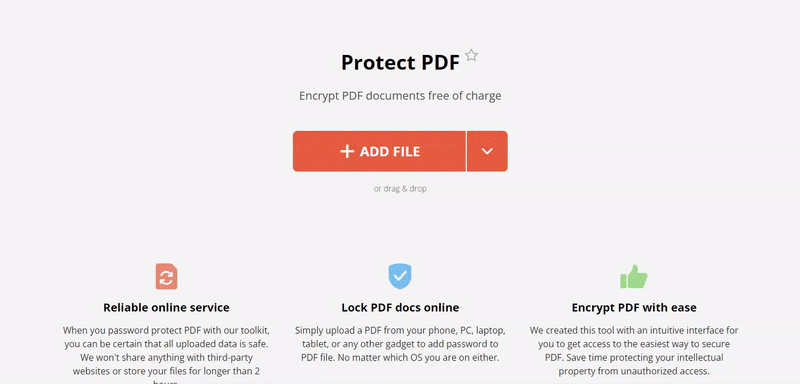 With the online "Secure PDF" tool and you can add password to PDFs in one go. Plus, the process is straightforward and takes just a few clicks. So if you're looking for an easy and safe way to get the job done, such a website is the way to go.
2. Use desktop software to protect PDF with password
Besides the online options, an offline programr is the second way to password protect PDF on Windows 10. Thus, you can keep your PDFs secure without worrying about exposure in the cloud.
Steps to set password on PDF:
Download and install PDF Candy Desktop.
Launch the program, and click "Protect PDF" tab in the main menu.
Click the Add File button. Or, drag the desired file onto the tool button.
Set a password for the document in the appropriate field. Select the permission settings for editing, printing, and copying.
Choose the folder, click "Apply", and wait for the process to finish.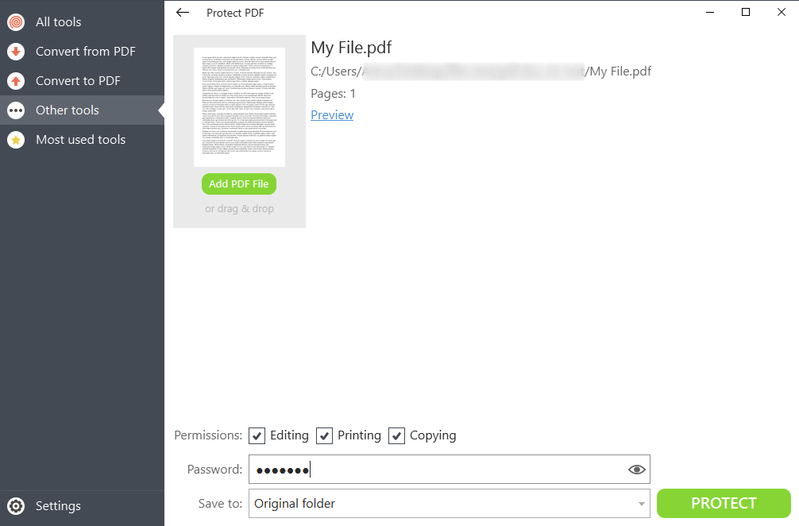 The great thing about the offline app is that it does not require an internet connection to work. This ensures that documents stay safe and secure at all times. Plus, since the software runs on your machine, you won't have to worry about compromised data. Use it ti password protect PDF on Windows 10, 11, 8 and 7.
3. How to add password to PDF using Microsoft Word
With Microsoft Word, you can password protect PDFs with just a few clicks. You can also set different permissions for various users. Due to this, you will know who has access to the document and what they can do with it. Plus, it's built-in to Windows, so you don't need to download any additional software.
Launch Microsoft Word and select "Open".
Navigate to the PDF file.
Select "Protect" from the "Tools" menu.
Select "Encrypt with Password" and create a password.
Click "OK" to save the PDF.
Microsoft Word is a convenient and secure program to encrypt PDF files. It's a fast, reliable way to protect your files without fuss.
Why you should password protect PDF files?
If you work with sensitive documents, it is essential to secure PDF files. It ensures that only those authorized to access and view your data can do so.
Password protection also helps prevent unauthorized changes to the document. Once the paper is protected, no one can change it without the correct password. All added images, scans, and PDF signatures would remain untouched. This is especially important when sharing documents with multiple people.
How to set a good password when protecting PDF files?
When protecting a PDF file, it is necessary to choose a strong password that is difficult for others to guess. It should be at least eight characters long. Password helps to ensure that only you have access to the file and its contents. Without one, someone else could easily access it and may use the information for malicious purposes.
Here's a checklist
Choose a passphrase. An effective password is usually a phrase or series of words, not just one word.
Use a mix of characters. Include uppercase and lowercase letters, punctuation marks, and numbers in your passphrase to lock PDF.
Avoid predictable patterns. Don't use common phrases or the same letters in consecutive order (e.g., "password123").
Avoid personal information. Don't use easily guessable data like your name, address, or date of birth.
Store passwords securely. Use a password manager to keep all passwords in an encrypted form.
Change passwords regularly. Updating your passwords often can help keep them secure and reduce the risk of being hacked.
However, it can happen that you have come up with a very complex password and you have managed to forget it. In such a situation, you can always use the tool to remove the password from the PDF file.
How to password protect PDF on Windows 10 - Final words
In conclusion, protecting your PDF files is an urgent part of secure digital life. Setting a good PDF password is vital to ensuring your documents remain safe. PDF protector allows you to share the document via any file-sharing service. And you don't have to worry about unauthorized access.
Additionally, there are a number of online tools available that can help you protect your PDFs even further:
With these tools, you can ensure your documents are as secure as possible.