People of various occupations use PDF documents. However, large files take up significant memory space and take a long to load when needed to be sent via email. In this article, you will learn 4 different ways how to make a PDF file smaller on Mac. Apple users may significantly benefit from this article as the device's performance depends on the available RAM.
1. Compress PDF on Mac with PDF Candy
This universal online PDF compressor allows you to reduce the size of PDF documents on Mac without losing quality. The platform works on all personal computers and laptops, including iMacs and MacBooks, since it does not require downloading. Follow the below instructions to make PDF smaller on Mac.
Open the PDF compressor for Mac.
Choose the desired file(s). You can upload your PDFs from the PC or Google Drive and Dropbox.
Next, set the compression level. There are two options: recommended or maximum compression. Click "Compress PDF" to reduce PDF file size on Mac.
When the file is ready for download, the system will display a corresponding message indicating the old and new document sizes.
At this stage, you are able to share, download, or continue working with your compressed PDF document using other tools of the PDF editor. The possibilities are sorting, deleting, and merging pages, setting protection and inserting a watermark, and many more.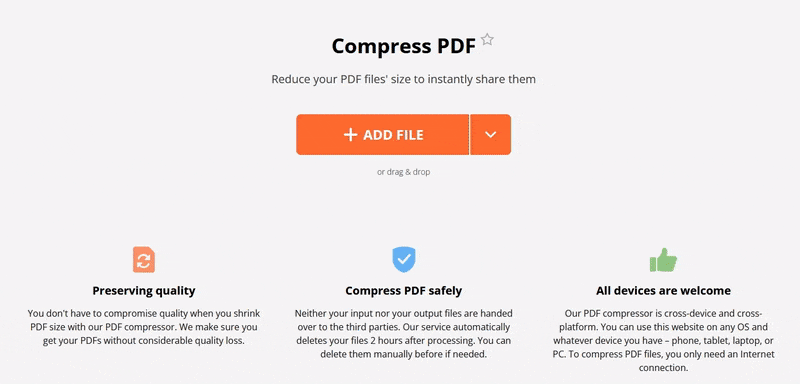 Pros of using an online free PDF Compressor for Mac
Short compressing time;
No additional software is needed;
Compatible with all models of iMac, MacBook Air, and MacBook Pro;
Can be used in any browser;
Files are stored on the server for 120 minutes;
Free to use.
2. How to make a pdf smaller on Mac using an online splitting service
Another way to reduce PDF file size on Mac is to split a large file into several smaller ones. This method is suitable for printing, sharing via email, or uploading to cloud resources. To compress PDF on Mac by splitting, follow the directions below.
Open the Split PDF tool in your browser.
Upload the file you want to reduce the size from your computer, Google Drive, or Dropbox Cloud.
Now select the settings: split the document by page and interval, and also choose to glue or delete the selected sheets. You can simply indicate the page numbers in the appropriate field for convenience.
Then click "Split PDF." The website will automatically start processing the data and, once it is completed, will provide you with the final result.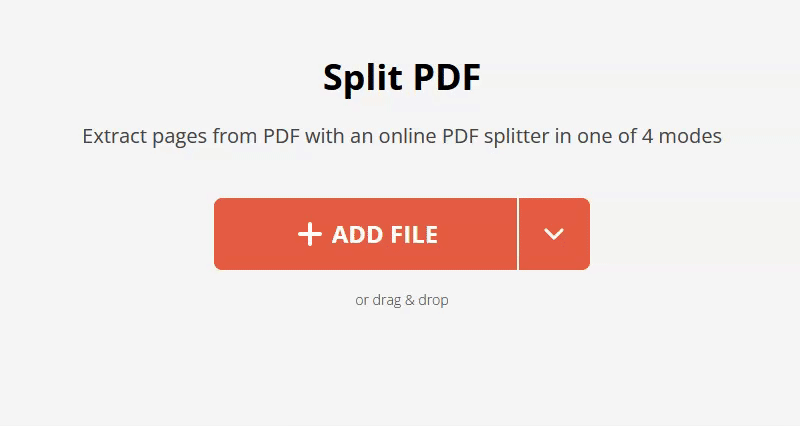 Pros of using a splitter to make PDF smaller on Mac
Ability to select only the necessary pages of the document;
Preview of the pages is available.
Cons of utilizing PDF splitter to reduce PDF file size on Mac
PDF pages are saved one by one;
Further merging and compression may be needed.
3. Compressing PDF on Mac with Preview by Apple Inc.
You can adjust your PDF file size on Mac using the default Apple program Preview. This software is appropriate for those who do not want to use third-party services. Following the guide below, compress PDF on Mac using Preview.
Open the PDF file with Preview. To do this, go to the "Finder" menu, open the file's location, and double-click the document to open.
Next, in the "File" pop-up menu, click "Export."
Then, in the "Quartz Filter" submenu, select "Reduce File Size" and click "Save".
The PDF document will be briefly processed and ready for the user in the default location.
Pros of working with Preview to reduce PDF file size on Mac
No third-party software used;
Works offline;
Fast data processing.
Cons of using Preview to make PDF smaller on Mac
Significant quality loss;
Not an intuitive process as the software is not specified for compressing PDFs on Mac;
No apparent option to choose where to save the compressed file.
4. Changing the size of a PDF on Mac with Automator
This program that can be used as a PDF compressor for Mac was created to help Apple computer users to automate simple tasks. The software allows you to achieve optimal compression with virtually no quality change when used to reduce PDF file size on Mac. Instructions for using this method are below.
Open the Automator app on your Mac;
Chose the "Quick Action" option and hit "Choose";
In the "Workflow received current" dropdown menu select "PDF files" and in the menu "in" select "Finder";
Now, in the field "Variables" find "Apply Quartz Filter to PDF document" and drag the filter to the workflow;
You will be notified whether you would like to save originals after conversion. Depending on your needs, choose "Add" or "Don't Add";
In the dropdown menu "Filter" Chose "Reduce File Size" option;
Then, go to the "File" menu choose "Save" and give the name to the filter;
Close the Automator app and find your PDF file that needs to be downsized;
Open the "Options" menu for the file and find "Quick actions";
Choose the newly created filter. Now you have learned how to make a PDF smaller on Mac.
Pros of using Automator to make PDF smaller on Mac
Compression is performed without quality loss;
Works with the help of tools preinstalled in the operating system;
Good tool for advanced users.
Cons of compressing PDFs on Mac with Automator
Advanced knowledge of the software required to set up filters needed;
Only relevant when compressing PDFs on a regular basis.
How to make a PDF smaller on Mac: Conclusion
Today you learned four ways to reduce PDF size on Mac using online services or built-in Apple programs. The user's choice of service or software is based on their experience, knowledge, and working needs. Explore different ways to compress PDF files on Mac and see which option works best.
Other articles you may find relevant
Do you need to create one file out of two separate PDFs? Read how you can combine two PDF documents fast, free, and online.
Do your PDFs need editing, such as changing the page size? Learn two easy ways to crop PDF on Mac.
Would you instead work with your PDF file as a Word document? See what free tools to use when you need to convert PDF to Word.