There might be cases when you only need a couple of pages from a large PDF document. Therefore, knowing how to extract pages from PDFs to work with the necessary content only is a useful skill. In the following article, we will guide you through how you can extract PDF pages online and for free.
How to extract pages from a PDF online
With the PDF extractor from PDF Candy, one can easily split PDF files into single pages or page intervals. To select pages from a PDF for extraction, simply upload your file and pick the pages. Below is the instruction on how to save certain pages of a PDF in just a few clicks.
Open PDF page extractor in Google Chrome, Edge, or any other browser of your choice.
Add the document into the working area (drag and drop it, use the "+Add file" button, or upload from Google Drive or Dropbox).
Choose the "Split into single-page files" mode to extract a single page from the PDF. Alternatively, pick "Split by page ranges" to select multiple.
Click the thumbnails of the pages with the mouse cursor or type in the page numbers (or intervals) that you want to separate.
Click the "Split PDF" to initiate the process. Then, "Download" you file(s).
Once you have extracted pages from PDF, there are two ways to download the files. Either save a ZIP archive with all the output files or download individual PDFs.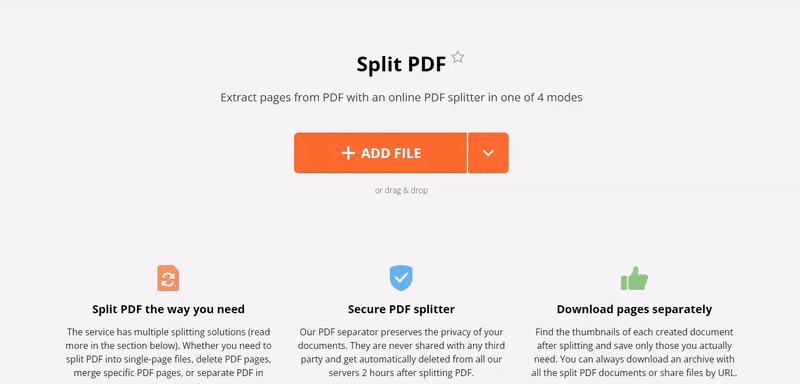 Other functions of the PDF splitter are "Merge selected pages" and "Delete selected pages".
The first option allow to combine the needed pages of the document into a single PDF file. In this case, you do not need to start over and manually merge PDF pages you extract.
The second feature helps you delete pages of a PDF you no longer need. This will save you time if you want to select many pages from a PDF and do not need only a few of them.
Advantages of using an online PDF extractor
Now you know how to save only one page of a PDF or pull out multiple at once. Extracting pages from a PDF is highly beneficial when you need to pass on only a handful of the document's sheets. It is much faster and easier than manually copying and pasting the information you need or forwarding the entire document.
Using such an online service for saving only specific pages can be a great approach to edit your PDF documents. Below are the main advantages of this toolkit:
Free PDF page extractor without the need to install;
Files can be uploaded from Google Drive and Dropbox;
Works in any browser - Google Chrome, Firefox, Safari, Edge, and more;
Edited PDF files are stored on the service for 2 hours;
Does not add a watermark to the PDF with extracted pages;
Can be used on any device regardless of the operating system and model. Suitable for Androids and iPhones (Pro, ProMax, Plus, Mini, SE), Windows (7, 10, and other) and Mac computers (iMac, MacBooks Air and Pro).
Apart from offering an instrument to extract PDF pages, the platform has 47 additional tools for PDF processing. Without installing a new program or leaving this same website, you can complete additional edits to our document. For example, after you select pages from the PDF to be extracted, you can password-protect your new PDF.
With the PDF extracted pages, you can easily create custom documents. More to that, you can sort your PDF pages and share the gained content with others or save it for your own reference. If the file you are working with does not have a numeration, you are able to insert page numbers to a PDF, too.
Reasons to extract pages from a PDF
PDFs are an incredibly useful and versatile file format. Yet, there may be instances when you need to save one page of a PDF or break up the content into smaller pieces. Here are some reasons why you might need to learn how to extract pages from PDFs:
Editing: By extracting pages from your PDF, you can easily edit the PDF and update selected information without needing to tweak the entire document.
Organization: If your PDF contains multiple topics or sections, extracting pages can help you separate and structure the information more effectively. You can extract PDF pages that are the most important and save them into separate files.
Sharing: When sending long documents via email, it is often better to split the PDF into smaller chunks. Removing extra pages makes it much easier to send specific sections or topics without the need to compress a large PDF file.
Storage: Saving space is important when dealing with large documents. Being able to save individual PDF pages lets you delete unwanted content while retaining the necessary information for later use.
Protection: PDF page extraction makes it possible to delete confidential or unnecessary information from a document. This helps keep data secure and prevents any unwanted sharing of sensitive material. This eliminates the necessity of setting a password or having to manually whiteout PDF content.
Taking out specific pages from a PDF may prove beneficial in numerous ways, especially with longer documents. Knowing how to save certain pages of a PDF is an important skill. It can help you stay organized and make better use of your files.
FAQ on extracting pages from PDF
Question 1: Can I extract images from a PDF?
Answer: Yes, you can use an online resource like PDF image extractor to obtain pictures from your document.
Question 2: Is there an easy way to extract text from a PDF?
Answer: Yes, similarly to extracting images, you can also extract PDF text to save it for later use.
Question 3: Is there any free way for splitting pages of a PDF?
Answer: Yes, you can use PDF page splitter for free.
Question 4: Can I merge multiple extracted pages into one document?
Answer: Yes, various web-based and offline tools enable you to select multiple parts and combine them into a new document.
How to extract pages from a PDF: conclusion
Using a PDF page extractor to save individual PDF pages could be advantageous if you require a quick and convenient method how to save only one page of a PDF, rearrange, or edit your documents. With its simplicity of use, it is no wonder that so many people are choosing this method for their PDF extraction needs.
Try to extract pages from a PDF for free now and see how fast, easy, and fun working with PDFs can be!