There are might be cases when you only need a couple of pages from a large PDF document. Extract pages from PDF to work with the necessary content only and share it easier and faster. PDF is a format that requires additional apps, programs or services in order to be modified. In the following article we will guide you through the way of how to extract pages from PDF online and for free. A great advantage of the method is that you can do that in any browser and on any OS right away.
How to extract pages from PDF?
With our PDF extractor, there is no need to convert a PDF into another format. Simply split your pages and use only the ones you need with just a few clicks.
Are you wondering how to extract pages from PDF? Follow these steps:
Open PDF extractor.
Upload a document (drag and drop it, use "Add file" button or upload from Google Drive or Dropbox).
Choose 'Split by page ranges' mode to extract pages fro PDF.
Click the thumbnails of the pages with mouse cursor or type in the page numbers (or intervals of pages) that you want to separate.
Click the "Split PDF" to initiate the process.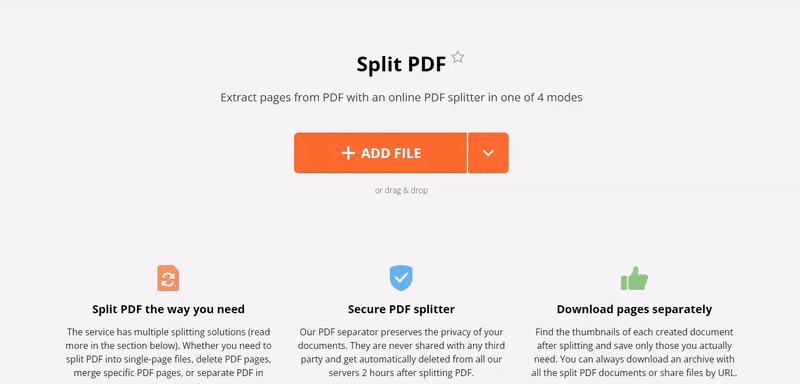 Extract pages from PDF by merging selected pages
These were the simple instructions on how to separate PDF pages correctly. Another mode of work of our PDF extractor is "Merge selected pages". Use it to combine the needed pages of the document into a single PDF file. You can click the thumbnails in the preview mode or insert the page numbers, too.
Ways to save results in PDF extractor
Once you have extracted pages from PDF, you have two ways to download the files. Either save a zip archive with all the output files or download individual PDFs.
Another highly convenient way is to extract pages from PDF and upload them to Google Drive or Dropbox accounts.
Other useful free online PDF tools
Sign PDF online in 3 ways if you are working with documents.
Protect PDF tool - apply a password to important documents for the maximum security.
Add page numbers to PDF to keep your document organized.