If you are a long-term PDF files user, you know that progress never stops. Nowadays the Internet is evolving, and so are the various online services tools that allow any person to use PDF to the full without any extra programs, especially the pricey ones. Today's topic is how to add page numbers to PDF without Acrobat Reader. Enjoy!
How to add page numbers to PDF?
Here is a simple yet very helpful instruction on numbering a PDF file:
Go to the Add page numbers to PDF tool.
Add a PDF in any convenient for you way (add it directly from your device with "Add file button, drag&drop or upload from Google Drive or Dropbox).
Choose from which page the numbering will start and the last page to which it will be applied. Select the format of numbering that suits you (simple, page N or page N of M) and the numbering position on your document.
Click the "Add page numbers" to apply the changes.
Download new PDF file with numbers when it's ready or proceed with more tools.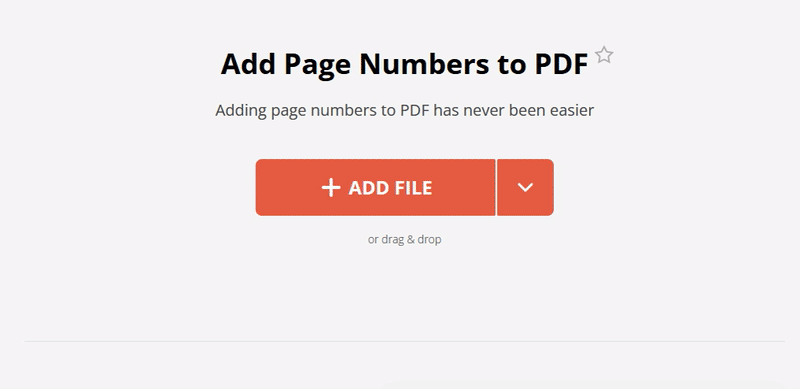 Why insert page numbers in PDF?
There are several possible reasons why one might need to add page numbers to PDF:
While writing some college or university papers, numbered pages, that will simplify the checking process, is usually required.
Business tasks or contracts are done in PDF format also might be the basis for inserting page numbers in PDF.
What's the problem with the Acrobat Reader?
Let's face it: if you don't need all the tools that Adobe has to offer with their complex and advanced software like Acrobat Reader. And you don't need to pay such a high price for one-time use. Or, likewise, even if you do use it daily, you can still save a lot of money by using our completely free service to add page numbers to PDF without Acrobat! Spend those coins on things that you love ;)
Why choose our service to edit PDF files online?
Here are some key features that make our website the best alternative to Adobe Acrobat for numbering pages of PDF:
It's secure. The privacy of all your files is preserved. Documents are deleted 2 hours after you are done working on them. We never store your information nor do we share it with any third parties.
No watermarks. Add page numbers to PDF and be sure that we won't spoil your files with any watermarks. If you want to protect the copyrights of your PDF file, you can add your own watermark!
Access from anywhere in the world. You don't need to worry about the system requirements or OS if you need to insert page numbers in PDF. Simply open your preferred browser on any OS (Mac, Windows, iOS, Android, etc.) and start working with your documents right away. Add page numbers to PDF without Acrobat or any other limitations.
Explore more editing tools
If you often work with PDF files, you might need to use other handy online tools:
Reduce PDF size if they are too large to attach to an e-mail.
Delete pages from a PDF if some parts of it are private or unneeded.
Merge PDF files in one document to further share a complete presentation with your team.