Adding page numbers to a PDF document is an important step in making sure that the file is organized and easy to reference. It helps the reader quickly locate the information they need and can also facilitate viewers to cite the source of the data. Page numbers are especially useful for long documents, such as books, manuals, or reports. Today's topic is how to add page numbers to a PDF without Acrobat Reader. This will help you save on an expensive service from Adobe.
1. How to Add page numbers to PDF Online?
Here is a simple yet very helpful instruction on numbering a PDF file in a web browser:
Go to the PDF page numbers tool.
Add a PDF in any convenient for you way. Load it directly from your device with the "+Add file" button, drag&drop or upload from Google Drive or Dropbox.
Choose from which page the numbering will start and the last page to which it will be applied. Select the format of PDF page numbering that suits you (simple, page N or page N of M) and the numbering position on your document.
Click the "Add page numbers" to apply the changes.
Download a paginated PDF file when it's ready or proceed with more tools.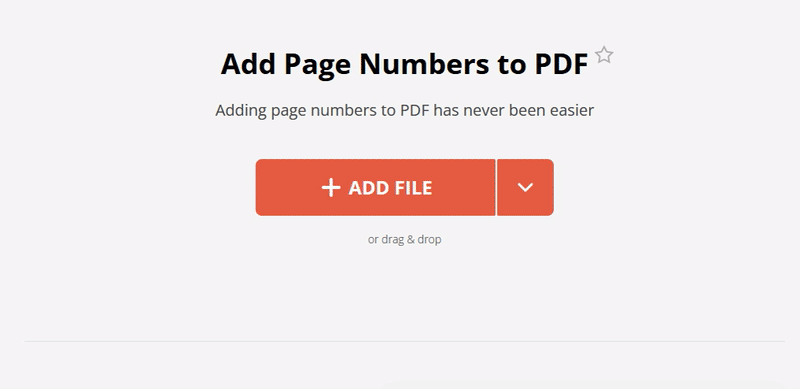 Why Choose Our Service for Adding Page Numbers to PDF?
Here are some key features that make our website the best alternative to Adobe Acrobat for inserting page numbers in PDF:
It's secure. The privacy of all your files is preserved. Documents are deleted 2 hours after you are done working on them. We never store your information nor do we share it with any third parties.
No watermarks. Add page numbers to PDF and be sure that we won't spoil your files with any watermarks. If you want to protect the copyrights of your PDF file, you can add your own watermark!
Access from anywhere in the world. You don't need to worry about the system requirements or OS if you want to insert page numbers in PDF. Simply open your preferred browser on any OS (Mac, Windows, iOS, Android, etc.) and start working with your documents right away. Add page numbers to PDF without Acrobat or any other limitations.
2. How To Put Page Number in PDF With Microsoft Word?
To number pages in PDF through Microsoft Word you need to turn it into a text document. To find out how to convert PDF to DOC read our article.
Now when you have changed the PDF file to Word, follow the instruction below:
Open the document in Word.
Tap the "Insert" menu in the upper left of the window.
Opt for "Page Numbers" from the selection of possibilities.
Adjust the settings.
Click "Close Header and Footer" to save your changes and return to your document.
After you are done, turn your DOC to PDF format in a couple of mouse clicks.
Pros:
You can rapidly add page numbers to PDF without Acrobat avoiding manual typing.
You can also hide or move page numbers for better document organization.
Cons:
You cannot alter the PDF pagination.
If you are using a scanned PDF, the page numbering may not be accurate due to the resolution of the document.
3. Add page numbers to PDF without Acrobat on macOS?
Adding page numbers to PDF document can be a helpful way to keep tabs on the pages of your file. If you're using a Mac, you can do this quickly and easily in the Preview app. Here's what you need to do:
Open your PDF document in Preview.
Go to the "View" menu and select "Show Markup Toolbar".
Find the text box tool, click "Annotate" and then "Text".
Enter the needed number and place the box where you want a page number to appear.
Repeats the procedure for all pages and click "Save".
Pros:
There are several styles for PDF pagination to choose from, such as Roman numerals, numerical numbers, and letters. You can even customize the font size and color of the numbers.
It is possible to set the page numbers at any point you wish.
Cons:
Does not provide the same level of features as other programs such as Adobe Acrobat DC.
Cannot handle inserting page numbers in multiple PDF documents at once. If you have more than one document that needs page numbering, you will have to go through the process for each page individually.
Reasons to Add Page Number to PDF
Appending page numbers to PDFs is a great way to easily organize your documents and make them easier to navigate. There are several possible reasons why one might need to add page numbers to PDF:
Credibility. Incorporating page citations in your PDFs gives it a professional appearance and adds credibility. It shows that you have taken the time to edit your PDF document properly and that you take its content seriously.
Organization. With PDF pagination, it becomes much easier for readers to rapidly identify what they are looking for. For example, if you are writing an important report that has multiple sections, applying page numbers can facilitate navigation readers swiftly jump from one section to another.
User Experience. Page numbers in PDFs also make it easier for users to read documents. Instead of having to constantly scroll up and down looking for a particular section, readers can simply use the page number as a reference. This makes the document easier and more enjoyable to read.
Searchability. If you are searching for a definite piece of information in a large document, having paginated PDF can help you rapidly narrow down your search. This saves time and allows you to find the information you need quickly and accurately.
Branding. Utilizing page numbers is an excellent means of including your own branding or logo in the PDF. This helps create a professional look and feel that will leave a lasting impression on your readers.
What's the Problem With the Acrobat Reader?
Let's face it: if you don't need all the tools that Adobe has to offer with its complex and advanced software like Acrobat Reader. And you don't want to pay such a high price for one-time use. Or, likewise, even if you do use it daily, you can still save a lot of money by using our completely free service to add page numbers to PDF without Acrobat! Spend those coins on things that you love ;)
PDF Page Numbering: FAQ
1. Why can't I add page numbers to PDF?
Answer: Adding page numbers to PDF is an ideal method for organizing and referencing data in a document. Unfortunately, if you are using a PDF file, you might not be able to attach page numbers. This is because PDF files are designed to maintain the exact formatting of the original document, and page numbers may be part of that formatting.
2. Is it possible to number the pages of a scanned document?
Answer: Yes, you can use OCR (Optical Character Recognition) technology to convert scanned documents into editable PDFs.
3. Can page numbers be appended to a secured PDF?
Answer: Yes, you can apply page numbers to a protected PDF after removing the password.
4. Is there a simpler approach to inserting page numbers in PDF than with Adobe Acrobat?
Answer: Yes, there are other alternatives that facilitate bulk page numbering. For example, PDF Candy offers additional features that simplify and accelerate the process of working with PDF files.
5. Can I add multiple sets of page numbers in one document?
Answer: Yes, you can include multiple groups of page numbers in a single document. Above-mentioned tool allows you to customize each set of page numbers separately for greater flexibility in your documents.
PDF Page Numbers: Bottom Line
In conclusion, the process of adding page numbers to PDF file is relatively easy if you know the steps to follow. First, choose software that is suitable for your needs and that supports the addition of page numbers. Second, use the software's tools to adjust the page numbering options. Third, save the PDF with the added page numbers. In conclusion, ensure that all the page numbers were put in properly.
By following these steps, you can easily add page numbers to your PDF documents quickly.
Explore More Editing Tools
If you often work with PDF files, you might need to use other handy online tools:
Reduce PDF size if they are too large to attach to an e-mail.
Delete pages from a PDF if some parts of it are private or unneeded.
Merge PDF files in one document to further share a complete presentation with your team.