When sharing important documents with colleagues, you want to avoid loss of data at any cost. This is why converting PDF to Excel may be your go-to solution when emailing various tables. Later on, once everyone who needed to provide comments has seen the analytics, you can convert your PDF to Excel again to make changes.
Sounds complicated? It is not. Continue reading this article to learn a free online approach to how to convert a PDF document to an Excel spreadsheet and vice versa. This will help you switch between the two file formats quickly and easily.
How to save an Excel file as a PDF and convert PDF to Excel for free?
1. Converting PDF to Excel
PDF is one of the popular formats for digital documents, while Microsoft Excel is the most used spreadsheet program.
Excel offers a broad selection of capabilities that enable you to visualize data in different ways. This is particularly useful for creating charts and graphs from the information contained in a PDF.
Below you will find a description of how to convert PDF to Excel completely free with PDF Candy:
Open the PDF to Excel converter.
Upload the document to be converted. Drag and drop it into your browser or use the "+ Add File" button.
The PDF to XLS conversion will start automatically. The service will then inform you that the operation was completed successfully.
Download your new worksheet file, share it via a link, or upload it to cloud storage accounts.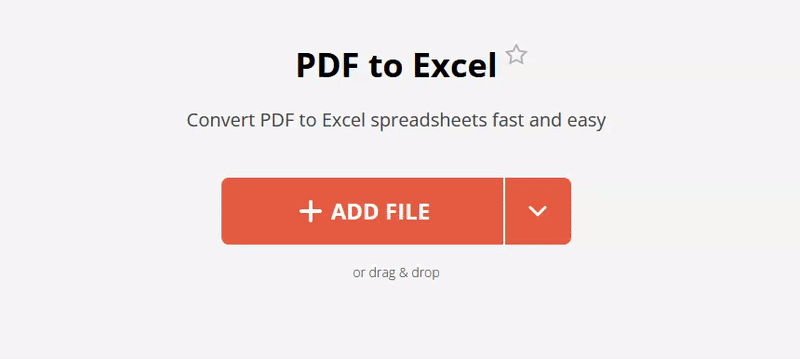 In just a few clicks, you get full access to edit and manipulate the data to further create a visual representation of the numbers. After you change PDF to Excel, you can quickly create reports from the figures.
2. Converting Excel to PDF
Once you finish working with the spreadsheet, you may want to send it to others for review. To ensure that all of the formatting and formulas remain intact, convert your Excel document to PDF, which is an easy-to-open format.
Read the following instructions to change XLS or XLSX to PDF:
Head over to the Excel to PDF converter.
Upload the spreadsheet into the converter with the "+ Add File" button. You may also do so by dragging and dropping it into the window.
The Excel to PDF conversion will start as soon as the file is uploaded. Save the resulting file when finished.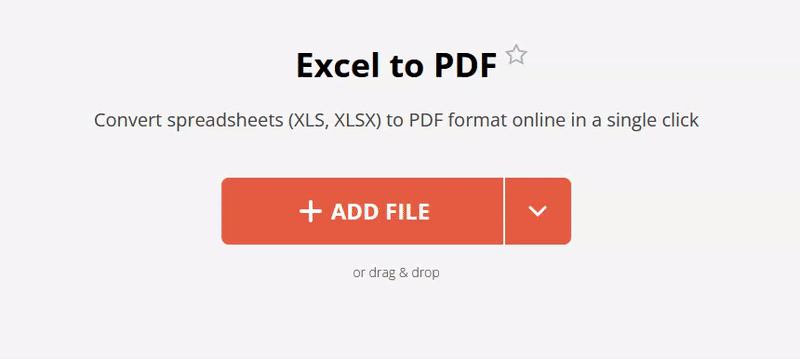 Now that you converted your XLSX or XLS to PDF, you can rest assured that none of your hard work will be lost or corrupted in the transfer process. You can also be sure that any images or charts included in your document will look just as good on a different computer as they do on yours.
After you save Excel as PDF, you may choose to continue working with the new file on the website. For instance, you can merge PDF files to add your table to another existing document. Or, add a watermark to a PDF to protect your data from being used without proper credits.
Advantages of using PDF Candy to convert PDF to Excel and vice versa
Fast operation regardless of the device characteristics.
No need to install a third-party application on your device.
All you need to use the service to convert to export PDF to Excel is a stable Internet connection.
Works on any browser - Safari, Google Chrome, Mozilla Firefox, and others.
Compatible with all operating systems, including iOS and Android.
46 additional useful PDF editing tools on the same website.
PDF vs Excel
When deciding whether you need to convert XLSX to PDF or export a PDF to Excel, consider what you want from a document when working with it.
| | PDF | Excel |
| --- | --- | --- |
| Format description | The file format that was developed by Adobe for printing and viewing digital documents as they were originally created, regardless of the operating system, hardware elements, or software. PDF documents can be of any length, or volume, and have any fonts and pictures. It is used to create data for subsequent transfer, to prepare it for printing. | A file format developed by Microsoft Corporation for organizing data in tables. Advanced users can use diagrams, mathematical and algebraic formulas, as well as summary table elements. You can read the files by using special programs. |
| Technical parameters | PDF encapsulates an exact 2D or 3D representation of a document. These are fonts, pictures, and vector graphics. Information related to the software, hardware, or operating system used to view the PDF document is not encrypted. | Before the release of the 2003 software, Microsoft used binary codes. The user was limited to 65,000 lines and 256 columns and a 256-color palette. Modern versions of the software have begun to support more than 1,000,000 lines and 16,000 columns. |
| Developer | Adobe Systems | Microsoft |
| MIME type | application/pdf | application/vnd.ms-excel |
| Portability | The file can be easily opened on any device. | You may need to install the required fonts to open the file. |
| Annotation capability | You can annotate in many different ways. | You can only leave comments. |
| Transfer Accuracy | The transferred PDF file has the same content as the original file. | XLS may look different on various operating systems and programs. |
Reasons to convert PDF to Excel spreadsheet
PDFs are a great way to store and share data, but converting PDF to Excel makes them much more useful. Here are some key reasons why you should consider using a PDF-to-Excel converter:
Automation
You can automate processes such as data entry by converting PDFs to Excel. This speeds up the process and reduces the chance of human errors. Also, many calculations are done with Excel's formulas that can be applied to multiple columns or rows simultaneously. Hence, switching your PDF to XLSX will be beneficial in this case.
Data visualization
As mentioned previously in the article, when you need to present data analytics in the form of graphs, charts, and reports, Excel is the best tool to do so. Hence, you should choose to export PDF to Excel to perform this task.
The outlined reasons make learning ways of converting PDF to Excel an attractive option for anyone who wants to make the most of their data.
Reasons to convert Excel to PDF
Do you need to circulate your Excel documents among colleagues or clients, but don't want them to modify the data? Converting your Excel files to PDF is an excellent solution to ensure the security of your workbook and prevent any changes. The following are some of the major advantages of using an Excel-to-PDF converter:
Print-friendly format
PDFs are designed for printing. So, when you convert XLSX to PDF, it becomes much easier to print out the document, you will not worry about formatting issues or text disappearing. It also ensures that everyone who prints out the document will get a consistent result, no matter what printer they are using.
Easier to share
Sharing an Excel document can be cumbersome, as the recipient needs software that supports this file type to open it. However, if you convert your Excel file to a PDF, anyone can open the document without needing extra programs. This facilitates much easier for you to share your work with colleagues and clients.
Security
PDF documents provide greater security than Excel files. When you transform XLSX to PDF, you can set a password to PDF. It prevents unauthorized users from accessing the information in the document.
Preserves formatting
One of the main reasons for converting Excel to PDF is to save the original formatting of the document. As mentioned before, to avoid data loss, consider exporting your Excel worksheet as a PDF. You will be sure that all the data looks the way you designed it to.
In general, using an XLSX to PDF converter can bring numerous benefits when exchanging documents with colleagues and clients. This format makes it more secure and easier for others to access,. Moreover, it also helps preserve all of your hard work by keeping everything intact during the conversion process.
Conclusion
In this article, we described how to save Excel as PDF and how you can quickly convert a PDF to Excel. Both converting options are available online and for free!
Accountants, students, and teachers, as well as ordinary users, may need Excel to PDF and PDF to Excel converters. The conversion is done in a few easy steps regardless of the device and operating system installed.
If you work with documents on a regular basis, you may find these PDF tools useful: