Apple allows users to turn their mobile gadgets into a portable office, where they can work with various files at any time. However, finding a good iPad or iPhone PDF converter may be challenging.
This article shows ways how to convert PDF to Word on iPhone or iPad so that you can easily work with documents. Read on to learn tips on converting PDF to Word and also alternative methods to making an editable file.
How to convert PDF to Word on iPad or iPhone online
Working with PDFs requires specialized software. Today, more and more users choose to use online services for processing digital documents. This applies to PDF to Word conversion as well. To turn a PDF into a Word document online on your iOS device, you only need to have an installed browser and Internet connection.
Below are the guidelines on how to change PDF to Word on iPhone and iPad fast and easily:
Open the online PDF to Word converter.
Upload your document by tapping the "+ Add File" button.
The system will upload the file to the server and start converting PDF to Word automatically. The processing time will depend on the size of the file, but usually takes a few moments.
Hit "Download file" to save the results of PDF to Word conversion to your iPhone or iPad.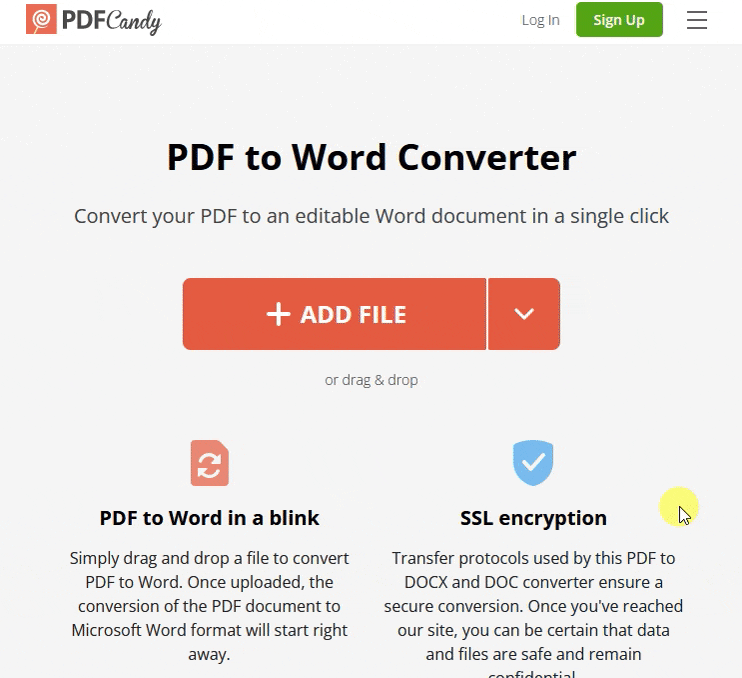 Advantages of the online PDF to Word converter
Any iOS device. The service does not require high technical indicators, so you can convert PDF to Word online even on outdated Apple phones and tablets. Plus, the platform is free to use!
Accessibility. You can access the iPhone-iPad PDF converter on different gadgets. For example, you can start converting a file on your smartphone on your way to work and continue editing the PDF on your office laptop. *Note that to do so, you will need to sign up for an account.
Cloud storage support. In addition to the fast and easy PDF to Word conversion, it is possible to upload the document from Google Drive or Dropbox and then re-upload it back.
Security. The online PDF-to-Word converter handles your data securely. It never shares any users' details with third parties. Plus, all the files are permanently deleted from the server 2 hours after you finish working.
Compatibility. Apart from converting PDF to Word, the platform is capable of transforming other formats to and from PDF. For instance, this PDF converter for iPhone and iPad can convert your PDF to PPT and vice versa, as well as other document formats - Excel, RTF, and more. In addition, you are able to switch PDF to JPG and other image formats.
File sharing. There is an option to share the output file via a URL link with a QR code, which is valid for 7 days. This feature will save you time when after you convert PDF to Word online on your mobile device, you need to quickly share the document with others.
Intuitive GUI. The simple and user-friendly interface of this PDF converter for iPad and iPhone will be clear even to a beginner. No special knowledge and high skills are required to convert files.
Cross-platform. Compatible with all versions of browsers (Safari, Google Chrome, Mozilla Firefox, Opera, and more) and all popular operating systems (Windows, MacOS, Android, or Linux). This allows you to turn PDF into Word and other formats on any device.
No installation. Since this is an online PDF-to-Word converter, no third-party software installation or additional utilities are required. This allows you to save your gadgets' disk resources, which is important for mobile devices.
47 other PDF tools. The functionality of the online service is quite extensive. Besides the iPhone and iPad PDF converter, there is a PDF editor with a large selection of tools. The website also has instruments to combine or split PDF files, set a password or add a watermark, and more to manipulate your PDFs.
How to convert scanned PDF to Word on iPad or iPhone
Not all PDFs come in a form that can be easily processed through a PDF converter on iPhone or iPad. Most likely there is nothing wrong with the platform you used if you open a Word document and cannot edit the text. It is likely that you tried to convert an image PDF to Word i.e. a scanned document.
Luckily, there is a way to change such PDF to an editable Word file. To do so, you will need an Optical Character Recognition instrument - OCR. This technology is used to recognize the written content on images and turn them into a text document.
Here is the instruction on how to change scanned PDF to Word on iPhone and iPad:
Open the PDF OCR tool in a browser on your iPhone or iPad.
Upload the document to convert PDF to text.
Select the language for recognition and click "Start".
After processing is done, "Download file" to your device.
The outcome format after you convert a PDF image to text is TXT and not DOCX. Still, such files can be opened in Microsoft Word. Alternatively, open the TXT file in a text editor and simply copy the text to the new or existing Word document. You can also convert TXT to PDF if you wish to keep the initial format.
Consider editing PDF instead of converting it to Word
Many users choose to turn their PDF into Word to complete editing. However, alternatively, to using a PDF converter for iPad and iPhone, consider performing edits directly in the PDF file. Use a convenient online PDF editor that can be used on any Apple device similar to the online PDF to Word converter.
By choosing to edit your PDF instead of converting PDF to Word, you skip the necessity to change the file format. Hence, saving time and effort. In addition, the layout and formatting of your document are not affected when you open it to alternate it with the PDF editor. However, this is likely to happen when performing PDF to Word conversion.
The editor offers many tools for comfortable and throughout work with PDF. You can easily edit the existing text of a PDF, delete, or add new. You are able to extract images from PDF or add new ones. Highlight or white out PDF to stress out the important convent and remove irrelevant. And much more.
Editing PDF vs converting PDF to editable Word
When it comes to making changes to text, many users turn their PDF into Microsoft Word because it is an easy-to-use program. however, there are capable PDF editor that allow one to revise the document in its initial format. The advantages of editing PDFs instead of changing PDF to editable Word include the following:
Preservation of Formatting
After you convert PDF to Word, you may find that margins or image positioning have changed. This is the result of PDF to Word conversion, which is not always perfect. With PDF documents, however, formatting is much simpler to keep up. That is because the original layout of the document is preserved even after changes are made.
Better Compatibility
When sharing files between Apple and Windows users, compatibility can be an issue. Word documents created on one operating system may not look the same when opened on another. PDF documents, however, are much more compatible across platforms, so as such, they are capable of being shared easily without worrying about compatibility issues.
Increased Security
You can password-protect PDF files, making it difficult for those without the security code to open or edit them. This added layer of security is especially useful when sharing sensitive information with others. Word documents lack this level of encryption.
It is up to you to decide what is the best option for you to work on digital documents. Some may see more benefits in editing PDFs instead of converting PDF to Word and exploring the capabilities of a PDF editor. However, if you prefer editing documents in the Word application, then using the PDF converter for iPhone and iPad is your go-to option.
Conclusion
Now you are equipped with the understating of how to convert PDF to Word on iPhone and iPad. As you can see, utilizing an IPhone-iPad PDF converter to get a Word document is a straightforward process that can be achieved in a few simple steps.
Remember that converting scanned PDF files to Word is a slightly different process. However, by following the steps outlined in this guide, you will have no trouble changing such PDF to an editable Word or TXT file as well.