The great possibilities of Apple mobile gadgets allow users to turn the iPhone or iPad into a real office, where they can work with various files at any time. However, opening PDF requires additional software, and most documents are used in this exact format.
Today we will tell you how to convert PDF to Word on iPhone and iPad so that any owner of portable Apple products can easily work with documents.
How to convert PDF to Word on iPhone or iPad
Today, most users use online services to work with digital documents Converting PDF files on mobile devices requires only an installed browser and an Internet connection. If your iOS device meets these requirements, you can get to convert PDF to Word.
Open the PDF to Word converter.
Upload your document by tapping the "+ Add File" button.
The system will upload the PDF to the server and start the conversion automatically. The processing time mostly depends on the size of the file.
To download the data to the mobile device memory, press the "Download file" button to save the results of PDF to Word conversion to your iPhone or iPad.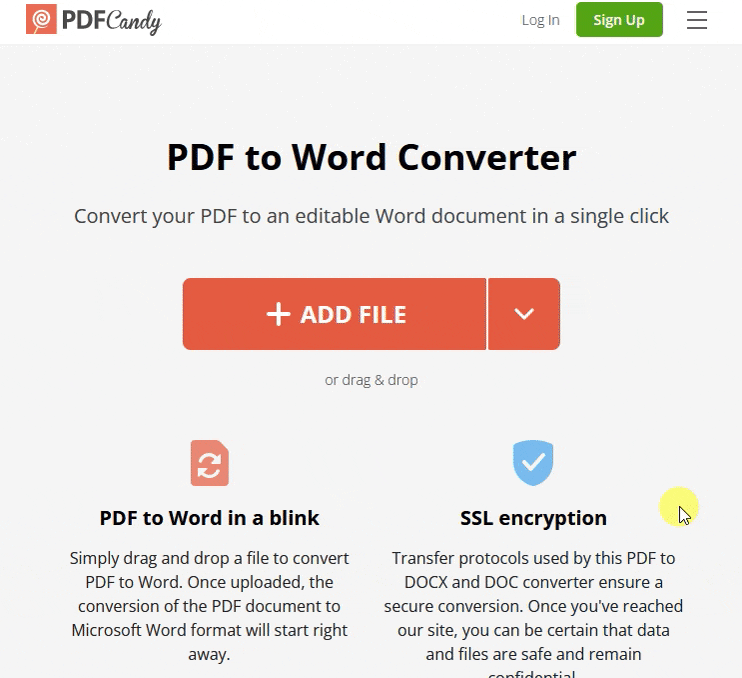 Advantages of the online PDF to Word converter
Any iOS device. The servicedoes not require high technical indicators, so you can turn PDF to Word on outdated Apple devices. Using the service requires only a stable Internet connection and a browser. This also allows you to use the site on different gadgets. For example, you can start converting a file on your smartphone on your way to work and continue editing that PDF on your office laptop. Note that PRO account is required for such a case.
Cloud storage support. In addition to the fast and easy process of PDF to Word conversion, it is possible to both upload the document from Google Drive and Dropbox and then re-upload it back.
Security. The platform handles your data securely, it is never shared with third parties and is permanently deleted from our servers 2 hours after you have finished.
Formats supported. A large selection of tools and possible formats for conversion makes the site a universal tool for processing documents. In addition to the Word format, users can convert PDF to JPG, PDF to RTF, PDF to Excel, PowerPoint to PDF, PNG to BMP, TIFF and others.
File sharing. There's an option to share the output file via URL link with a QR code, that is valid for 7 days. All these additional features save you a lot of time when working converting PDF to Word on iPad, iPhone or other mobile devices or smartphones.
Intuitive GUI. The simple and user-friendly interface will be clear even to a beginner to convert PDF to DOC format. No special knowledge and high skills are required to convert files.
Cross-platform. Compatible with all versions of browsers and operating systems, regardless of bit depth. This allows you to convert digital documents to various formats on any device.
No installation. No software installation or additional utilities are required. This allows you to save your gadgets' disk resources, which is important for mobile devices.
47 PDF tools. The functionality of the online service is quite extensive. There is a PDF editor with a large selection of tools to edit PDF without software, utilities for combining or dividing PDF pages, setting a password or your own watermark, resizing or extracting data, and other useful tools.