Both PDF and PPT are great ways to share and store presentations. However, the PPT format is better suited for live presentation of a product or project in front of an audience. So how do you convert PDF to PPT if you need to be able to change slides on demand and that's only available in Microsoft PowerPoint?
Here you will find an impressively simple guide on how to convert PDF to PowerPoint in no time and no effort. Continue reading below.
How to convert PDF to PPT?
Here's how to turn your PDF to presentation online with a single mouse click:
Open the PDF to PPT Converter in a browser.
Click the "+Add file" button or drag and drop a document.
The conversion will start automatically.
Once ready, download the presentation on your device, upload it to the cloud (Google Drive or Dropbox) for easier group access or share it by creating a link.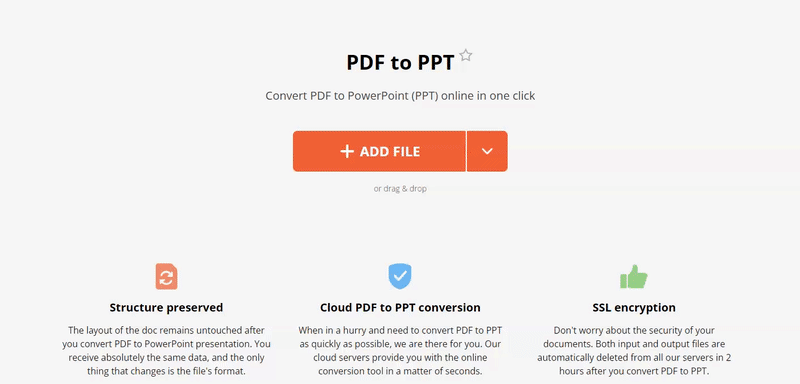 Cross-device and cross-platform
Convert PDF to PPT online on your desktop computer, laptop or smartphone. All you need is an installed browser. Whether it's Windows, macOS, iOS, or Android, anything will work. Just go to the site and start processing your documents.
It's all about the clouds...
In fact, all files are automatically processed in the cloud. Convert PDF to PowerPoint instantly while saving capacity on your device.
Secure conversion.
Security is paramount when working online, and we take every possible measure to keep our data and our customers' data safe.
Additional tools you can use:
Convert PDF to JPG to turn your documents into images.
Extract images from PDF to get all pictures included in your document. Save them separately or as a ZIP archive.
Sometimes you need to scale pages of a document, try to resize PDF to A4, A5, A3, or the US letter page sizes.
Rearrange PDF pages to reorder the pages, rotate and delete them at your will.