PDFs are a great way to secure important documents. With special tools you can easily set the password. But what if you forget the password? You are unable to access your own files! That's why it's essential to be familiar with PDF password remover. It allows users to easily reset the password that is protecting a PDF file, thus permitting them to access the data without any requirement to input the original password.
Employing a PDF password decryption program, users can swiftly regain access to their digital assets. Let's take a closer look at how a file unlocker works and what it's for.
1. Online PDF Password Remover
PDF cracker is a fast and easy way to remove passwords from PDF files. It only takes a few easy steps to unlock the password-protected status of a PDF file. Here's how:
Go to the PDF unlocker and click on the "Unlock PDF" button.
Load the PDF files by clicking the "+Add File" button or drag and drop them into the upload area.
If you still cannot remember the password, click "Unlock".
When the files have been processed, click "Download File" to receive your unrestricted PDFs.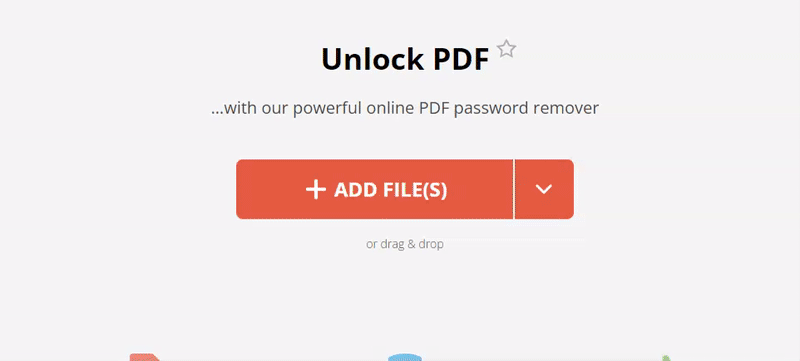 Now you know how to decrypt PDF with PDF Candy without an effort!
Benefits of using online PDF password remover:
Using an online service to unprotect PDFs has several advantages compared to other approaches:
PDF unlocker is free to use and no sign-up is required.
It also supports batch processing, so you can remove password from multiple PDFs at once with a single click.
It offers a high level of security as all uploaded files are deleted within two hours of processing.
The process is quick, easy, and straightforward - no technical knowledge is required.
The quality of the output file remains unchanged after unlocking. You don't have to worry about losing any information or images in the document.
It supports multiple languages, making it accessible regardless of your language preference.
Compatible with all popular browsers such as Chrome, Mozilla, etc.
Works on Windows 10 and 11 and earlier, Linux, Mac, Android, and iOS.
Offers a wide range of editing tools, such as extracting pages, adding watermark or signing PDF.
Dropbox and Google Drive can be used for file uploads and downloads.
Overall, it is a great tool for quickly and easily removing a password from a PDF while keeping the security and quality of output files intact. Plus, its free and user-friendly interface makes it ideal for both novice and experienced users alike!
2. Offline PDF Unlockers
It is important to remember that offline methods would only work if you remembered the password.
1. PDF Candy Desktop
It is a handy tool if you need to unsecure PDF passwords without any inconvenience. This is a straightforward and secure software that makes the task of deleting passwords from a PDF document easy and hassle-free. How to remove the password from a PDF on Windows?
Download and install PDF Candy Desktop.
Open the software. Upload the PDF.
Enter the password. Choose the directory for the resulting file (original folder, desktop, documents, or custom one).
Select the "Unlock PDF" option from the left side panel of the screen.
Click on the "Unlock" button.
Once the process is completed, you will receive an unprotected PDF.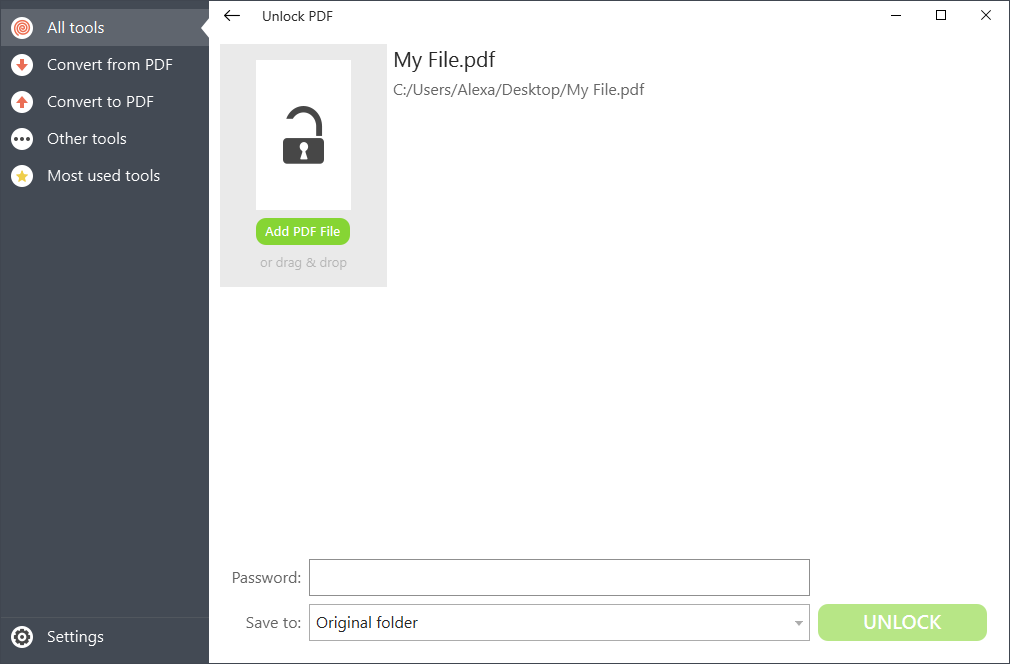 Pros:
Reliable and swift PDF cracker enabling the effortless decoding of passwords stored in PDFs.
Intuitive interface with clear choices.
Powerful enough to remove even complex passwords.
Supported by Windows 11, 10 and earlier versions.
2. Print to PDF Function
PDF files can be protected with a password for extra security. But that can be inconvenient if you want to view the document without having to insert the password every time. The good news is, you can unencrypt the PDF by opening it in the browser and generating a new PDF. Here is how:
Launch the protected PDF in the pre-installed browser (Opera, Firefox, Chrome, Edge, etc.).
Type the password in the window.
Press the "Print" button. Alternatively, use the shortcut Ctrl+P.
Select "Save as PDF" from the printer drop-down menu. Click "Save" to remove PDF password.
When you have selected the directory and entered the name, the fresh PDF will be downloaded.
Before using this option, pay attention to its advantages and disadvantages.
Pros:
Quick and easy way to remove password from PDF.
No need to install additional tools to unprotect PDF on your device.
Keeps the formatting of the original file.
No cost associated with using this option to unsecure PDF.
Cons:
It takes longer than other methods such as using a free online file unlocker.
It is impossible to remove multiple passwords at once from multiple PDF files.
Why Use Password Remover?
Employing a PDF password remover may assist you in getting rid of any type of protection from your PDF document, allowing you to view, edit or even print it. It works by either breaking or bypassing the encryption used on the file. This means that after you've removed the password, the file will no longer be protected.
This type of software can be used for both personal and business purposes. For example, it makes it simpler to share documents with colleagues or customers, free from any security issues.
Deploying a PDF unlocker has the plus of being able to recover missing passwords. If you've forgotten your document owner's password, then you can use a remover to recover it for you. In other words, even if you don't have access to the original owner's password, you can still access your files.
Incorporating a PDF cracker is also very convenient as it removes the need for manual decryption techniques, which can be tedious and time-consuming. Plus, many removers are designed to be user-friendly so even those who aren't tech-savvy can use them without any problems.
Security & File Safety: How to Choose PDF Remover?
In all jobs data security is a priority. It is essential to ensure that your files are safe and secure, especially when it comes to sensitive information. Consequently, it is imperative to discover the appropriate method for removing password from PDFs.
The most efficient programs for eliminating PDF passwords will enable you to delete passwords quickly and easily. They should also provide extra functionality for enhanced security, including the capacity to encrypt or decrypt PDFs, and also to set page numbers in documents.
When choosing how to unlock PDF, seek out a dependable and safe one. You should also confirm that it has been tested and certified by an independent third-party organization. This will help ensure that the application meets industry standards for safety and reliability.
Finally, consider any additional features that may be useful to you when attempting to unsecure a PDF. For example, some programs may offer additional features such as the ability to convert documents into other formats or extract text.
By taking the time to research and find the right PDF remover, you can rest assured that your data is secure and your documents are protected.
FAQ
Q1: Does a PDF password remover work on all versions of PDFs?
A1: Yes, password remover is compatible with all versions of PDF files, including those created with Adobe Acrobat.
Q2: Can I remove a password from a PDF that was scanned??
A2: Yes, the tool can also be used to eradicate passwords from scanned documents.
Q3: Does using a PDF unlocker cost anything?
A3: No, utilizing above mentioned services is absolutely costless.
Q4: Will a Password Remover erase my data?
A4: No, using it will not delete or modify any existing data in your PDF files. The program simply removes any restrictions placed on the document so that it can be viewed or edited without needing the original password again.
Q5: How long will it take to be completed?
A5: The result is dictated by the tool used and the difficulty of the password. Our PDF Unlocker should be able to remove a simple password within minutes, however, complex passwords may take longer.
Q6: Can I use a single software to remove a PDF password and add a password?
A6: Yes, the application offers other features such as PDF encryption and decryption of data within a single interface or platform.
Password Tips
Create a backup of your PDF file so that you can restore it if something goes wrong during your try to remove PDF security.
Ensure that your PDF password remover has a good encryption system so that hackers cannot access your document's data.
Change the password regularly to avoid unauthorized access.
If you have forgotten the security code for your file, try an online service to unencrypt PDF.
For added security, consider using two-factor authentication for accessing PDF files.
Use a combination of upper and lower case letters, numbers, and symbols when setting up your PDF file's password for increased security.
Try using an offline tool designed specifically for eliminating password protection from PDF documents for better security and convenience.
Final Words on PDF Password Removers
In conclusion, removing the password from a PDF file can be accomplished in several easy steps. This process should not take too long and it can assist you in retrieving important documents without needing to be concerned about remembering or resetting passwords. As long as you follow the steps carefully and use a reliable tool, you should have the capacity to remove the password efficiently.