PDF format is designed to accurately transfer and print data. Hence, editing PDFs may be problematic. PDF Candy was created to handle this task and is considered one of the best online PDF editors. It has excellent functionality for completing various tasks with PDF files online and for free. In this article, you will learn the main features of the PDF editing platform. You will also read about the advantage of modifying PDF online rather than in a desktop program.
How to Edit PDF Online?
Open the PDF editor in any preinstalled browser on your computer.
Upload the document you want to edit using the "Add File" button or drag and drop it directly into the window.
Now, you can edit the PDF text by selecting the words or sentences that need adjustment. You are also able to whiteout blocks, sign, insert illustrations, and perform other modifications. Read in detail about each available online PDF file editor tool below.
Save the edited file with the "Export" button.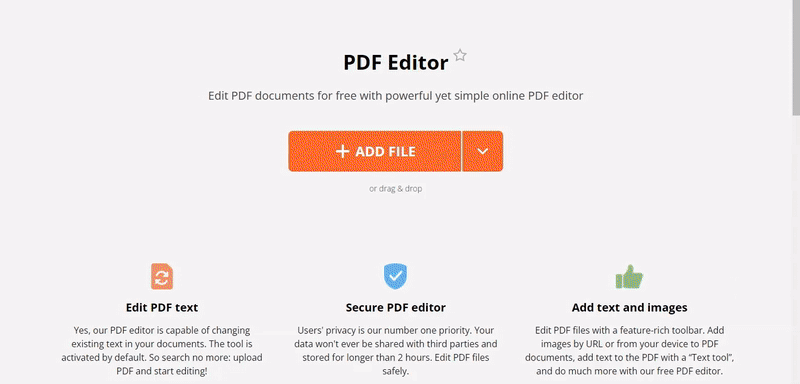 Tools to Edit PDF Text for Free
The free online PDF text editor offers many handy tools for modifying files.
Hand. Use this tool to move the sheet in all directions. It is designed for detailed viewing of the document on a large scale.
Text tool. Allows you to edit PDF text, as well as add new text and change existing text in PDF. The service easily recognizes fonts, so there will not be compatibility issues when editing. In addition, this tool is useful for making edits to tables, captions, and other text objects. Users can customize color, size, and bold or italic font settings, which allow you to build a high-quality PDF document.
Highlight Text. After you edit text in PDF, draw the reader's attention to an important point or paragraph in the document. Suitable for highlighting individual words and sentences that carry valuable information. The user can change the marker's color and its transparency level. Performing this change text in PDF makes it more structured and points out the key segments.
Pencil. Sketch marks, create custom drawings, and more. The user can adjust the color and thickness of the line.
Rectangle. This option places square boxes on the page. It is useful when you need to highlight some of the content. Choose the color and outline thickness, along with the shade and transparency of the fill.
Whiteout. As you learn how to edit a PDF, you may want to remove unnecessary fragments of text. This option is often used to white out on PDF.
Line. Draws a straight line across the page. Outline thickness and color can be adjusted.
Arrow. This tool of the online PDF editor lets you focus on a specific item, like a picture or a table. It is used for drawing up visual descriptions of jobs and manuals. There is a possibility to pick the color and size of the pointer.
Add image. This function of the PDF editing tool is necessary to place a graphic object on the page, such as a company label. Moreover, the customer is able to resize and implement graphics via a link.
Underline. This puts a line under the selected text. This is done to underline text in PDF, a paragraph, or a sentence.
Strikeout. Crosses the text with a line.
Signature. Gives the option to sign your document. The customer can "draw" the handwritten signature, add text, or a ready-made image.
Besides learning how to change the text in PDF, this platform has a functional toolkit available for users.
These and other instruments will help make a customized PDF document, update existing information, and add new content. Besides being able to edit PDF online, the website will help you perform additional adjustments to the PDF, like rearranging pages, adding a watermark, editing metadata, and others. Moreover, the platform has numerous conversion options.
Pros of Using the Free Online PDF Editor
Having a service that works in a browser has its advantage. For example, the service can be used on computers and smartphones, saving your device's storage space. In addition to that, this online PDF editor:
Works on any device regardless of the operating system and model - Androids and iPhones (Pro, ProMax, Plus, Mini, SE), Windows (7, 10, and other) and Mac (iMac, MacBook Air, MacBook Pro);
Allows to edit PDF online and free without the need to install any software;
Is compatible with any browser - Google Chrome, Firefox, Safari, Edge, and more;
Supports uploading documents from Google Drive and Dropbox;
Stores your edited PDF files for 2 hours;
Apart from an instrument to change the text in PDF, offers 47 additional individual PDF processing tools;
Has a user-friendly interface;
Does not add watermarks to your files.
Overall, a web-based PDF editing tool could be the best choice for anyone needing to edit PDFs quickly and efficiently. The convenience and wide range of tools distinguish the ideal solution for individuals and teams looking to complete work faster. If you are looking for a convenient, simple, and efficient way how to edit text in PDF, the online PDF editor is worth trying.
Editing PDF Documents: Tips
Here are some hints on how to polish your PDF file before and after using PDF Editor:
Optimize your PDF: Compress your file before modifying PDF to reduce the file size and make the online editor faster.
Organize your content: Reorganize the pages, add bookmarks, and use searchable text to make information easier to find.
Split PDFs: Divide large files into smaller documents or extract pages for editing.
Convert formats: Use online PDF editors to quickly turn a PDF into various file formats such as Word, Excel, PPT, Image, HTML, and more.
Merge documents: Combine multiple files into one and rearrange them in any order you want.
Add multimedia elements: Enhance your PDF documents with audio, video, images, and interactive forms.
Annotate text: Add notes, highlights, comments, and other annotations to your PDFs with the help of annotation tools like sticky notes, arrows, or lines.
Secure Your Document: Protect your documents by setting passwords and permissions so only authorized users can access them.
The Best Free Online PDF Editor: Conclusion
This tool to edit PDF online has many benefits, from its variety of tools to the lack of dependency on the device's performance. When choosing an editor, consider the ease of use, and the range of tools available. Additionally, be mindful of security. Finally, read all terms and conditions carefully before committing to any service.
This online service will reduce the time you spend editing digital documents and open new conversion and modification options opportunities. Start working with this service now and explore all the platform's instruments to edit PDFs online and for free.