PDF format is commonly used for storing read-only documents and various ready for printing papers. On the contrary, Microsoft Word files are used for continuous working on content. Save a PDF as a Word document if you wish to modify the text or add some additional elements like images, graphs or else.
In the following article we present you with 4 free methods of PDF to Word conversion. Each one has obvious benefits. Pick the one that suits you the most!
1. Save a PDF as a Word Document using Windows Explorer.
Microsoft Word is Windows OS default text processor and one of the most popular programs to create documents for decades. It is presented as a desktop program but also has a web version. You can use Microsoft Word to save PDF as a Word document, follow these steps:
Open Microsoft Word.
Go to the File tab, then select Open and choose a PDF.
Microsoft Word will convert and open it as a new DOCX document that you can edit and save.
Alternatively, in Windows File Explorer right-click on the PDF, select Open with and choose Word. This will also result in Word transforming it to DOC or DOCX format.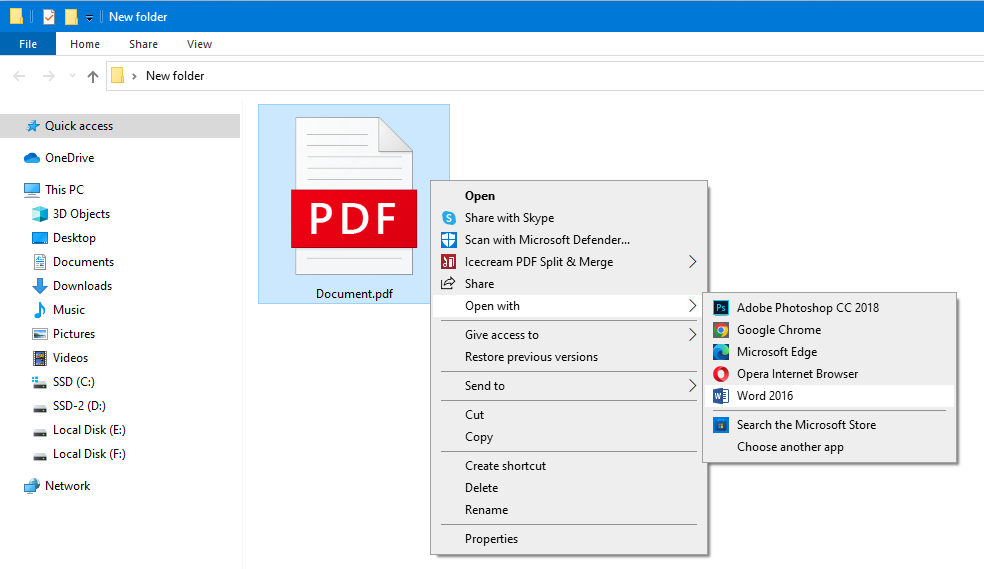 Pros
Basically you can do the whole PDF to Word conversion in a single click using the context menu. Check the screenshot above, so simple!
Cons
As a downside of using Word to save PDF as a Word document, it is possible that formatting and page-to-page correspondence of the original file will be lost. Also, you need a Microsoft Office license for this method. And you can only do that on Windows OS.
2. Save a PDF as a Word Document using Google Docs.
Google Docs is Google Drive's text files editor. Like the rest of Google Drive tools, it works online. Google Docs is easy to use and can convert PDF to Word free, unlike Microsoft Word. Nonetheless, it requires a Google account and an Internet connection.
To edit a PDF in Google Docs, follow these steps:
Go to Google Drive and log in to your Google account.
Click on +New and choose the PDF from your files or drag and drop it on the page.
Once you uploaded the PDF, right-click on it and hit Open with. Then choose Documents.
Google Drive will convert the doc, then open it and let you edit it in Google Docs. Save it as Microsoft Word file.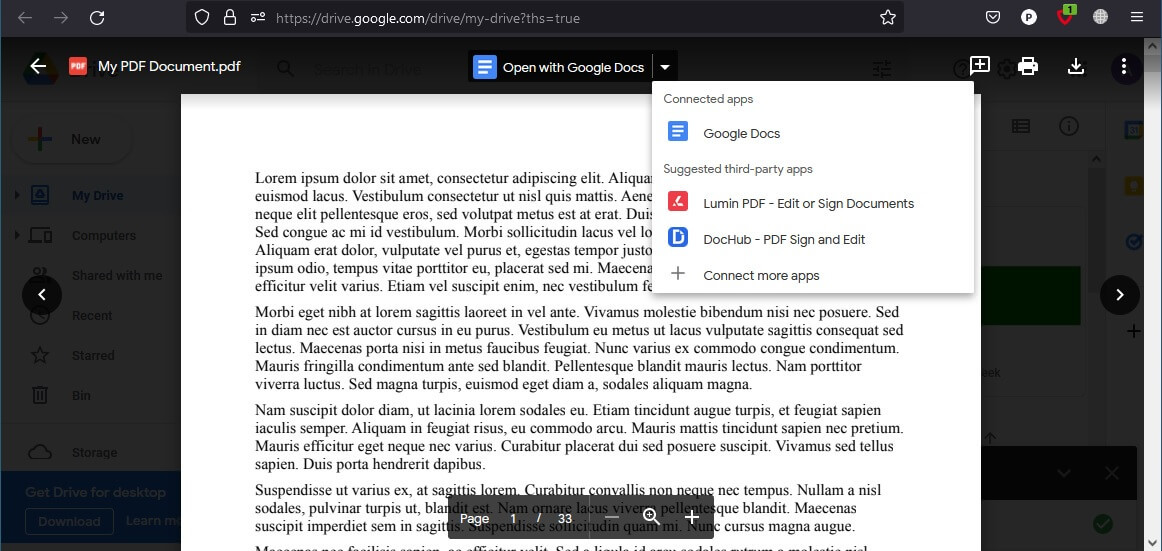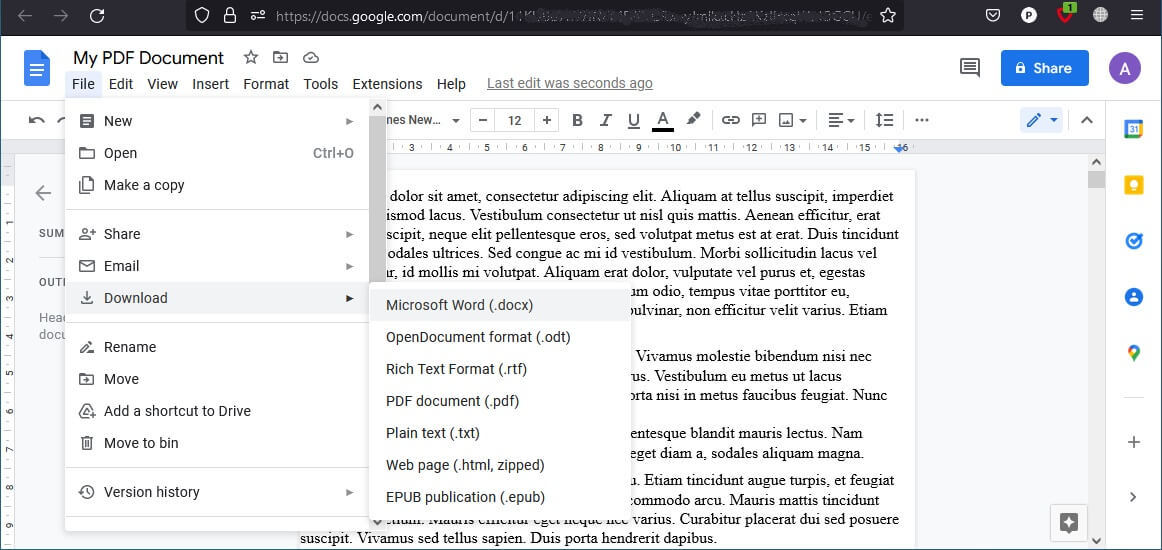 Pros
The whole process is smoothly done in a browser, no extra downloads are required. Also, you can do that on any OS.
Cons
Requires 2 steps (converting PDF to editable text in Google Docs and then saving it as a DOCX file) and a Google account.
3. Save a PDF as a Word Document online with PDF Candy
We have a free solution that works perfectly in any the browser. Great as a service for last-minute tasks, it can change file format within seconds. All you need to save PDF as Word online is an Internet connection and a browser: our service runs on every OS, and on computers and smartphones with equal results.
If you want to learn how to save a PDF as a Word document using our PDF toolkit, follow these steps:
Go to PDF to Word converter.
Select the PDF you want to turn to text by clicking on +Add file or dragging and dropping it into the browser.
Click "Convert PDF" to initiate the process. Note: The output file will be a DOC one. In case you need a DOCX, use PDF to DOCX tool instead.
Once the conversion is done, you can either download the document, share it with a link or QR code, or upload it to Dropbox or Google Drive.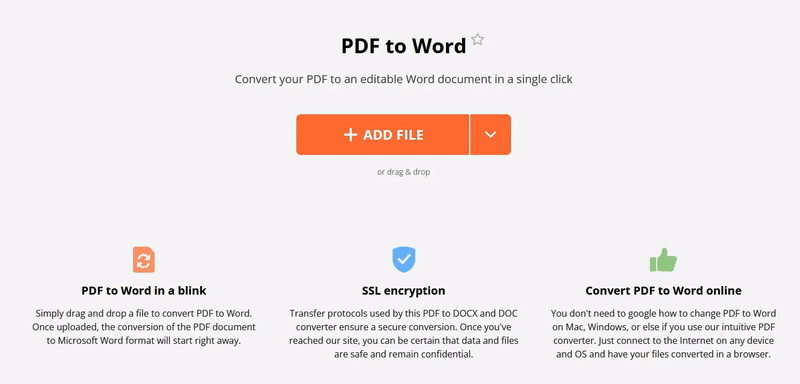 Pros
Save a PDF as a Word Document for free in a single click! Any OS is supported. High speed of files' processing. Convenient posterior sharing, security of the file guaranteed! No installation, no downloads and no ads!
Cons
You can process 1 PDF at a time.
4. How to convert PDF to Word offline
Additionally, we also have an option for those who want a PDF to Word converter that doesn't require Internet connection. PDF Candy Desktop is a Windows program that easily lets you turn PDF into Microsoft Word along with applying some handy additional settings. Unlike the web app, our offline version allows selecting multiple files for conversion. Follow these steps to convert PDF to Word with our program:
Download PDF Candy Desktop and install it to your device.
Once done, open the program and select Convert from PDF.
Add the documents you want to convert by clicking on Add PDF File or dragging and dropping them.
Select the output format once you have uploaded the docs. You can either convert from PDF to DOCX or DOC.
Click on Convert to save PDF as a Word document.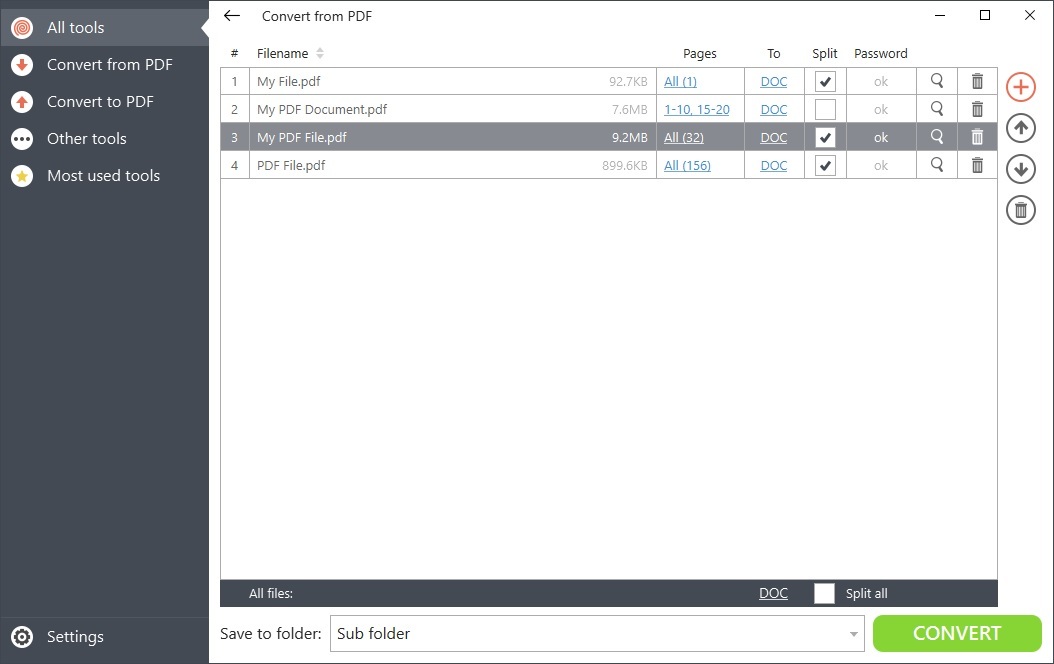 Pros
Convert PDF to Word in a bulk and apply the additional options and settings.
Cons
Windows OS only.
4 Ways How to Save a PDF as a Word Document: Bottom line
As you see, there are many options allowing you to save a PDF as a Word document. Select the one that is best for you basing on your needs! PDF Candy's PDF to Word converter is definitely the most effortless and the easiest solution to the question.
Our service isn't just a PDF to Word tool. It also has many other useful options for files' editing, converting and protection. Go to our homepage and check them out.
Discover more tools
'PDF Converter' – 40+ formats to convert to and from PDF for any needs.
'Sign PDF' – put your own signature using text, drawing, or image. No more paperwork.
'Merge PDF' allows combining multiple docs to organize your PDFs the way you want them.