Wondering how to convert a PDF to Word for free? Choosing between an offline and online PDF to DOC converter? This article will describe 3 ways how to turn a PDF into a Word document for free. It begins by outlining using a web-based service but also covers desktop applications for different operating systems.
Read on to find the best free PDF to Word converter for your needs!
1. Convert PDF to Word for free online: PDF Candy
This method is a free and convenient platform for free PDF to Word conversion. To change PDF to DOC format you do not need to log in or install software on your devices. Simply open the browser and proceed right away!
Below is the detailed instruction on how to change PDF to Word for free with this website:
Open the free online PDF to Word converter in any browser on your computer or phone.
Add a document for conversion. You can drag and drop it into the browser. Also, upload with the "+ Add file" button or from Google Drive or Dropbox.
The platform beings converting PDF to Word automatically. In just a few moments, you will be redirected to the "Done" page. Your newly created DOC file will be ready for downloading or sharing.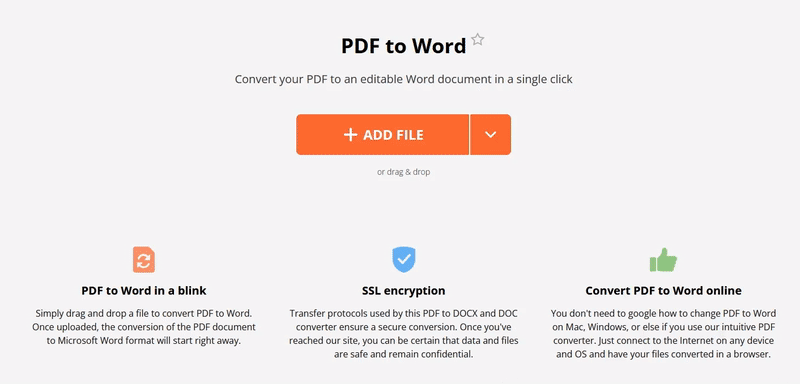 There are several ways how to view and share your new document using the online PDF to DOC converter. Here are your 4 options:
Download the new Word text document onto your device.
Save it to your Google Drive.
Upload the file to your Dropbox account.
Create a hyperlink or a QR code for someone else to download.
Apart from providing the tool to convert PDF to DOC for free, this service offers additional functionality to work with PDF files. For instance, the website has a total of 47 online instruments.
They include PDF to PowerPoint and PDF to Excel converters. Additionally, it has features for converting a PDF to an image file with several output options. For example, convert PDF to TIFF, JPG, BMP, PNG, and vice versa. More free online PDF editing tools are available.
Advantages of using an online tool to turn PDF into Word
PDFs are excellent for storing and sharing information. However, there are instances when one may need to change PDF files to Word format. Doing so is possible in a variety of ways. However, utilizing an online PDF to Word converter may be one of the most convenient methods. Here are a few advantages:
Easy to Use
The majority of online PDF to DOC converters are easy to use and do not require prior preparation. All you need is an internet connection, a web browser, and the PDF file you want to convert.
Quick
Employing a web tool to convert PDF to Word is fast and efficient. Most converters can process files quickly, so you get your converted document in just a few minutes. Plus, no need to wait for a new application's installation.
Affordable
Most platforms allow to convert PDF to DOC for free in some capacity. The online PDF to Word converter may be completely free to use or have some kind of a trial period that helps to complete the task free.
Secure
Although working with online instruments may still seem insecure for some users, when you use a reputable service, your data is safe. Even when you are converting PDF to Word for free, the files are deleted from the server within a reasonable time, like 2 hours.
Overall, converting PDFs to Word utilizing an online converter provides quick, easy, secure, and affordable. You do not need to spend time searching for a free PDF to Word converter that will be compatible with your phone or computer. With web-based platforms, you can convert your PDF to Word for free and online anywhere, anytime, and on any device.
2. Converting PDF to Word on Windows: PDF Candy Desktop
If you still prefer an offline program, here is a suggestion for the Windows operating system.
This free PDF to Word converter requires downloading and installing on your computer. Essentially, this is the desktop version of the mentioned online PDF to DOC converter. This particular method is better if you have larger files or if you need to convert PDF to Word files in bulk.
See the guide on how to convert PDF to Word for free with this app:
Download the free PDF to DOC converter and launch it.
Click the "PDF to Word" icon to select the file. Otherwise, drag and drop it right into the program's window.
Apply the advanced settings (more about them below) if needed.
Click the corresponding button to initiate the PDF to Word conversion.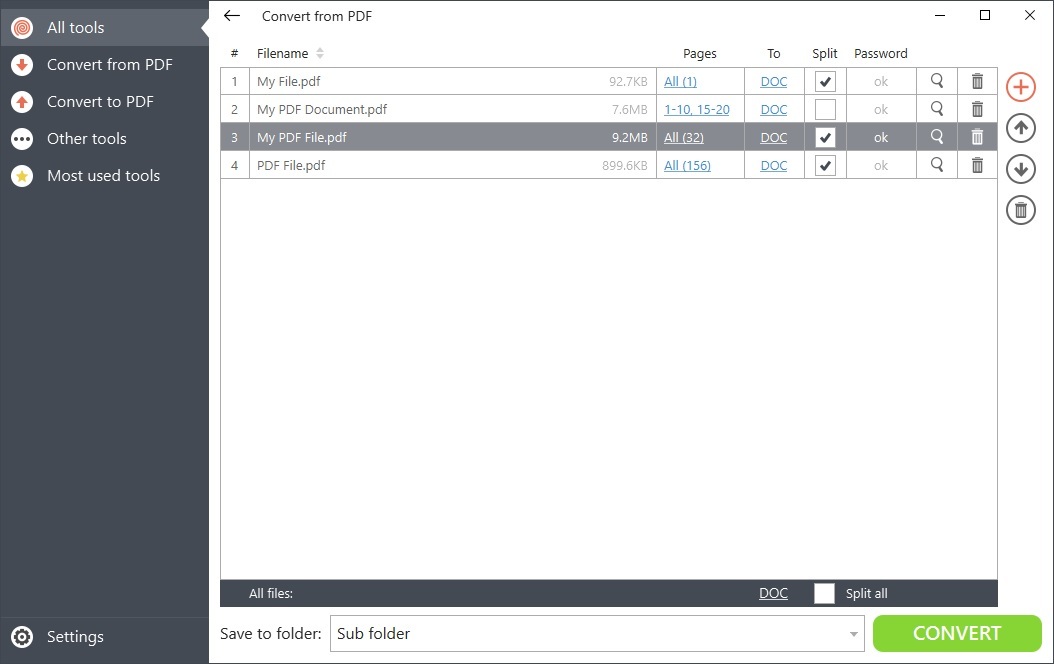 The offline free PDF to DOC converter has additional features that you can utilize for free as you turn PDF into Word file: 
Change PDF to Word in bulk. Add as many files as needed.
Check the "Split" option. Split PDFs so that each page becomes an individual document.
Set the specific pages to be affected. Use the "Pages" column to define separate pages or intervals for converting PDF to DOC.
When you drag and drop a PDF document into the application's window, it automatically will show you all the tools available for this very format. Many of them are the same as those offered by the online PDF to DOC converter. This includes PDF Optical Character Recognition for converting a scanned document into an editable form. You can also compress, rotate, or crop a PDF offline, and more.
Besides, the tools you use regularly will be displayed first for a better experience. So, if you often convert PDF to Word, the program will remember that and help you find it easily.
3. Converting PDF to Word for free on Mac: PDFelement
If you have a macOS computer, you may wonder if there is a way how you can turn PDF into Word for free on your device? While Mac users can use convert PDF to Word for free online, they can also complete the task offline. For example, PDFelement can be used to change PDF to DOC on an Apple computer.
Here is how to convert PDF to Word for free with this program:
Download and install the software to your Macbook or iMac.
Set your preferences with the pop-up windows. Then, click the "PDF to Word" option and install the converter's plugin.
Sign up for an account (no need for credit card information or choosing the subscription plan now).
Choose the file for PDF to Word conversion. Give the new name if needed and hit the "Convert" button.
Once processing is done, the location of the new DOCX file will be opened with the Finder.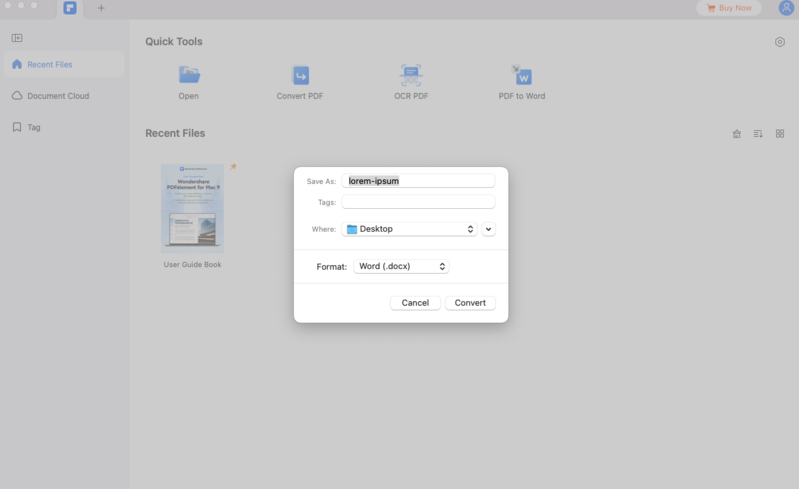 With this free PDF to DOCX converter, you can perform 3 operations per day for 7 days. Unfortunately, after that, the free trial will be over. Since there are not many good tools to change PDF to Word for free on Mac, this program is a good short-term solution.
Additional instruments allow to :
Users can customize their working space by setting their primary occupation and what tools they need most often.
How to convert PDF to Word for free: conclusion
In this article, we showed the easiest and most convenient way to change PDF format to DOC file - utilizing the free online PDF to Word converter. Looking at the advantages of such a toolkit, you are now equipped with the knowledge to decide whether it is a good option for you.
You may still prefer a desktop program to turn your PDF into Word. The article highlighted two offline converters, one for Windows and one for Mac. Either way, you will be able to quickly enjoy a Word document made from your PDF in almost no time!