What if you have a PDF that you need to edit and you don't have the right service for that? Just head over and turn it to Microsoft Word document and modify the file in a text editor of your choice.
If you're now wondering how to convert PDF to Word, we'll present you with 2 solid methods for that. There's an online way that is easy and quick and there's an offline way that is more advanced and steady.
We prepared the comparison of these 2 PDF to Word conversion methods along with the step-by-step guides for each one right below.
Offline vs Online PDF to Word conversion
| Offline method | Online method |
| --- | --- |
| Free program | Free service |
| Windows-based software | No downloads, any device and OS |
| Split pages of a PDF into multiple DOCs | Create and share a link to the output file |
| Batch processing | Google Drive and Dropbox integration |
| Convert files of any size | May have trouble with larger files |
Convert PDF to Word: Online Method
This method is free and available for those who do not want to install software on their devices. Simply open the browser and proceed right away!
Open PDF to Word converter.
Add a document (drag and drop into the browser, click "Add file" or upload from Google Drive or Dropbox).
Conversion starts automatically and is processed by our cloud servers. In just a few moments, you will see a Word document is ready for downloading or sharing.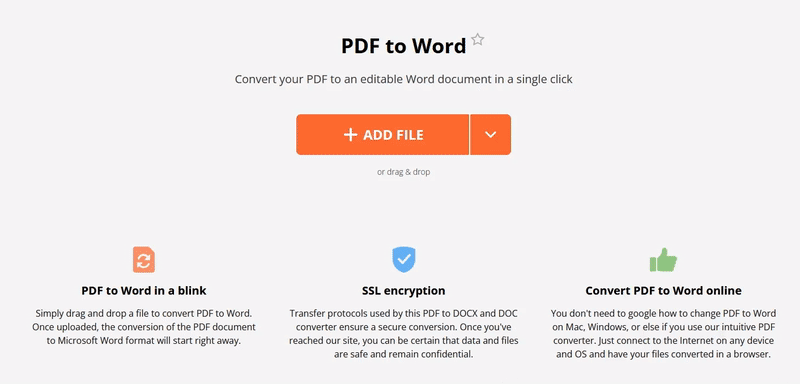 Online PDF to Word converter: Share file in 4 ways!
There are several options of how to view and share your new doc using the online method of converting PDF to Word:
Download the new Word text document onto your device.
Save it to your Google Drive.
Upload the doc to your Dropbox account.
Create and share it as a hyperlink for someone else to download.
PDF to Word: Offline Method
This method requires downloading and installing the software. In order to use the solution offline, you need a Windows computer. This particular method is better if you have larger files or if you need to convert PDF to a Word files in a bulk. It will also suit you better if you need additional features, such as separating PDF pages into individual Word documents or converting specific PDF pages only.
After installing PDF Candy Desktop you can convert PDF to Word with the following steps:
Open the program on your computer.
Click the "PDF to Word" icon to select the file. Otherwise, drag and drop it right into the software.
Apply the advanced settings (more about them below).
Click the relevant button to actually convert PDF files to Word format.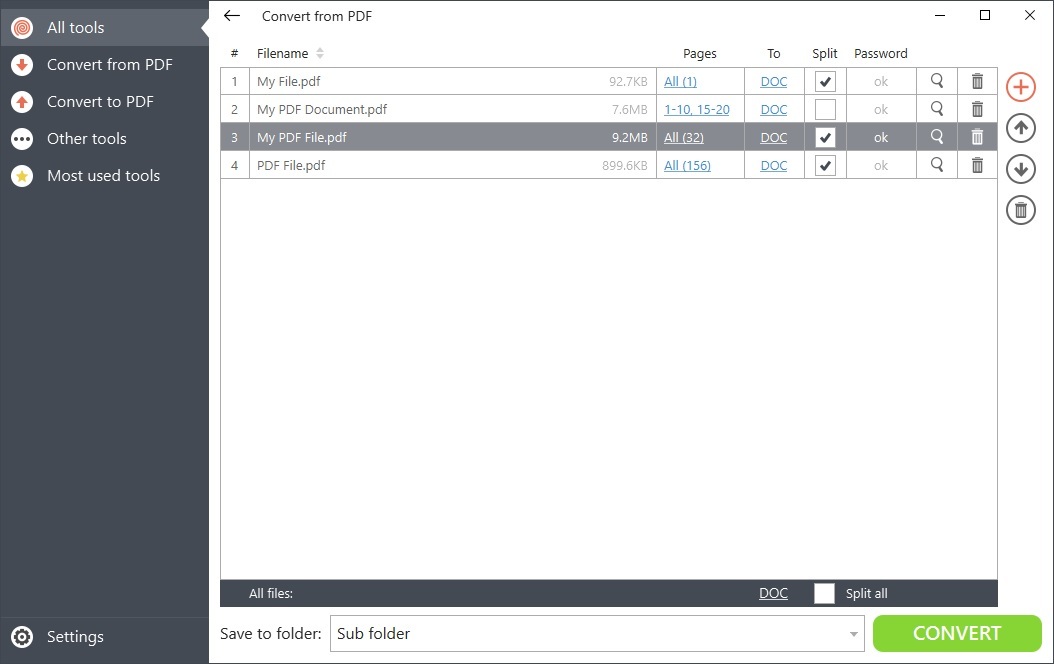 Convert PDF to Word with advanced settings
The offline version has the additional features that you can utilize for free as you convert PDF to DOC: 
Change PDF to Word in a bulk: add as many files as needed.
Split PDFs so that each page becomes an individual document: check the "Split" option.
Set which pages excactly should be affected: use the "Pages" column to define separate pages or pages' intervals.
When you drag and drop a document to PDF Candy Desktop, it automatically shows all the tools available for this very format.
Besides, the tools you use on the regular basis will be displayed first for your better experience. So, if you often convert PDF to Word, the program remembers that and helps you find it easily.
2 Ways to Convert PDF to Word: Conclusion
Offered free PDF to DOC converters are simple and easy - can be used both online and offline.
Users can download the program to convert PDF to Word offline or use the online solution depending on their needs. Either way, one can quickly enjoy an easy-to-edit Word document made from their previously static PDF and update the file the way they need.
Discover more free PDF tools
'Extract text' – if you only need the text of the input document without formatting, then you can use this solution.
If the file is a scan of a lower quality, try 'PDF OCR' instead.
If turning PDF to images is still a better option, then you can go with the 'PDF to JPG' converter.