JPG (or JPEG) is a popular format for storing digital pictures. PDF files can contain not only images but also text, charts, infographic, or else. Thus, PDFs are more difficult to edit than JPGs. You might need to learn how to save a PDF as a JPEG for your convenience.
In this article we will look at 2 very fast and easy ways to convert documents to images. All process can be completed in a couple of simple steps. Sounds appealing? Let's dig into it.
1. How to save a PDF as a JPEG online?
Open the online PDF to JPEG converter.
Upload file (the '+Add file' button or drag and drop).
Ste the output image(s) quality: Low, Medium, or High.
Click 'Convert PDF' to actually save PDF as JPEG.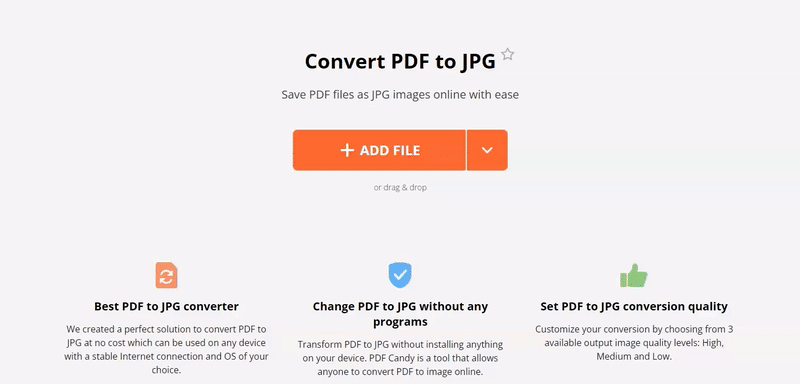 Image quality level selection
Before you save a PDF as a JPEG, set the quality of an output picture(s). High quality will get you a photo of the best quality possible. Select the Low quality to get a file of the most compact size. Opt for the Medium quality for a perfect balance between the size and the quality.
Convenient file sharing
You have several options for downloading and sharing after you save a PDF as a JPEG.
You can download an archive of pictures if the original document has more than 1 page. Or save each page separately by clicking the corresponding thumbnail.
Otherwise, upload the converted pictures to Google Drive or Dropbox in one click.
Another option is to create a link to the file that you can share. It will be available for 7 days, then it will be automatically deleted due to our Privacy Policy. You can remove the URL anytime though.
Secure online PDF to JPEG converter
Your data is safe with us, no matter how sensitive the information is. We never hand your documents over to third-party sites. Each output file is automatically deleted after 2 hours, before that you can always delete it manually from our servers. Save a PDF as JPEG online without ever worrying about the safety of your uploaded content!
2. Save PDF as JPEG with screenshot
Take a screenshot of your PDF file open on your computer or cell phone screen. This way you can also zoom in on the pages while saving PDF as JPEG. The downside of this method is that you need a PDF viewer. On Windows OS you can open the PDF in a browser, and on macOS you can use the built-in Preview program. Not all mobile devices have a built-in PDF reader, though.
If you want to take screenshots of a large PDF document to make it easier to send, try compressing the PDF for email.
What else you can do with PDF Candy besides saving PDF as JPEG
Try out all the options PDF Candy offers online, such as:
Edit PDF - edit PDF text and add new one along with pictures, highlight, draw on a PDF, and much more! Full-features service to modify your documents online.
Merge PDF - combine the created images with PDFs.
Compress PDF - reduce size of your document for easier sharing.