Nothing is more frustrating than trying to email a PDF and getting an error that the document size is too large. Of course, it would be a loss to remove the necessary information to make the PDF smaller. Luckily, PDF Candy is a free service to compress PDF files online.
We offer an entirely free and easy way to reduce PDF size. Also, with our website there's no need to download any apps or have a specific device to install and run a compatible software to shrink PDF size.
Why do you need to compress PDF files?
Obviously, there are some good reasons to reduce PDF size. Here are the top 3 that we find the most valuable and crucial:
Saves the space of your device, PC, laptop or smartphone.
Easier files' sharing.
Way faster PDF sending and transferring.
How does PDF compressor work?
When you compress PDF files, the size can be reduced by as much as 90% without loss of any vital information. If you wish, you can call such a process "zipping". During the compression, the system algorithm resamples and shrinks images, subset-embeds fonts that were embedded, and the document structure. Besides, it removes some extra elements like invalid bookmarks.
How to compress PDF files online smoothly?
The directions below detail how to compress a PDF:
Visit the Compress PDF tool's page.
Drag and drop or add a file from your device. Alternatively, upload it from Google Drive or Dropbox.
Set the PDF compression level ('Maximum' or 'Recommended compression').
Click the 'Compress' button to initiate the process.
Download or edit your output doc.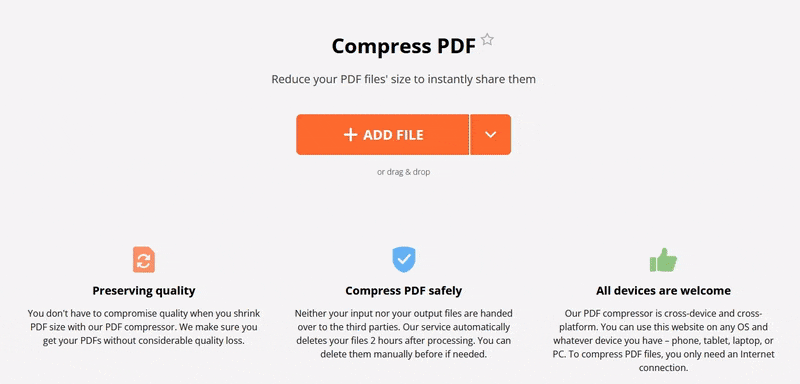 Compress PDF in 2 ways.
Mind that two key factors matter when you decide to compress PDF online: the file size and its quality. Sometimes when you shrink PDF too much it can make images inside appear grainy or blurry. We offer two settings when compressing PDF online:
Recommended Compression
Typically when you make PDF smaller using this setting, there's no noticeable drop in quality to the file but the size would most probably be larger than in 'Maximum compression'.
Maximum Compression
This setting will compress a PDF as much as possible. While you may need the smallest size possible, it's important to note that this option may lessen the quality of your doc.
Discover more tools!
Sometimes even after you have optimized PDF files, it's still not the last stop. If you need to further edit PDFs, you can try using some of our other solutions.
We offer the possibility to split PDFs into separate documents.
Use PDF editor to remove unnecessary text.
Rearrange pages to get the most information at the start. Like the PDF shrinker.
All of these tools and many more are available online and completely for free.