Adding a watermark can be very useful in ensuring the file's authenticity. Suppose you don't have access to Adobe Acrobat. There are still ways to imprint a watermark onto your PDF without using the program. In this article, users can learn how to add watermark to PDF without Acrobat and special technical skills. This makes it easy for anyone - from students and professionals alike - to protect their documents from unauthorized access or misuse.
1. Add your watermark to PDF without Acrobat online
Inserting a watermark in PDF without Acrobat can seem like a daunting task. Still, with the help of an online application, it's easy. It is the perfect solution for quickly and easily adding a watermark to your PDFs.
Here's a step-by-step guide on how to add watermark to PDF:
Go to the watermark creator tool and click the "Add file" button to add the PDF you want to watermark.
Enter the text or add an image once the file is uploaded.
Adjust its position – top, middle, bottom: left, center, right. After all changes, press "Add Watermark".
Finally, click "Download File".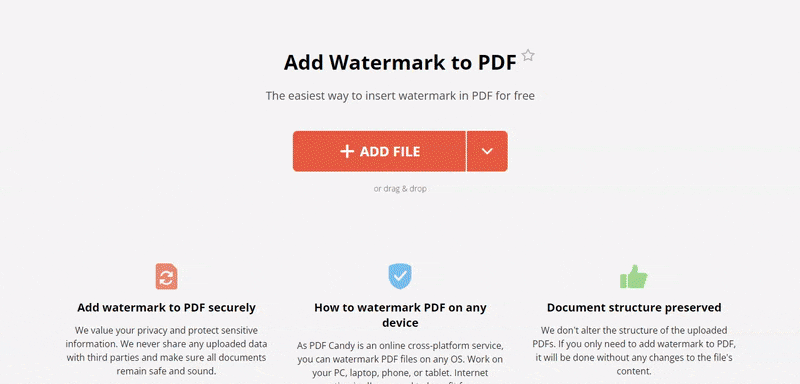 This tool is superb for creating a watermark because it's free, fast, and convenient. Additionally, many other features are available on-site. Such as merging files, splitting PDFs, compressing them, rotating pages in a PDF document, and much more.
2. Add Watermark to PDF with Microsoft Word
It's simple to embed a watermark into your PDF files without using Adobe Acrobat. You can use Microsoft Word to add a stamp to your documents.
Here's how:
Open the file you wish to watermark in Microsoft Word.
Click the "Insert" button and choose "Text Box".
Type in the text or image you want to use. You can also adjust the text and image's font, color, and dimensions.
Click the "Design" tab and select "Watermark". Select the option that best suits your needs.
Finally, save your document as a PDF file by going to File > Save As > PDF. When the file is saved as a PDF, it automatically includes the watermark you added earlier in Microsoft Word.
Now you know how to watermark a PDF without using Adobe Acrobat. Try it out today and also ensure all your essential documents are password protected.
4 tips on watermarking PDFs
Use Online Services: Certain online watermark creators allow you to insert watermark in PDF without using Acrobat. These services are easy to work with and can be done in minutes.
Create Your Own Watermark: You can always design a watermark in any photo editor. Save it as an image file and add it as an overlay on your PDF document.
Save Your Work: Before you add watermark to PDF, save the original version to retrieve it later easily.
Know Your Rights: Before adding a copyright notice to any of the documents, familiarize yourself with the copyright laws in your country. So that you don't accidentally infringe on someone else's rights with your work.
Conclusion
In conclusion, adding a watermark to PDF without Acrobat is a great way to enhance the security and authenticity of your documents. Watermarking PDFs can be quickly done using online tools and software in just a few steps.
Remember to pay close attention to the size of the watermark and where it is placed on the PDF. Both factors can impact the quality and effectiveness of your watermark. Additionally, it would help if you considered encrypting your PDFs after adding a watermark so that unauthorized individuals cannot access or modify them. By following these steps, you can ensure that your PDF documents are well-protected and remain secure.