Sometimes you may need to rearrange PDF pages before sharing or sending files. Let's say, you are about to submit your portfolio and realize that some parts may be copyrighted or private, or the page order is wrong. You'll be looking for a quick way to reorder PDF pages or delete unwanted PDF pages.
Today we will show you the way to change order of PDF pages, and, as a bonus, how to delete PDF pages and rotate pages, too.
How to rearrange pages in PDF?
Go to the Rearrange pages tool.
Upload a PDF by clicking 'Add file' or drag-and-dropping it. If you have it stored in Google Drive or Dropbox, add it from there.
Rearrange PDF pages: drag a page and drop it to the needed position. Alternatively, use the sorting options to reverse the pages' order in the file.
Delete PDF pages: hover the mouse over the thumbnail of the page you wish to delete and click the X icon.
Rotate PDF pages: right under the button that deletes pages from PDF there's the functionality for rotation. Use these green relevant buttons.
Click the 'Rearrange pages' to apply the changes.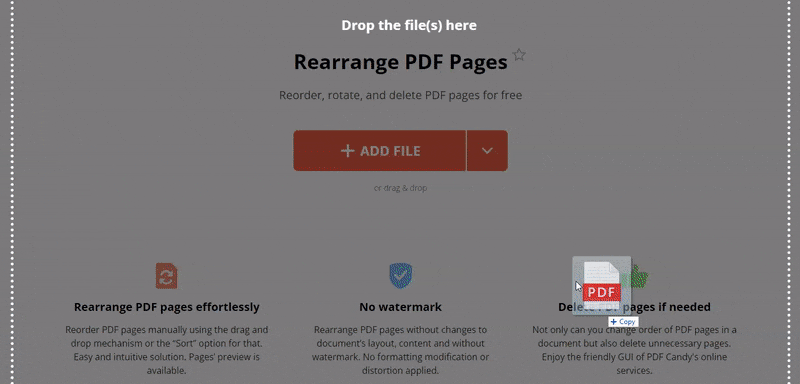 In addition to downloading the new document back onto your device, once you change order of PDF pages there are other sharing options. Upload file back to Google Drive or Dropbox or create a link for sharing the file. The URL will also contain a QR code for instant downloading.
Why choose PDF Candy?
Our service is the best free cross-platform set of tools out there, and the ultimate tool for those working online — and who wouldn't like it? It lets you rearrange PDF pages free — plus, you won't need to install any software on your computer or device.
Worried about the security of your data? Rest assured that we have your back in this respect, too. We keep your data safe, no matter what you upload, and never share, or hand over your files to third parties. Every output file from this PDF organizer tool is automatically deleted after 2 hours if you don't decide to delete it before.
As stated above, link sharing is available for 7 days, as well, but you can delete the link whenever you prefer.
We also never watermark your document or change its format without your permission.
Tools to use for editing PDF file online
To make a PDF smaller in size, use the Compress PDF tool.
To edit PDF text, add new text or annotate your document, use the tool to edit PDF.
Sign PDF online in 3 ways to digitally add your ownership to the files.