People who work with PDF documents often need to know how to draw on PDF, make some notes, edit PDF text or highlight it. However, it is quite difficult to do it with simple standard PDF software.
In this article we will show you a guide for a functional online PDF editor. With its help you can not only draw or write on PDF, but easily modify PDF online according to your other tasks. Check out how to draw on a PDF file and find the other detailed instructions on how to work with the free PDF editing service below.
How to draw on a PDF online
Open the PDF editor.
Upload a file: drag&drop it, use the "Add file" button or upload from Google Drive or Dropbox cloud storage.
Now you can edit it, make corrections, draw on PDF, make notes and so on. Click the "Pencil" icon on the left to be able to draw freehand. Pick the color and line thickness.
Click the "Export file" button to create a new file. The document can be saved to device or uploaded back to Google Drive or Dropbox.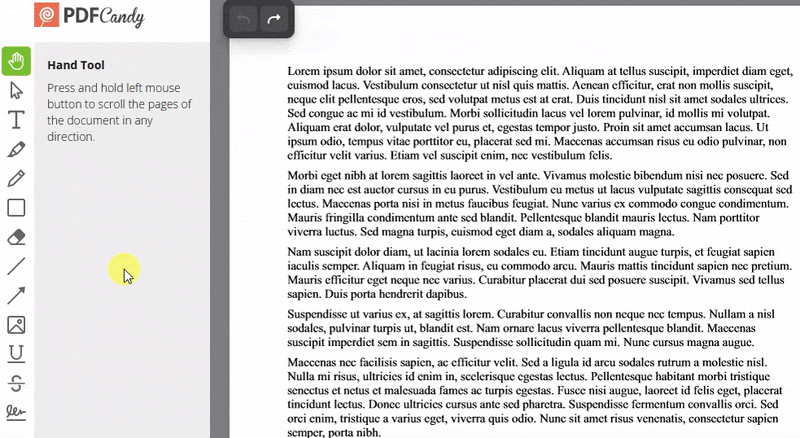 Other useful tools of the free PDF editor
Our PDF editor offers a great variety of fine editing tools that are displayed on the right side of the main window. Let us examine these in more detail.
Hand
The "Hand" is for moving the document in any direction. To move a page, hold the left mouse button and move it. You will see how the document moves along with the cursor.
Pencil
"Pencil" allows you to draw on PDF as we described above.
Highlight Text
This tool highlights text in PDF.
Rectangle
"Rectangle" allows you to create rectangular shapes in your file. With the help of this function you can highlight PDF parts headings and paragraphs, accentuate readers' focus on any object, and so on. For this tool you can adjust the thickness, color and transparency.
Whiteout
"Whiteout" is a kind of eraser, except that it doesn't remove the text, but overlays it with a white background. The user can white out on PDF to cover the erroneous text or object with a white figure.
Line
"Line" According to its name, the tool can be used to draw on PDF a straight line. Adjust the thickness of the object and its color.
Arrow
You can use this tool to mark an object, to accentuate the reader's attention to a certain paragraph or sentence of the document. You can control the thickness of the line and its color and draw on documents.
Arrow
In addition to all this, the user can draw on a PDF their own signature with the mouse, type it or upload a ready one as an image file.
Advantages of online PDF editor
Fast operation even on all devices;
Does not require installation and you can edit PDF without software;
Does not take up space on the hard disk of the device;
One can use the tool to draw on PDF from anywhere at any time;
An intuitive interface that even a first-time user can use;
Identifies all objects and allows to edit PDF text in the document;
Flexible settings and a wide range of features;
Compatible with all operating systems of personal computers as well as mobile devices;
Free PDF editor with a set of additional useful tools.
Summary of how to draw on a PDF
Today we talked about how to draw on PDF with a free editor using which you can do so much more. Try out other free PDF tools, too!
Compress PDF if the file turned out to be larger that you expected.
Combine PDF with other documents or images.
Watermark your papers to protect your intellectual property.