In a post-pandemic world, knowing a fool-proof way of how to sign PDF online is essential. Digital, or e-signatures, allow people to legally sign documents without having to have physical copies of a file passed and printed back and forth.
Most legally binding documents can now be signed using an electronic signature, allowing teams to work across the world and safely manage papers between them. Being able to electronically sign a PDF means you don't have to worry about having an in-person sit-down or mail expensive packets out.
Learn how to sign PDF online using the directions below:
Proceed to the Sign PDF tool.
Upload a document using the file explorer, drag and drop it, or upload from Google Drive or Dropbox.
Click the "New signature" button and select how to sign PDF online: using text, freehand drawing or with an image.
Add the signature (type it in, draw or upload a photo) and place it in your PDF.
Click "Export file" on the right.
Download the output PDF file.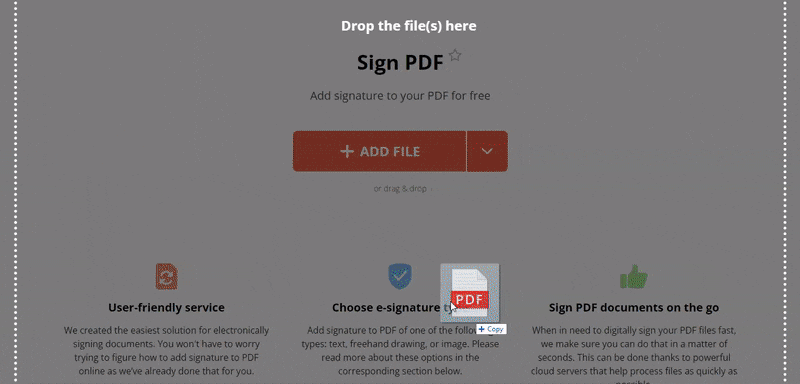 Three ways to create a signature to digitally sign a PDF:
Use "Text" to enter the signature.
"Draw" lets you use your mouse, touchpad, or touchscreen to digitally sign a PDF.
Click "Image" to upload an image of the most popular image formats (JPG, PNG, etc.).
The good news is that you don't need to purchase special software or have a special PDF signing device. You can use any of the above three ways to electronically sign PDF online with PDF Candy. We provide the service for free, as well as a whole suite of PDF editing and management tools.
Summary
Now that you know how to electronically sign a PDF file with PDF Candy, you can start modernizing your business. Now your company will be able to send documents across states and countries around the world using a free and secure online tool. PDF Candy never stores your information or documents and doesn't even watermark the PDF files you receive. Be sure to consult a lawyer before entering into any potential contracts using electronic document signatures, just in case local laws are different.
Discover more tools
Reduce PDF file size if it's too large for sending via email.
Password protect PDF to make sure that important documents are safe.
Watermark all PDF pages with your custom logo.