If you find that the pages of your PDF document are in a wrong sequence, it makes sense to reorder PDF pages. We have taken care of that, because in this guide we will show you how to rearrange PDF page for free.
Since this can be done online, all you need is a browser and the Internet access. The whole process is very intuitive, as you can drag the page thumbnails into the right places and just drop them there. Follow the tutorial below to change order of PDF pages in no time!
How to rearrange pages of PDF online for free?
Head over to the Rearrange PDF pages tool.
Upload a PDF: click "Add file" or drag-and-drop or upload from Google Drive or Dropbox.
Change order of PDF pages with your mouse cursor. Rotate or delete pages if needed.
Click the "Rearrange pages" button to apply changes.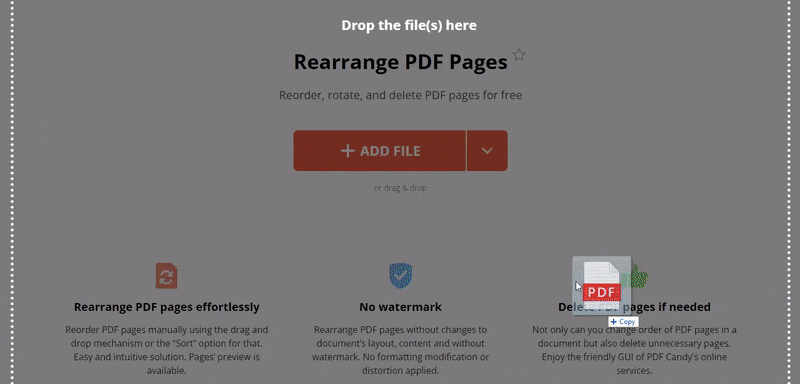 Save and share the created file
Download the created file after you reorder PDF pages. Click the relevant button to save the file to your device.
Otherwise, upload the organized PDF to Google Drive or Dropbox for a convenient group access.
You can also share the document by creating a download link. To do that, click the "Share file" button.
Rearrange PDF pages with total security
We guarantee the safety of your data when using our online PDF page organizer. All files, be it private or confidential documents, will never be shared with third parties. All documents (uploaded and created) are automatically removed from our servers in 2 hours. When sharing files via the link, it is active for seven days after the creation. Still, both the link and the file can be manually deleted beforehand.
Tools to further edit PDF online
After resolving the question of how to rearrange PDF pages, feel free to further edit the file.
Add page numbers to PDF to keep your document organized.
Add header or footer to PDF if you want to add some additional information throughout the file.
Compress PDF if the document turned out to be too large in size.