PDFs are difficult to edit accurately. The most popular tool for editing PDF files is Adobe Acrobat, but setting up an account is expensive and can take a long time. It also requires special skills and technical know-how.
Do you find it challenging to edit PDF files without Acrobat? Don't worry, there are alternatives! Today we will show you 4 ways to edit PDF documents quickly and efficiently without complex PDF editing software by Adobe.
Way 1. PDF Candy
PDF Candy is a free PDF editor that allows you to modify PDFs and add text and images to them without the hassle of installing any software.
Here's how to use it to edit PDF files:
Open the online PDF editor in your browser and click "Add file" to upload the PDF from the device, Google Drive, or Dropbox clouds.
You will see a preview of each page on the right side of the screen and the main tools of the program on the left. Use these tools to make your document more presentable, informative, and enjoyable to read. Each of them is described below.
After you have made all the changes, click on the "Export" button.
Having processed the PDF, the system will display the corresponding "Done" message. Now you can save the file by clicking the "Download file" button. You can continue editing a PDF: compress it, add a watermark, set a password, etc.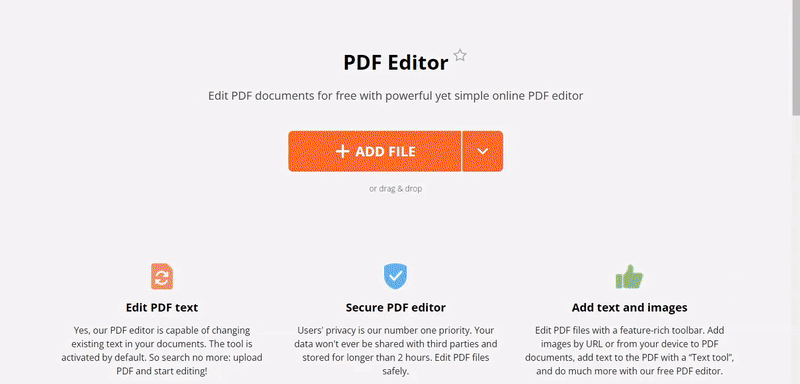 Online PDF Editor Tools
"Hand" allows you to move the page in any direction. It is used to view the document in detail at a large scale.
"Selection". Indicated by a cursor icon, it helps the user select a specific object in the file, such as an image or a piece of text.
"Text". This tool creates new entries within the page. The service allows you to edit PDF text and automatically recognizes the font, size, and color of it. You can change color, boldness, and italics, as well as the size of the letters yourself. The top window shows how will the text look in the document later for convenience.
"Highlight" allows to highlight PDF text to focus the reader's attention. Adjust the color and opacity for different parts of the document.
"Pencil" makes graphic notes, original drawings, and more. An example of how this tool can modify PDFis also shown in the upper left corner. The user can change the color and thickness of the line.
"Rectangle" creates rectangular objects on the page. It is useful when you need to highlight some part of the content, such as a paragraph or heading. Set the color and outline thickness, as well as the tint and opacity of the fill.
"Whiteout" enables you to whiteout PDF areas. The tool overlays a specific part of the content with a white color. Use this feature to edit PDF documents online.
"Line" draws a straight line on the page. You can adjust the thickness of the outline and its color. Ideal for highlighting important elements and sentences.
"Arrow". The tool lives up to its name. The user editing PDF files can select the item's color and size. Helps the reader quickly find the information they need or jump straight to an important part of the document.
"Add picture". Add a picture, photo, diagram, or ready-made signature from the device's memory or via URL.
"Underline" and "Strikeout". Create notes in the text according to your needs.
"Signature". Inserts the editor's autograph into the page content. Here you can draw or text a symbolic signature or import an image to be used as your autograph.
Advantages of editing a PDF online
The benefits of using an online service are numerous:
Fast work on electronic devices (PCs, laptops, smartphones, tablets, etc.) thanks to modern data processing algorithms.
Does not require installation, which saves storage on your device.
Compatible with all popular browsers (Google Chrome, Microsoft Edge, Firefox, etc.).
Does not tie the user to a specific geographic location. You can modify a PDF from any region.
The interface is clear even for beginners.
Built-in OCR (optical character recognition) allows you to edit PDF text in a scanned document or images.
Available on Windows, macOS, Linux, IOS, Android, etc.
The service offers multiple additional tools for editing PDF files. You can split, merge, and convert documents as well as edit PDF metadata.
Add documents from a cloud service and upload edited PDFs back to Google Drive or Dropbox without having to swamp the device's memory.
Once you master the method, you will be able to do your work easily and quickly. Adobe Acrobat on the other hand due to its interface and professional set of tools is much harder to use.
Way 2. MS Word
Microsoft Word is a user-friendly and cost-effective solution to edit a PDF text. You don't even need to have the internet to edit PDF files in MS Word.
All you need to do is follow the steps below.
First of all, open Microsoft Word and select 'File' on the top menu bar.
Click "Open", and choose "Browse" in the window that will pop up.
Find your PDF and open it. The program will create a copy of your document in Word format. The original file won't be changed. Select "Ok".
Add and edit text, make any standard MS Word edits you want. You can convert DOCX to PDF or other formats.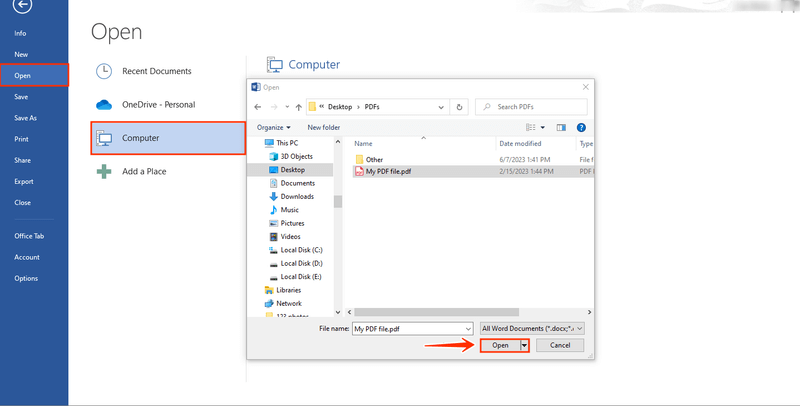 Advantages of this method
There are many advantages to using this service:
User-friendly interface.
Familiarity with the application as many people use it in everyday life.
No need to have internet access.
Disadvantages of using Word for editing a PDF
You need to pay to use this software.
Word doesn't have OCR so you can't edit PDF text in a scanned file or images.
Unlike Adobe Acrobat, which demands particular expertise and technical understanding, utilizing Microsoft Word is remarkably easy. You can do your work quickly and easily!
Way 3. Google Drive
Google Drive is an online cloud service that lets you store, view and edit documents. Using this online storage for editing a PDF is an easy and efficient way to work in today's digital world. If you want to collaborate with others, using the cloud to work on PDF files is even more convenient. It allows you to share the document and work on it simultaneously.
Here is a step-by-step guide on editing PDF documents without Acrobat:
Log in to your Google account and open Google Drive.
Upload the PDF file that you would like to edit.
Right-click on the document and select "Open With" and then "Google Docs".
Your PDF will now be converted to a DOCX file so you can make changes if necessary.
When finished making changes, select "File" → "Download As" → "PDF" (or other format). Alternatively, you can convert the resulting Google Doc to PDF.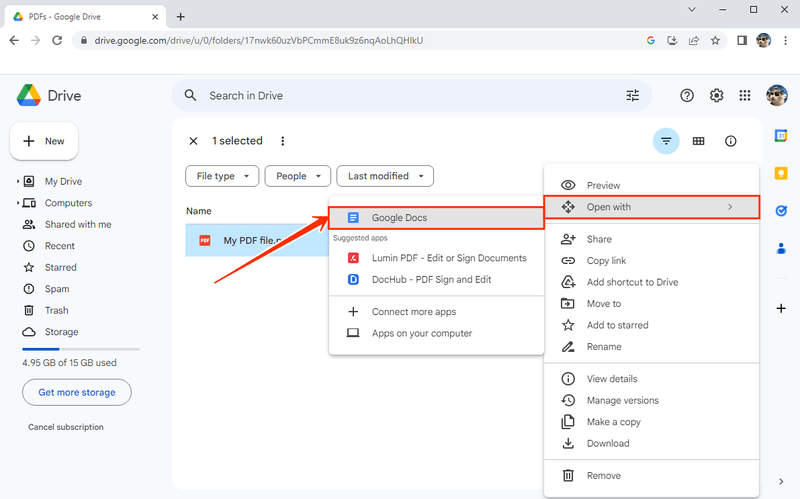 Advantages of editing PDF files in Google Drive
There are many benefits to editing files with Google Drive:
Edit PDF documents together with your friends or colleagues.
Save edited PDF directly to cloud service.
By leveraging the power of Google Drive, you can quickly and easily modify PDFs online without the need for Adobe Acrobat. In addition, this online cloud storage provides the ability to ample storage space on the device. Do not limit yourself to traditional software solutions!
Way 4. Preview (macOS only)
A good alternative for editing PDF documents without Acrobat is the Preview program. It offers basic features for annotating and highlighting text, customizing fonts and colors, and adding a signature. However, you can't change text or images that already exist.
Here's an easy guide on how to edit PDF files without Acrobat on macOS:
Open the PDF you want to edit using the service.
To add text , click on "Show markup toolbar" and choose the "Text" option.
Use your mouse to draw where you want the item to go. Once it's placed, you can rotate the text and change the color and size of the font.
To move a textbox around, simply click on it and drag it to the place where you want it to go.
All changes will be saved automatically.
Advantages of editing PDF with Preview
Using Preview has many benefits:
Use PDF editing software free of charge.
The tool is a built-in app on macOS.
Make changes to a PDF file fast and easy.
Simple user interface.
The best part about editing PDFs with Preview is that it can save time and effort. In addition to editing, the software allows you to compress your file and perform other manipulations with PDF format.
How to edit a PDF without Acrobat - Final words
Today you have learned 4 ways to edit a PDF file without Acrobat. Each option has advantages so you can find one that suits your purposes best. All of these services can reasonably be considered analogous to Adobe software. However, online PDF editor offers many additional tools like combining multiple PDFs into one file.
But still, the choice is up to you. Have fun working in the editor!
Use other online tools
Split PDF using 4 different modes to achieve the desired results.
Reduce the size of your PDF format files for easier storage.
Add password to your PDF to ensure safety of your data.