Some digital PDF documents may contain non-standard sized content. To make such a PDF document look "usual", you will need to change its size. Below we provide detailed instructions on how to resize PDF online. If after resizing the PDF file is large, you can compress it. This can be done offhand with the online PDF compressor.
How to resize a PDF file
Open the PDF resizer in a browser of your choice.
Upload your file from your device or from Google Drive and Dropbox.
Select the new page size for the original document. You can choose between US Letter, A3, A4 or A5 options.
Click the "Resize PDF" button to start processing.
Save the finished file to your device or back to cloud storage.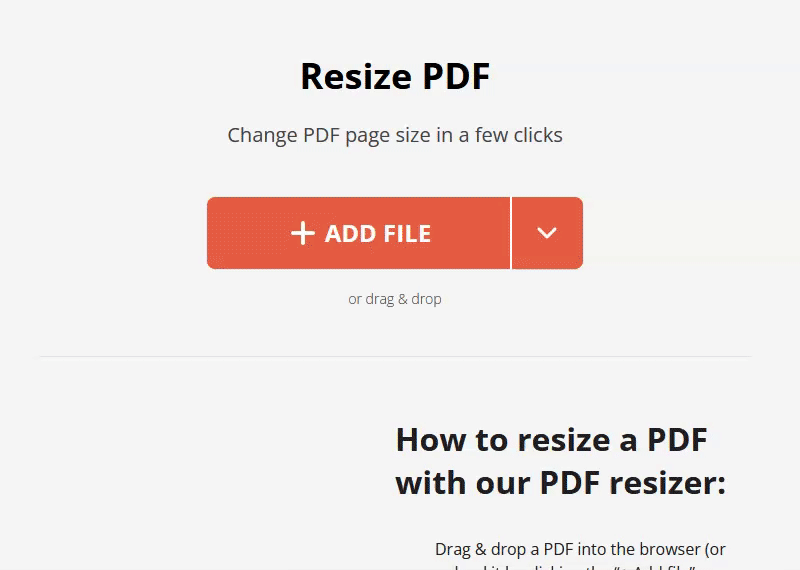 How to resize PDF properly: Page size description
A4: A4 paper is the most commonly used paper size in the world. Its dimensions are 210 x 297 millimeters or 8.27 x 11.69 inches. A4 is popular for letterhead, business cards, flyers, and brochures.
A3: A3 paper is twice the size of A4 and measures 297 x 420 millimeters or 11.69 x 16.54 inches. Typical choice for posters, banners and large maps and diagrams.
US Letter: US letter paper measures 8.5 x 11 inches or 215.9 x 279.4 millimeters. Used frequently in the U.S. and Canada for personal letters, school assignments, reports, and official documents such as contracts and invoices.
A5: A5 paper measures 148 x 210 millimeters or 5.83 x 8.27 inches and is half the size of A4 paper. It is generally used for taking notes, writing letters, and creating small booklets such as manuals or brochures.
Advantages of resizing PDF documents online
When it comes to changing PDF file size, there are many advantages to doing it online rather than offline.
Convenience. Resizing PDFs online allows you to resize them from any device. All you need is an internet connection and a web browser.
Simplicity. Online PDF resizing requires no specialized software or technical knowledge. Unlike offline resizing, which often requires complicated programs, online PDF resizers are usually user-friendly and require minimal effort to use. This makes it ideal for anyone who hurry to quickly and easily resize a PDF without any struggle.
Saving free space. The online platform does not require installation on your desktop or mobile device.
Additional tools. With the help of online PDF Editor, you can underline important information and make some comments or modify the text.
Free use. Use the service for free. In addition, modified files are stored on the server for 120 minutes, which is relevant in case of data loss.
Summary
Today we have described a free and intuitive way to resize a PDF online. This skill can be helpful in situations where you need to meet a client or supervisor's formatting requirements. Like a magazine editor who needs to scale up an artwork to fill a larger page size. Or an architect printing out blueprints of their design for a client presentation.
Online PDF resizing arises over offline solutions. This platform is available 24 hours a day, seven days a week. It is convenient, user-friendly, and affordable, making it an ideal choice for users who needs to quickly change PDF page size without hassle.
Improve you PDF document with other available tools: