There may be times when you need to add page numbers to PDF, be it a university paper, a business contract, or an eBook you want to read. Unlike Microsoft Word or text documents, PDFs are not that simple to modify. If you wish to number PDF pages, we offer you an extremely easy guide how to do that.
How to add page numbers to a PDF?
PDF Candy is a free, easy-to-use service that makes PDF editing and PDF page numbering as simple as eating candy. To add page numbers to PDF, open the relevant tool to number PDF pages, then follow these steps:
Add your PDF by clicking the "+Add file" or dragging and dropping it. Alternatively, upload it from the supported cloud storages.
Choose where the numbers will start from, a numbering format, and its position (please read more in the section below).
Click the "Add page numbers to PDF" button.
Download or further share the output document.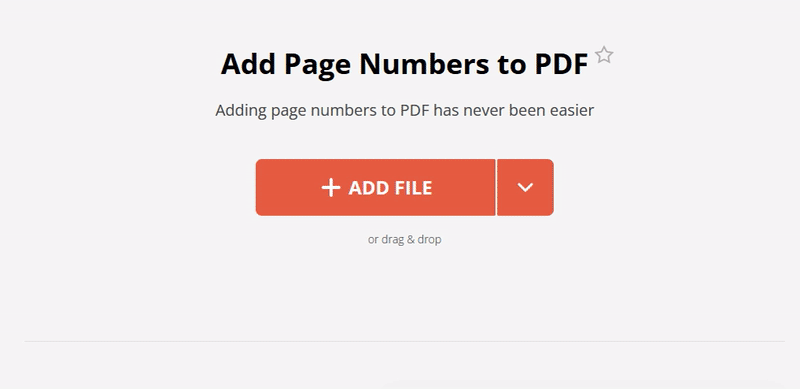 Add page numbers to PDF and set the custom settings
Our service gives the full control of how you'd like to number pages in your document. Here are the relevant settings:
Choose where the numbering will start from. If you don't know how to start numbering from page 2 or any other page which is not the first one, here's a quick solution. Add page numbers to PDF as you need in the "Start from" section.
Set the last page to add numbers to. Use the option to preview the uploaded document to make sure the selected page is correct.
Choose the numbers style from 3 option. "1, 2, 3..." to simply enumerate your pages; "page N of M" to enumerate only certain pages for instance, "page 4 of 29"; "page N" goes for putting a number on a particular page like "page 74".
Choose the number position before you add page numbers to PDF. "Top left", "Top right", "Top center", "Bottom left", "Bottom right", "Bottom center".
Benefits of our online PDF editor
Are you modifying your documents on the go? No worries, we've got you covered. You can upload files straight from Google Drive or Dropbox, then follow the above instructions to add page numbers to PDF. Our website works both on desktop computers and mobile devices.
We take your privacy seriously, and all connections are secured. User files are deleted after two hours, this time is enough to download the output documents from our server.
Adding page numbers to your PDFs won't mess up your formatting or content, and the service won't leave a watermark. Your new PDF will be identical to the original, except for the addition of page numbers.
How else can you edit a PDF?
Managed to add page numbers to PDF, however, not finished yet? If you need to further work on an output PDF, here's what our website can offer: