Imagine you have some PNG files, which are usually very heavy and impractical to manipulate as opposed to PDF. The PDF format is very useful for many things. If you need to send a document, make a presentation or a summary. It would be great to merge PNG to PDF to make them easier to work with.
We'll tell you a quick and easy way to process up to 100 photos at a time and turn them into a single PDF document. Step-by-step instructions are given below.
Merge PNG to PDF and tweak the settings
Click 'Add file(s)' to add pictures to PNG to PDF converter or drag-and-drop them into the browser.
Choose the output page size ("Original size", "A4" or "US letter") and orientation ("Portrait" or "Landscape" for A4 and US Letter options) and margin ("No margin", "Small margin" or "Big margin") size.
Click the blue button to convert and merge PNGs to PDF document.
Download or continue to further edit the output file. Alternatively, save it to Dropbox or Google Drive, share by URL, or delete it from the website immediately.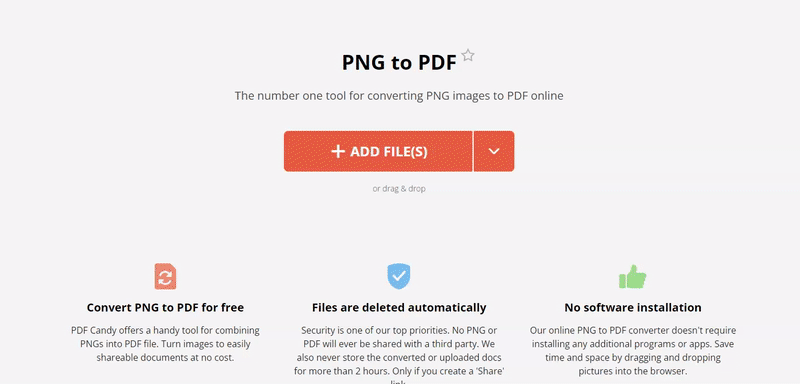 Secure way to merge PNG to PDF online
Your uploaded documents will be deleted after 2 hours and will never be shared with anyone else. You will receive a URL link and QR code to send to the recipient. It is also possible to permanently delete a document from our server after you merge PNG to PDF.
You can also set a password after you convert the photo to PDF. To perform this extra security step, select the "Protect PDF" tool on the file download page.
Continue working with the created PDF
Edit the document with the multi-functional online PDF editor. You can add new text or upload additional images, whiteout or highlight parts of the document.
Add a watermark if you want to merge PNG to PDF to create a portfolio of your work.
Sign PDF if you have merged photos of some document and now you need to forward it on with your signature.