When working with large PDF documents on mobile devices or laptops, additional free space is required. It is possible to save disk space by making PDF smaller and there are several ways to do this. In this article we will describe the three most effective methods of compressing PDF size. Each of them has its positive and negative sides. Therefore, the user can choose any tool to reduce the size of a PDF file, depending on the tasks set, experience, time, and quality of processing. Check out how to make a PDF smaller both online and offline at no cost right below.
1. Make PDF smaller online
Go to the Compress PDF tool.
Upload a file ("Add file" button, drag&drop or upload from Google Drive or Dropbox).
Set the PDF compression level: maximum or recommended.
Click the "Compress PDF" button to start the process. PDF compression time depends mainly on the original size of the uploaded file.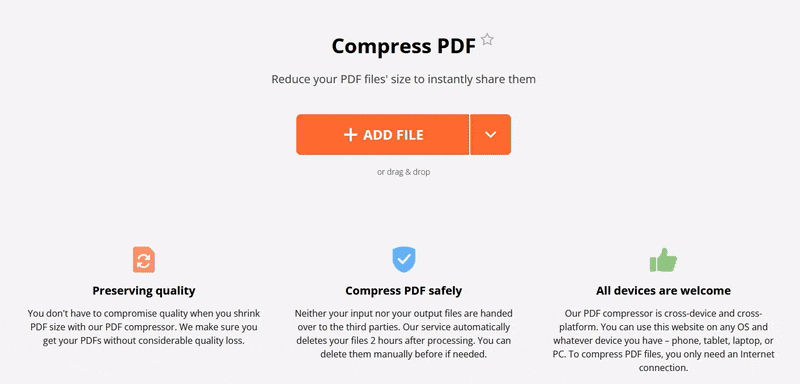 Once finished, save the compressed PDF by clicking the "Download File" button. In just a few simple steps, we have made a PDF smaller online while saving disk space at the same time.
Advantages of the online PDF compressor
Reduce PDF size on all devices with Internet access, regardless of the operating system and technical characteristics.
A user-friendly interface will speed up your work with PDF, because you won't have to spend time learning how to use the service.
Fast conversion and data processing on both modern and outdated computers.
Additional features of the service
The website supports uploading and saving files not only from the device itself, but also from Google Drive and Dropbox cloud storages. This will save even more disk space on your PC or tablet.
During a PDF reduction session, the user can set the compression level. You have two options: recommended and maximum. This will help to save even more space of your hard drive or strike a balance between size and quality.
Right after making the PDF smaller, you can further work with your PDF: split file, merge PDF with images, or sort PDF pages of the document.
Also, there's the full-featured online PDF editor using which you can highlight a PDF, whiteout PDF and even edit PDF text.
2. Make a PDF smaller in size with an archiver
It is also possible to shrink PDF with the help of archivers. To do this, you will need to install the relevant software like WinRAR, WinZIP or 7-Zip directly on your computer or a smartphone. After installing the programs or apps, you can begin to reduce the PDF file size.
Open the archiver or your choice and add a PDF file. Alternatively right click a PDF and select to open it with your archiver.
Next you need to specify some settings and parameters. This is the name of the resulting archive file, the type of archive (self-extracting, continuous, and so on), the compression ratio (normal, good, maximum).
The new archive with your document will be created.
Pros of making a PDF smaller with an archiver
Takes up little space on your hard drive.
Does not require an Internet connection, so you can work with data offline.
Does not require high hardware performance.
Simple and clear interface with flexible settings.
Cons
Requires installation on your device.
The final archive may be unreadable on different operating systems.
3. How to make a PDF smaller by changing the format
It is also possible to reduce the size of a PDF file by converting it into another format, such as DOC. This can be easily done by using an online service, so you does not have to install any additional software, thereby reducing free disk space.
Open the PDF to Word converter.
Upload a document to the tool. The system will automatically upload it to the server and start converting.
Download the created Microsoft Word file.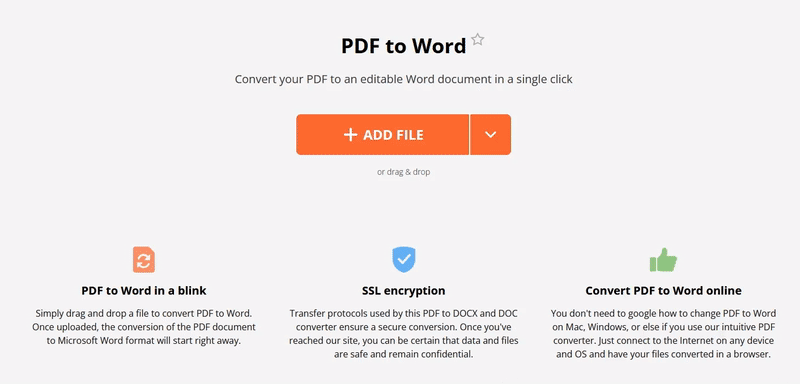 Pros
Fast uploading and conversion.
No additional programs and utilities to download.
Works on all devices, regardless of OS and technical characteristics.
Allows to save disk space and time due to cloud storage integration.
Simple and intuitive control.
Summary
So, we have described how to make PDF smaller in several ways. These methods are completely different and are suitable for different tasks. For example, PDF Candy compresses PDF by keeping the file in PDF format, while WinRAR and WinZIP create archives which will need to be opened (unzipped) in order to read and edit PDF content.