When working with PDF documents on phones or laptops, you have to be mindful of the storage capacity they occupy. Therefore, to ensure that the performance of your device is satisfying even when processing large files, knowing how to make a PDF smaller is a must-have skill.
This article describes 6 PDF compressors that will help you reduce a PDF file size in just a few clicks!
1. How to compress a PDF online
To save disk space by compressing PDF files, you will need s PDF size reducer. In case you do not want to install any additional software to your computer or download a specialized app to your phone, there are online options to do so. A great example of such an online PDF compressor is PDF Candy.
Here is how to make your PDF smaller with this service:
Go to the "Compress PDF" tool.
Upload the PDF by using the "+ Add file(s)" button, drag and drop the document into the working area manually, or upload it from Google Drive or Dropbox.
Set the PDF compression level. You can choose "Maximum compression" to shrink your PDF as much as possible. Alternatively, pick "Recommended compression" to keep the balance between the size and the quality of the document.
Hit "Compress" to start the process. The time it takes to reduce the PDF size depends mainly on the original size of the uploaded file. It also will take a bit longer if you are processing multiple PDFs at the same time.
Once finished, save the compressed PDF by clicking the "Download File" button.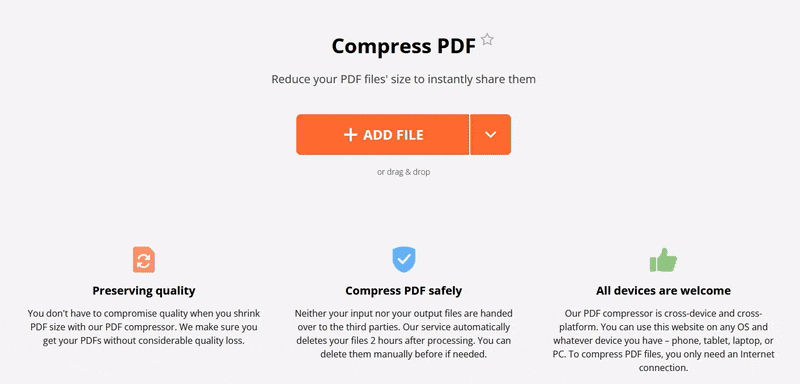 Advantages of the online PDF compressor
Reduce PDF size on all devices with Internet access, regardless of the operating system and technical characteristics - Windows and MacOS, iPhones and Androids.
A user-friendly interface will help you shrink the PDF file size quickly and easily. You will not have to spend time learning how to use the service.
Fast PDF compressing and data processing on both modern and outdated computers.
Additional features of the platform
The online PDF compressor supports uploading and saving files not only from the device itself but also from Google Drive and Dropbox cloud storage. This will save even more disk space on your PC, phone, or tablet.
While reducing PDF file size, the user can set the compression level. This provides control over the final result and lets the user decide how much to make a PDF file smaller.
Right after compressing your PDF files, you can further work with them on the same service. For example, you can split PDFs, merge PDF with images, sort pages of the document, and more.
Also, there is the full-featured online PDF editor. With this, you can highlight in PDF, white out irrelevant parts, and even edit the document's text.
2. How to reduce PDF file size with an archiver
It is also possible to shrink PDFs with the help of archives. To do this, you will need to install the relevant software directly on your computer or smartphone. Some of the options are WinRAR, WinZIP or 7-Zip. After installing the program, you can begin making your PDF files smaller.
Below is the instruction on how to compress PDFs with this method:
Open the archiver of your choice and add the PDF to compress. Alternatively, right-click the file and select to open it with your archiver.
Next you need to specify some settings and parameters. These include the name of the resulting archive file, the type of archive (self-extracting, continuous, and so on), and the compression ratio (normal, good, maximum).
The new archive with your PDF documents will be created.
Pros
Takes up a little space on your hard drive.
Does not require an Internet connection, so you can work with data offline.
Does not require high hardware performance to make PDF documents smaller.
Simple and clear interface with flexible settings.
Cons
Requires installation on your device.
The final archive may be unreadable on different operating systems and devices.
Overall, utilizing an archiver as a PDF size reducer may prove beneficial in certain scenarios. For instance, if you have many PDF files with reports that need to be compressed and stored as a backup. In addition, to protect PDF files from authorized access, you can set a password on your archive.
3. How to make a PDF smaller by changing the format
It is also possible to shrink PDF file size by converting it into another format, such as DOCX. Generally, Word documents weigh much less than PDF. This can be easily done by using an online converter, so you do not have to install any additional software. Hence, you will save valuable space on your device.
This is how to reduce PDF file size via conversion:
Open the PDF to Word converter.
Upload the PDF for compression into the tool's window. The system will automatically upload it to the server and start converting.
Once the processing is complete, hit "Download file" to save the created Word file.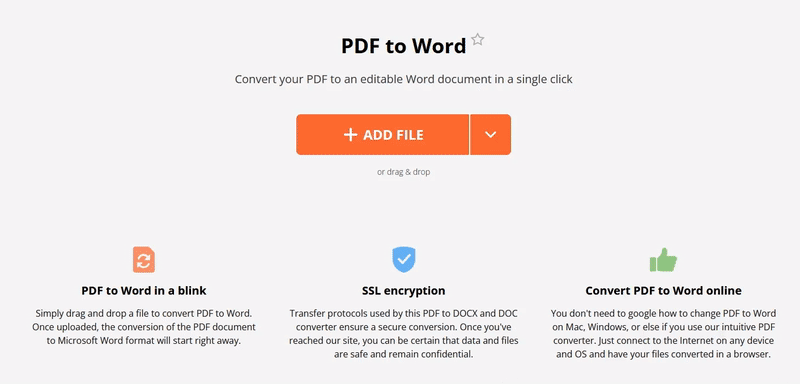 Pros
Fast uploading and conversion.
Simple and intuitive control of the compressor for reducing PDF file size.
No additional programs and utilities to download.
Works on all devices, regardless of the OS and technical characteristics.
Allows to save disk space and time due to cloud storage integration.
Compressing PDF files with a converter will provide you with the possibility to extensively edit PDF. However, it loses the property of the PDF to look the same on all devices. Yet, if your documents only have text information, this would be the perfect solution for you.
4. How to make a PDF file smaller by turning it into a text file
As an alternative to the PDF to Word conversion, if your computer does not have Microsoft Word installed, you can also convert PDF to RTF to reduce PDF size. Hence, you will be able to open your files in a simple text editor on various devices.
Here is how to compress a PDF with this approach:
Go to the PDF to RTF converter.
Click "+ Add file" or drag and drop your PDF into the page.
The conversion will begin automatically. Once processed, download the resulting file.
Pros
Easy-to-use converter that helps shrink the PDF file size.
No need to install software or application to the device.
The resulting file occupies much less space than the PDF before compression.
If you care about the storage capacity of your computer or phone, turning your PDF into an RTF file will help significantly make the size of the PDF smaller. Plus, the resulting document can be opened on almost any device. Just keep in mind that the RTF does not support graphic elements. Hence, if your document has illustrations, you need to extract images from PDF prior to changing its format to RTF.
5. How to reduce the PDF file size by deleting extra pages
If your document has blank pages or pages that are not current or relevant, you can make a PDF smaller if you delete the unnecessary pages. By compressing PDF files with this method, you will not sacrifice the quality or lose elements while converting them into a different format.
Below is the description of how to shrink PDF file size via deletion:
Open the PDF page extractor in a browser on your computer or phone.
With the "+ Add file" button, transfer the PDF document into the window.
Enter the page numbers or specify the range of the sheets to delete.
Hit "Delete" pages to proceed to PDF compression.
Once processed, "Download file" to your device.
Pros
Making PDF files smaller by removing extra pages.
Preserving the original quality of the document and all the images within.
If you wonder how to compress PDF files without losing quality, this can be your go-to option. It allows you to optimize the document by eliminating pages that are longer needed or removing blank pages that add volume to your PDF. You can also preserve the deleted pages for later use instead of deleting them permanently. You simply extract pages from a PDF and save them separately.
6. How to make a PDF smaller by cropping it
Another way to adjust the size and compress a PDF is to crop the extra space around the content. In case your file has large margins, you can reduce the PDF file size by cropping down the white space. This will allow you to keep all the content while saving some storage space.
Below is the explanation of what you need to do to shrink PDF file size:
Go to the PDF cropper on your device.
Upload the PDF to compress with the "+ Add file" button or manually move the document from the folder.
With the mouse, adjust the cropping area. Note that the change will be applied to all pages simultaneously.
Hit "Crop PDF" to initiate the processing.
On the resulting page click "Download file" to save the new document.
Pros
Reducing PDF file size by deleting extra space and wide margins.
No quality or data loss while making the PDF more appealing.
Using a cropping tool as a PDF size reducer is an efficient way to get rid of the surrounding white space. Making the size of a PDF smaller with this method will help you and your reader focus on the data in the PDF right away instead of having to zoom in to be able to read the text. You can also see if resizing PDF will shrink your PDF.
How to make a PDF file smaller: conclusion
As you see, there are multiple ways how to reduce PDF file size. You can use a PDF compressor that saves all the content or turn your document into a different format to make a PDF smaller. More to that, there are options to shrink the PDF file size by removing extra pages or cropping margins.
All these methods are completely different and are suitable for various purposes. Depending on what you want to achieve, pick the PDF size reducer that will help you save space on your device best!