There are several reasons why you might want to combine two PDF files into one. For example, you may have quarterly reports for a year, and you want to merge PDF files into one to simplify your workflow. You may also have multiple documents for different reports or invoices for the same project. Instead of sending multiple attachments, you can combine PDF into one document to simplify sending or sharing.
There are several ways of how to combine two PDF files, and we'll show you the two best free ways.
1. Online PDF Combiner
Let's start with the easiest way to merge PDF which is an online one.
Open the Merge PDF tool.
Click the +Add file button to select two files or drag and drop them into the browser.
If needed, rearrange the order of documents with the drag&drop mechanism, too.
Click Merge 2 files and the process of joining PDFs will start.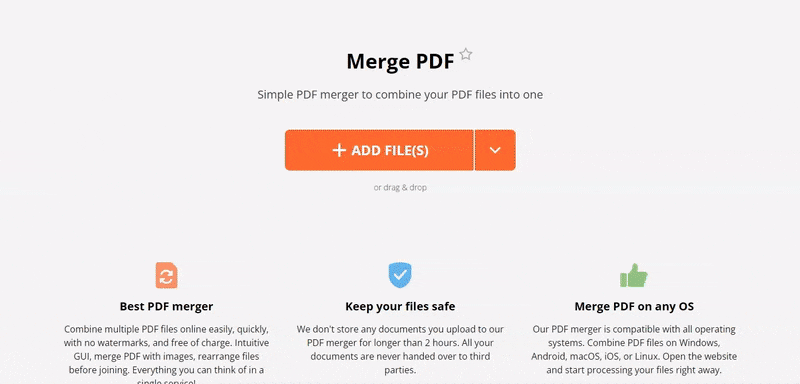 We let you combine two PDF files online for free, but its benefits don't end there. Let's take a look at a few more advantages:
An easy way to share the output document. You can create a hyperlink with a QR code for the new file, upload PDF to cloud-hosted platforms like Google Drive and Dropbox, or download it directly to your device.
Security. We don't retain or store your personal info or files. Your data records are deleted from our server after 2 hours, keeping your information safe.
Intuitive PDF merger. Using our online tool requires only a few steps that can be mastered in a matter of moments.
2. Combine Two PDF Files Offline
If you need to join PDF without an internet connection, download PDF Candy Desktop for Windows. This software is free to install and perfect if you are having hard times getting online. The steps below will show you how to combine two PDF files using the desktop app:
Open PDF Candy Desktop on your PC.
Drag and drop 2 PDF files to the Merge PDF icon.
Use the Up and Down Arrows on the right to reorder files.
Click Merge.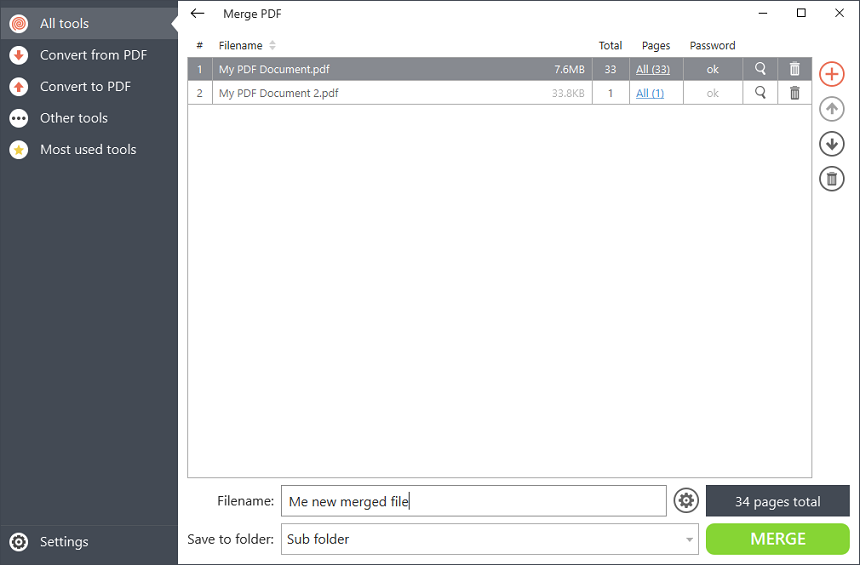 The offline PDF combiner will give you some additional benefits, such as the ability to work with password-protected files and the option to select pages or page spacing for merging.
Final Thoughts
Now you know how to combine two PDF files for free both online and offline. The online method is very fast and you can use it on any device with any OS. The offline method gives you more merging options and does not depend on an internet connection.
What else can you do with a PDF online?
Edit PDF with a full-featured online PDF service.
Try the PDF compressor if the urge to send a large document occurs and you don't know how to do it.
Add Watermark to PDF to protect the copyrights of your documents in 2 steps.