There are various scenarios in which you may need to reduce PDF file size on Mac. Let's say, to save some storage as it's a tricky task to increase disk space on Macintosh computers. Or, to send a large file that you can't attach to an email as the PDF file size is larger than regular allowed 25 MB.
The thing you need to keep in mind when finding the right service to compress PDF is that you need to preserve the document's quality. In addition to this, this PDF compressor should be compatible with macOS.
An accessible online solutions can be a great option. They're handy for last-minute tasks and straightforward to use. Here comes PDF Candy, a free online tool to reduce PDF file size on Mac.
How to reduce PDF file size on Mac for free?
Go to PDF compressor on any macOS device and upload your files by clicking +Add file or drag-and-dropping them.
Choose the PDF compression level.

Maximum compression is meant for those who want to shrink PDF to send or upload multiple files.
Choose Recommended compression, in turn, to reduce the size of the PDF while preserving most of its quality.

Click Compress to apply changes and reduce PDF size. Note: PDF compression is not possible in already compressed PDFs.
Save the new document on your Mac.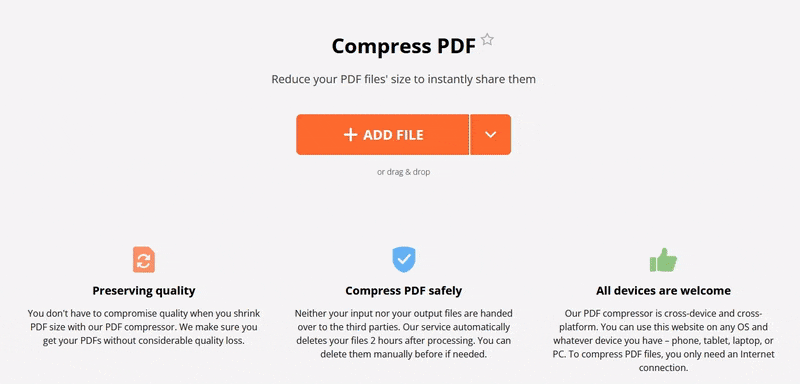 Now that you know how to make a PDF smaller on Mac, don't miss the chance of learning more about what our service can do.
What PDF Candy offers for compressing PDF?
Any OS is supported
If you're an Apple fan, most likely you own an iPhone or an iPad, too. With our website you can perfectly reduce PDF file size on Mac (MacBook, iMac) and on iPhone or iPad. iOS is perfectly supported!
Save, share or upload the compressed file
Additionally, after learning the best way how to reduce PDF file size on Mac, we offer different options for saving the file. You can download PDF on the device, upload it to your Google Drive or Dropbox accounts, or create a shareable link for the file. This URL will contain a QR code in case you want to save document on a mobile device.
Top notch security guaranteed
You can totally trust us to reduce PDF size on Mac: the compressed files are deleted from our servers after two hours. What's more, you can delete them manually anytime.
Discover more PDF tools
Lastly, if your PDF needs additional alterations, you can process it further right from the resulting page. Here are just a few examples:
'Extract images' – get all images included in your PDF file in high-quality resolution, save them separately or in ZIP.
Sometimes you need to change the size of the PDF pages, try the 'Resize PDF' tool and choose between A4, A5, A3, or the US letter templates.
'Rearrange pages' – organize a PDF the way you like it, rotate and delete pages at your will.