There are various scenarios why you may need to learn how to reduce PDF file size on Mac. Let's say, you want to save some storage as it is a tricky task to increase disk space on Apple computers. Additionally, you will not be able to send a large PDF via email, which size is larger than the regular allowed 25 MB.
The thing to keep in mind when you need to make a PDF smaller on Mac is that you might want to preserve the document's quality. Above all, the PDF file size reducer you choose should be compatible with macOS.
In this article, we will show you 6 ways how to compress a PDF on Mac computers.
1. How to reduce PDF file size on Mac with PDF Candy
PDFs are one of the most popular document formats. They are easy to share, look good on all devices, and can contain a variety of content like text, images, videos, and more. Yet, with all this functionality, some documents can be quite large. That is why having a PDF compressor, like PDF Candy, handy is important.
This is how to compress a PDF online on the platform:
Go to online PDF compressor in Safari or any other browser on your computer.
upload files by clicking "+ Add file(s)" or drag-and-dropping them directly in the window. You can upload multiple documents at once.
Choose the PDF compression level.

Maximum compression is meant for those who want to reduce PDF size as much as possible.
Recommended compression is set to make PDF smaller while preserving the quality.

Once you picked the settings, hit the "Compress" button to apply changes. Note that compressing PDF files that were already once reduced in size is not possible.
To save the new document, in the new window, click "Download".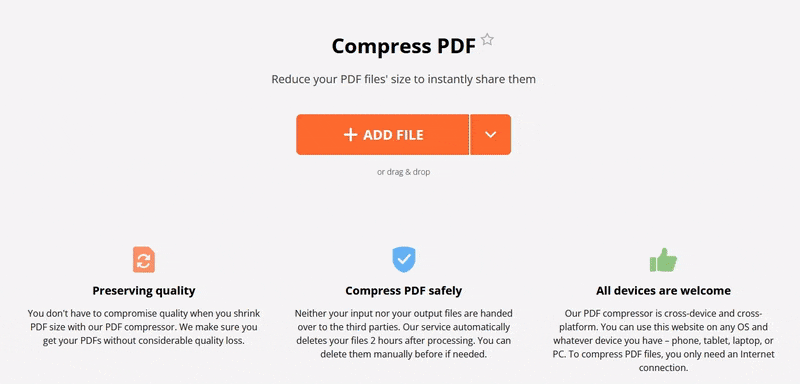 You will notice that on the download page, there are options to further manipulate your document. For instance, you can password-protect the PDF before sending it via email. In this case, only the person with the password will have access to the document. Overall, the online PDF file size reducer offers 47 other instruments to make your work with this format easy and fun.
Now that you figured out how to make a PDF smaller on Macintosh computers, learn more about what else the service can do.
Any Apple gadgets are supported
If you are an all-Apple user, with this free PDF compressor, you can perfectly reduce PDF file size online on a MacBook - Air or Pro, iMac, iPhone - Pro, Pro Max, Mini, SE, and iPad. Different versions of iOS are supported! Not only you can shrink, but you can convert PDF to Word on iOS, too.
Save, share, or upload the compressed file
Additionally, after you compress a PDF online, there are different options for saving the document. You can download PDF on the device, upload it to your Google Drive or Dropbox accounts, or create a shareable link for the file. This URL will contain a QR code in case you want to save the document on a phone.
Top-notch security guaranteed
PDF Candy is a trusted platform to reduce PDF size on Mac! The compressed files are deleted from our servers after two hours. What is more, you can delete them manually anytime.
2. How to compress a PDF on Macbook or iMac with Preview
Large PDFs can take a long time to load, especially when being viewed on slower devices or connections. Hence, having a tool to make a PDF smaller can help you create files for faster loading when sharing. Another solution to reducing the PDF file size on Mac is to use the built-in software.
Here is how to use Preview as a free PDF compressor:
Open the PDF to compress with Preview.
Click the "File" menu and select the "Export" option.
In the "Quartz Filter" dropdown menu pick "Reduce File Size". Make sure that document is saved as PDF in the "Format" field.
Change the output file's name in the "Export As" area and choose the folder to save it to. Hit the "Save" button to reduce PDF file size on Mac.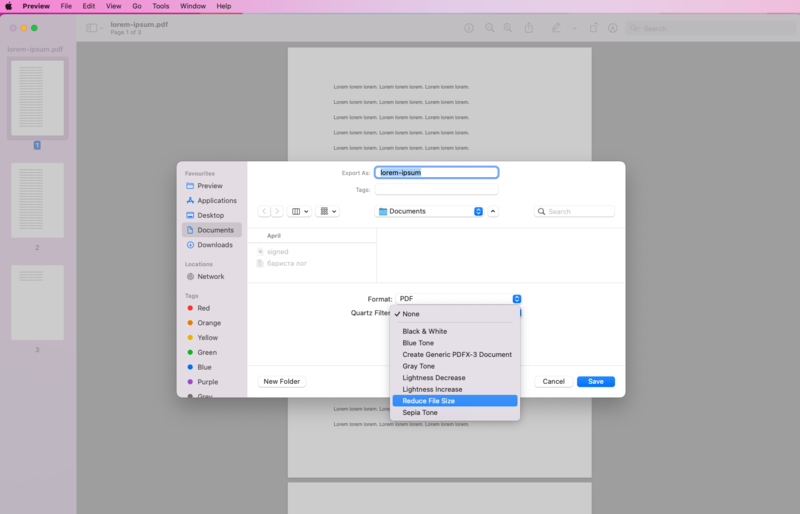 This pre-installed application gets more and more features, turning from a simple viewer to a PDF editor for Mac. Within the same program, you can white out areas of a PDF you no longer need. Explore the functionality, and Preview will become a useful tool for compressing PDF files on Mac and more.
3. How to make a PDF smaller on Mac with online PDF compressor
PDFs of smaller sizes are more likely to be compatible with other devices and software. This means that they can be opened on different PCs and phones, regardless of their technical characteristics. To reduce the PDF size on Mac, you can use a specialized online PDF Compressor service.
Below is the instruction for using this website:
Go to the website to open the PDF size reducer.
Click "Upload files" or drag and drop to the window the document for adjustment.
After the processing is complete, you will see the percentage of the resulting PDF compression.
The "Download" button will appear as well. You can also hit "Download all" if you process multiple PDFs at the same time.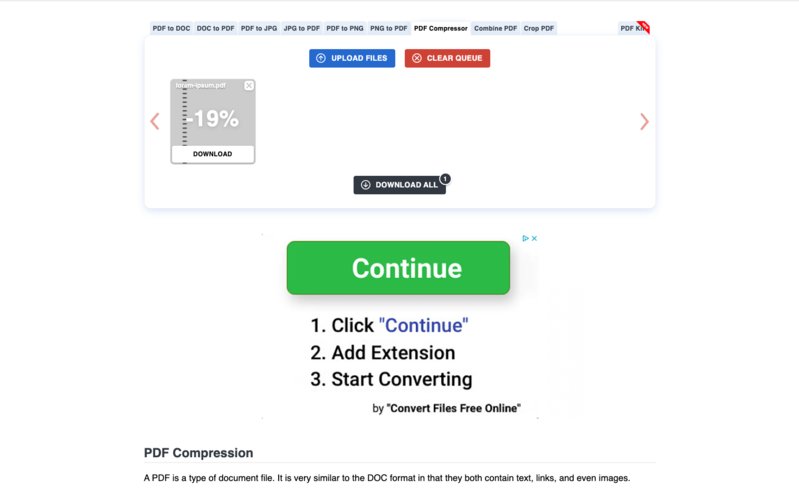 As you can see, with a platform specifically designed to reduce PDF file size online, you can easily reduce the space your documents occupy on a device. Even though this service is designed solemnly to make PDF files smaller, there are cross-links to other tools. For example, you can convert JPG to PDF by simply clicking the corresponding button above the working area.
4. How to reduce PDF file size on MacOS with PDFsam Visual
Compressing PDF files will help save storage space on your computer and cloud-based accounts. This is especially useful if you are working with lots of documents or need to send them via email. For regular PDF compression, consider downloading software, like PDFsam Visual.
The following steps will guide you through how to make a PDF smaller on Mac with this program:
Download and install the application to your computer.
Launch the program and locate the "Compress" tool.
Drag and drop your PDF to make smaller into the main window.
Customize the resolution, conversion, and other settings. Hit "Save" to proceed.
After the program finishes compressing PDF files, you can view the resulting document or open it in the folder.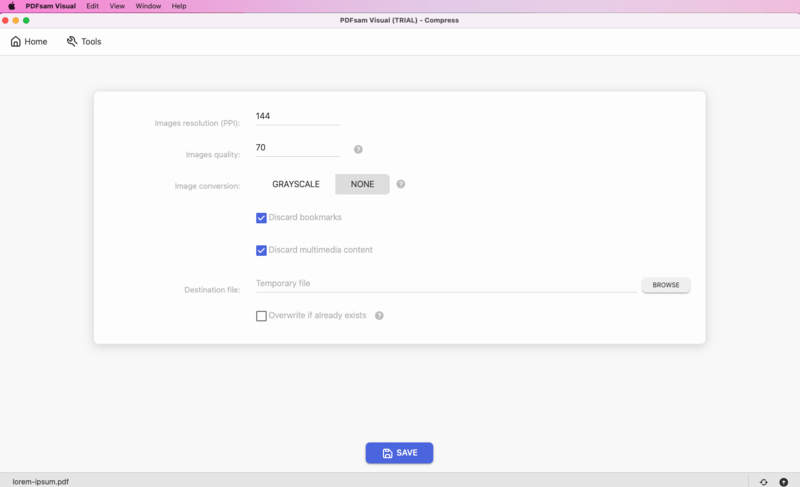 After you compress the PDF online, you may decide to perform other manipulations with the file. Under the "Continue with" note choose to merge PDFs with the "Organize pages" button, "Extract text" or "Split by pages" the PDF you just created. Overall, PDFsam Visual offers good functionality as a PDF size reducer for Mac together with other handful instruments for manipulating files of this format.
5. How to compress a PDF document on Mac with Soda PDF
Smaller PDFs are easier to securely share online or over a network connection without worrying about data loss or the receiver being unable to download them due to slow internet speed. SodaPDF is yet another service to make a PDF smaller on Mac.
See how to utilize this PDF size reducer:
Go to the "Compress PDF" instrument of the platform.
Upload the file with the "Choose file" or manually drop the PDF into the browser tab.
Choose to apply "Regular Compression" or "High Compression". Note that the second option is only available with a Pro account.
Once you made your selection, click "Compress files". Wait for your file to be processed.
In the new window, click "Download file" to save your new document.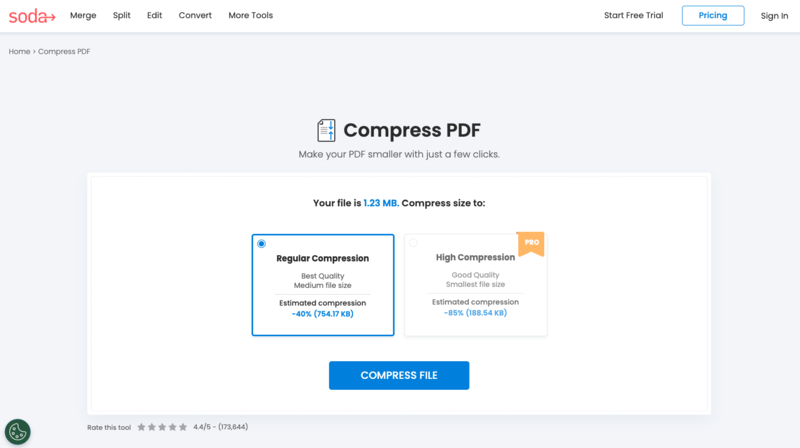 On the download page of the online PDF compressor, there are icons to take you to other website's instruments. For example, you can edit PDF online or split it into several documents. This web-based platform is a good addition to your selection of tools for reducing PDF file size on Mac.
6. How to make a PDF smaller on Mac PC with Lightweight PDF
Being able to compress PDFs makes it easier to print them without encountering errors or having to wait for a long time for the job to finish. Lightweight PDF is probably the simplest PDF size reducer for Mac out there.
Here is what you need to do to use this free PDF compressor for Mac:
Download and install the program.
Click the arrow-down button or drop the PDF to compress into the window with your mouse.
The application will show you how much was the PDF file size reduced and the resulting volume.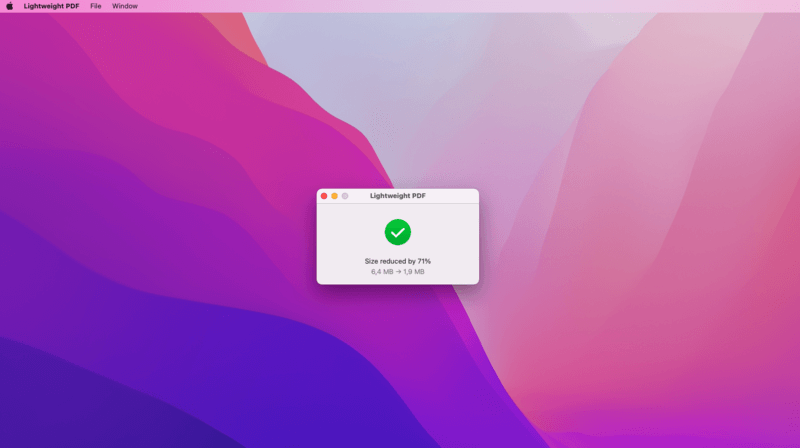 Note that the program overrides the old documents as it finishes compressing PDF files. Make sure you make a duplicate before processing if you want to keep the original version. Apart from this, the Lightweight PDF does the tasks it is designed to do. However, it cannot do anything else that most other tools for reducing PDF file size for Mac offer.
Conclusion
Knowing how to compress a PDF on Macbook or iMac is a must-have skill. Especially, when you send and receive files in this format regularly. Explore the described offline or online PDF compressors for creating documents that are simpler to access and easier to work with!