Most of those who work with digital documents in PDF have had to deal with the difficulties of editing this format. For example, when adding a new graphic object, editing text or highlighting it. In this article we will tell you how to underline text in PDF without complex programs or apps.
Many users prefer try to edit PDF online to underline text in a document. This saves hard drive space and processing time. In this article we will look at a convenient and easy way to underline text in a PDF, available in absolutely any browser on any device.
Instructions on how to underline text in PDF
To underline text in your papers online and for free, follow the step-by-step instructions below.
Open the online PDF editor and upload the file you want to work with.
To underline text in PDF that you uploaded, select the relevant tool from the menu on the left. This is a button that looks like an underlined letter U. Click it and use the mouse cursor to underline text. You can select words, sentences and whole paragraphs in the document.
When the text content is fully edited, click the green "Export" button to create a new file in the free PDF editor.
Download the new document, share it or continue working on the file on the website.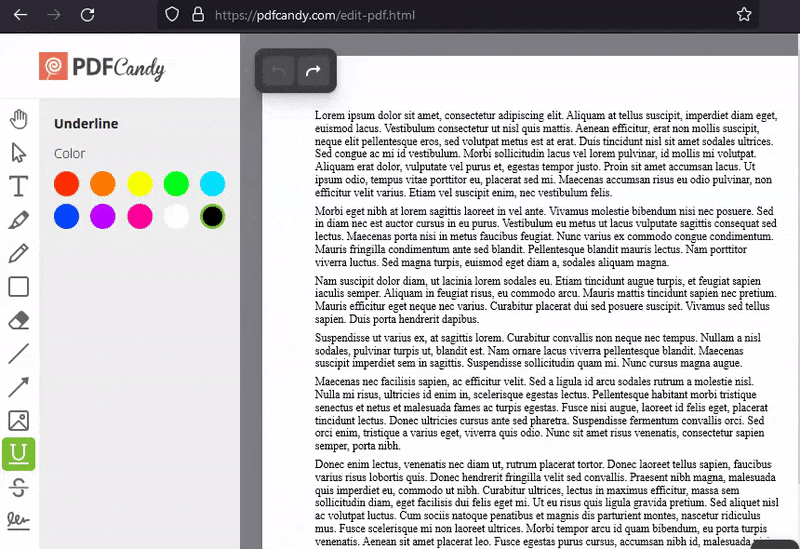 In this simple way, we have underlined the text in PDF in just a few steps, without resorting to complex desktop programs or mobile apps and saving the HDD space. And besides - completely free and very fast!
Additional tools to edit PDF
Not only you can underline text, this online PDF editor is capable of performing the following tasks:
move pages with "Hand" tool. This is quite handy for finding the desired content in the document;
select the necessary objects using the "Select" tool in the form of an arrow;
Add new text or edit existing content using the "Text" tool;
Mark the phrases you want by using the "Highlight" function;
Draw on a PDF with "Pencil" ;
Create rectangular shapes;
White out on PDF unwanted objects or text;
Draw straight lines and arrows;
Insert pictures;
Strike out text;
Sign the document with your own autograph.
Advantages of the online PDF editor
The free version allows not only to underline text in PDF, but it contains all the necessary features to edit PDF documents.
Works on all devices, regardless of the operating system and technical characteristics of gadgets.
Has great functionality and flexible settings that will help the user to create a document of high quality in a short time.
You will only need an Internet connection for work. Thanks to this, one and the same document can be processed on different devices.
After editing, the file is stored on the server for two hours. This is relevant if you work on different gadgets.
Compatibility with cloud storage services such as Google Drive and Dropbox will prevent necessary PDF documents from getting lost, and save space on your laptop or tablet.
All you need to get underline text in your files is a simple browser that is included in every desktop and mobile device.
Drag and drop mechanism is supported by the free PDF editor.
Other tools to turn to after you underline text in PDF