Google Docs is a new and widespread method of creating documents, but it requires a Google account and Internet access to use it. In contrast, PDFs can easily be opened on any device without an Internet connection and account creation. So, how to convert Google Doc to PDF so you can check your documents offline?
Google has a built-in feature that makes it easy to save Google Doc as PDF on a desktop, but converting document to PDF on a phone is a different challenge. The instructions below will show you how to turn a Google Doc into a PDF on both computer and on a smartphone.
Convert Google Doc to PDF on a Mobile Device
When using Google Docs on mobile devices or tablets, you won't be presented with a direct way to download the Google Doc file and convert it to PDF. The steps below show how to convert Google Doc to PDF on iOS, Android, and other OSs:
Save your Google Doc as a DOC file on your smartphone.
Go to Word to PDF tool.
Upload your document by pressing "+Add File" or by dropping it.
After automatic conversion save your output PDF with the "Download File" button.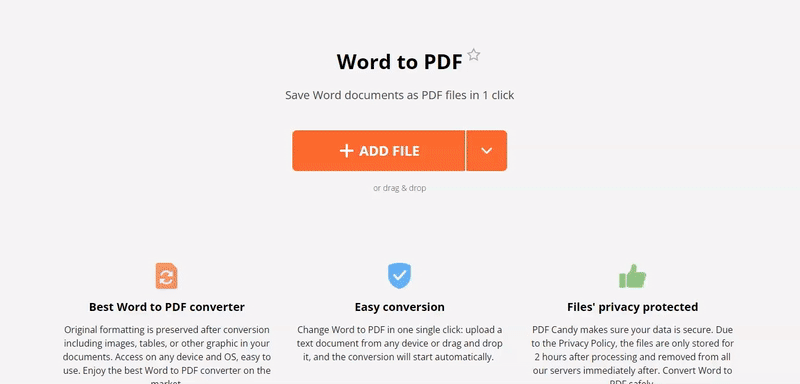 How to Save Google Doc as PDF on a Computer?
1. Export Google Doc to PDF with the Download As Function
Once you open your GG Doc in a browser on your computer or laptop, follow the steps below:
Click "File" in the top left corner.
Choose "Download as" to open a new context menu.
Click the "PDF Document" button to convert Google Doc to PDF and automatically save it on your computer.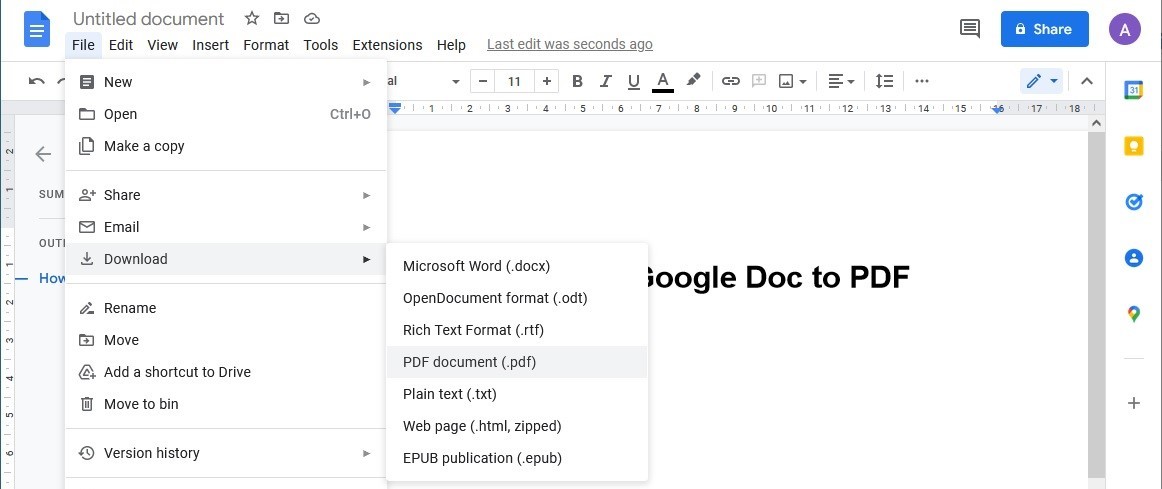 2. Turn Google Doc into PDF with Print Option
Utilizing this approach is quick and easy to use, but it necessitates installing the Chrome browser. Additionally, it does not allow editing of the PDF file once it has been converted from Google Docs.
Access the file in Google Docs. Click on "File" > "Print", or press Ctrl + P (or Command + P on Mac).
Select "Destination", choose "Save as PDF".
Why Should I Change Google Doc to PDF?
PDF files are a great way to share documents in a secure and easily accessible manner. Here are a few advantages of converting Google Doc to PDF.
Convenient file sharing. Once you've converted your Docs to a PDF, you can send Google Doc as PDF. Upload it back to your Google Drive or Dropbox account right away. Also, you can create and send a URL with a QR code to download the document to anyone else who may need it.
Security. PDFs offer enhanced security features such as password protection, digital signatures, and PDF decryption. This makes them perfect for exchanging sensitive information.
Accessibility. People with disabilities can access PDFs using assistive technology. Also, the viewer doesn't have to install any extra software to open the file.
Simple to Modify. Make Google Doc into PDF to edit files without needing specialized software. You can add text, images, and other elements without redesigning the whole document.
Preservation. As opposed to alternative file types, PDFs permit you to retain the appearance and feel of your document even after you save it. This ensures that your content stays exactly how you intended it.
Why PDF Doesn't Look Right?
When converting Google Doc to PDF, there are several common issues that can lead to the PDF not looking good. Here are some tips to help you make sure your PDF looks great:
Check your margins. Ensure that the document margins in your PDF are consistent with those of the original source.
Is your text formatting correct? Check the font size and typeface of all elements, including headings, subheadings, and body text.
Are your images and graphics in the right place? Make sure all pictures are placed correctly and look as expected.
Adjust the page size. Ensure that your PDF page size is set correctly for the device or printer you're utilizing to observe it.
Use a reliable PDF creator. High-quality results depend on a reliable service you use to convert your Google Doc to PDF. Find one that meets your needs and produces consistent results.
By taking these steps before you convert your Google Docs file to a PDF, you can ensure that it looks perfect every time!
How to Convert Google Doc to PDF: Conclusion
In conclusion, converting Google Doc to PDF is a fairly straightforward process. The most important points to take note of are to ensure that the output PDF file format is satisfactory and that the document is properly formatted prior to conversion. Additionally, it is also important to pay attention to the page orientation and margins. By following these steps, you can easily turn your Google Doc into PDFs and share it with others in a secure manner.
Explore other PDF editing tools
The best part about using our service to convert Google Docs to PDF is that you can then edit the resulting file if you need to.