In most cases when working with scanned PDF documents, large, unsightly chunks of gaps, also called margins, are formed. These borders are difficult to remove because the file has already been turned into a hard-to-edit format. The first thought is to crop the PDF using Adobe Acrobat. But how to crop PDF without Adobe if you don't want to install a whole suite or pay for a couple of operations? Follow our simple instructions to find out.
How to crop a PDF without Adobe: easy online method
First, you need to go to the Crop PDF tool.
Now upload the file you want to crop. You can do that not only from the device, but also from Google Drive and Dropbox cloud storage.
Move the borders in the preview that appears after the document is loaded to crop the PDF. Note that the service will crop all the pages of the document based on its first page.
Click the "Crop PDF" button.
Click the "Download file" button to save the document.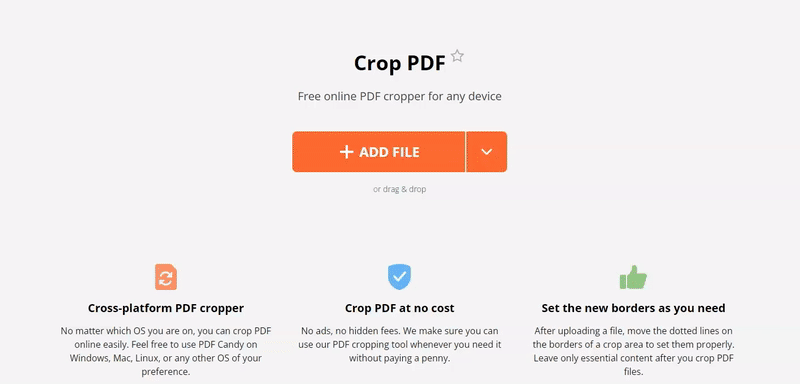 Advantages of cropping PDF without Adobe:
| Pros of online PDF cropper | Cons of Adobe Acrobat |
| --- | --- |
| Crop PDF online without installation | The program requires installation on your PC and will take up space |
| Works on any OS be it Windows, macOS, Linux, Android and iOS | Only available for Windows, macOS, Android |
| Free | Distributed exclusively on a paid basis |
| Ability to work from any location and on any device | Will only crop PDF on the device where it was originally installed |
| Suitable both for beginners and professionals to solve everyday tasks | Steep learning curve |
What else PDF Candy can offer:
The usability even on weak computers, because the website doesn't consume PC resources;
User-friendly interface that even a novice user can enjoy;
High performance allows you to crop PDF files in a matter of minutes in just a few simple steps;
Suitable both for beginners and professionals to solve everyday tasks;
Impressive functionality at the stage of file downloading;
More tools including a full-featured online PDF editor for better and accurate data processing;
Cloud storage support, which saves space and allows you to work with Google Drive and Dropbox from different devices.
Right after you crop PDF online, the service will offer you several tools for further editing your file without saving it to your device. In addition to this, you can save your document not only to your device, but also upload it to cloud storage, like Google Drive or Dropbox. Besides convenient ways of saving, the platform allows you to share the output file as a link with a QR code.
The service crops all PDF pages at once. Therefore, for efficient editing, consider splitting PDF into separate files. In this way you will be able to remove white borders or cut out a certain object on each PDF individually, based on its particularities and content.
Summary
So, this online service provides a great way to crop PDF without using Adobe Acrobat quickly and efficiently.
There's also a way to compress PDF without Adobe and add page numbers to PDF without Adobe Acrobat, too.
Also, you can to edit PDF without software if you wish to switch to online PDF processing.