In most cases when working with scanned PDF documents, large, unsightly chunks of gaps, also called margins, are formed. These borders are difficult to remove because the file has already been turned into a hard-to-edit format. The first thought is to crop the PDF using Adobe Acrobat. But how to crop PDF without Adobe if you don't want to install a whole suite or pay for a couple of operations? Follow our simple instructions to find out.
1. How to Crop a PDF Without Adobe Online?
First, you need to go to the Crop PDF tool.
Now upload the file you want to crop. You can do that not only from the device but also from Google Drive and Dropbox cloud storage.
Move the borders in the preview that appears after the document is loaded to cut the PDF. Note that the service will crop all the pages in PDF based on its first page.
Click the "Crop PDF" button.
Click the "Download file" button to save the document.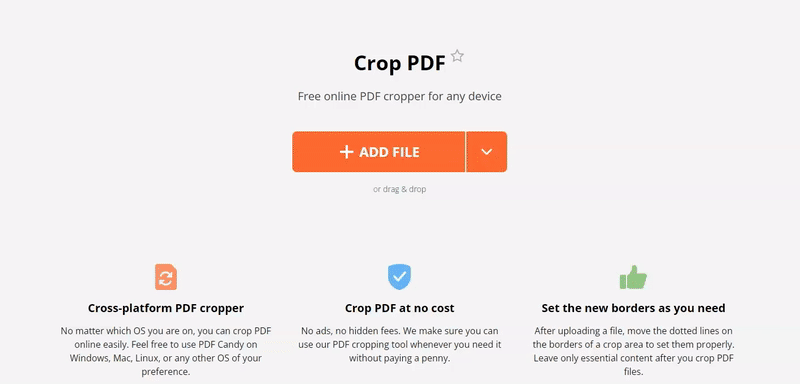 Advantages of Cropping a PDF Online Without Adobe:
| Pros of online PDF cropper | Cons of Adobe Acrobat |
| --- | --- |
| Crop PDF online without installation. | The program requires installation on your PC and will take up space. |
| Works on any OS be it Windows, macOS, Linux, Android, and iOS. | Only available for Windows, macOS, Android. |
| PDF cropping tool is free. | Distributed exclusively on a paid basis. |
| Ability to work from any location and on any device. | Will only crop PDF on the device where it was originally installed. |
| Suitable both for beginners and professionals to solve everyday tasks. | Steep learning curve. |
What Else PDF Candy Can Offer:
The usability even on weak computers, because the website doesn't consume PC resources.
User-friendly interface that even a novice can enjoy.
High performance allows you to crop PDF files in a matter of minutes in just a few steps.
Suitable both for beginners and professionals to solve everyday tasks.
Impressive functionality at the stage of file downloading.
More tools including a full-featured online PDF editor for better and accurate data processing.
Cloud storage support, which saves space and allows you to work with Google Drive and Dropbox from different devices.
2. Crop PDF Pages With PDF Candy Desktop
It's easy to modify documents without Adobe via this PDF cropper for Windows OS. It is a free reliable software which allows users to crop PDFs quickly and accurately, without needing any specialized skills or knowledge. Read on for a comprehensive guide on cropping PDFs by utilizing PDF Candy Desktop, instead of Adobe Reader.
Download and install the software on your device.
Select the "Crop PDF" tool from the main menu.
Upload the PDF you would like to crop by clicking "+Add File" or dragging and dropping it into the icon.
Set up the cropping parameters by pulling the frames of the document.
Click "Crop" to initiate the process.
When finished, click "Download File" to save the cropped PDF on your device.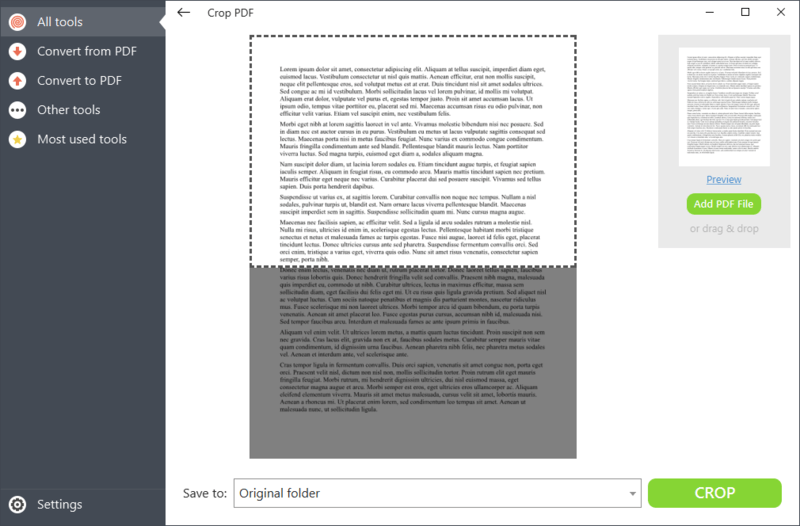 This application is incredibly user-friendly, meaning that no technical experience is required in order to use it. Secondly, it serves both single and multiple PDFs. Finally, the output can be saved in various file formats like PDF, JPG, and PNG.
Benefits of the Desktop PDF Cropper:
No need for an internet connection.
No more worrying about reconnecting and losing important data.
Faster processing of large files.
A set of additional tools for editing PDF files: split or merge PDF, etc.
3. How to Crop PDF File With Preview on Mac?
Preview is an app available on macOS permitting users to view and edit PDF files. It has the capability to crop a PDF page, making it easier to work with and tailor for specific use cases. Look how:
Open the PDF file you intend to crop with Preview.
Tap the "Show Markup Toolbar".
Choose the "Rectangular Selection" button in the toolbar.
Select the region you wish to crop document.
Click "Crop". The selected area will be cut off and the rest of the page will be cropped out.
Pros:
Preview is free software pre-installed on all Macs.
The UI is intuitive, making it simple and straightforward for cropping PDF tasks.
Cons:
Preview lacks advanced features such as OCR or redaction.
The resulting file size may be larger than the original, due to extra metadata included when saving the cropped version.
4. Crop Pages in PDF With Snipping Tool
Utilizing the Snipping Tool is an efficient means of cropping a PDF file without relying on Adobe. It's part of the Windows OS, so you don't need to download anything extra. Here's how it works:
Access the PDF you want to crop.
Launch the tool from your "Start Menu".
Select the type of snip you want to make - rectangular, free-form, or full-screen.
Use your mouse to select the part of the PDF that you want to keep, then click "Save".
The cropped portion will be preserved as an image file in your Pictures folder.
Now open the file with any editor and save image as a PDF if needed.
Pros:
Since it's preinstalled, there are no costs associated with other programs.
You can make very precise selections with the Snipping Tool.
Cons:
The tool doesn't offer much in terms of editing features.
You can't save your cropped PDF directly. You must save it as an image before converting it back to PDF format.
Crop PDF Without Adobe: Advantages
Utilizing alternatives to Adobe can be a great way to save time and money. With the right tools, you can quickly edit, split PDF files and crop your PDFs without ever having to pay for expensive Adobe software. Check out the benefits:
Faster Cropping: Without having to install and launch Adobe, editing PDFs outside of Adobe products save you time. You can quickly crop your document and get back to work in no time.
Cost-Efficient: By avoiding the cost of high-priced Adobe software, cropping PDFs without it can help you save money.
No Technical Knowledge Required: Most cropping tools are simple and intuitive, so no expertise is necessary to get the job done.
Making modifications to PDFs without Adobe's assistance It's fast, cost-effective, and secure - perfect for anyone looking for a solution that doesn't require any technical knowledge.
Why Crop PDF?
Manipulating PDFs could be a beneficial tactic to eradicate needless facts and zero in on what matters. Below are some of the typical explanations of why someone could crop a file:
Making the document fit in a certain area. PDF cropper can help document fit into a specified frame, such as when printing out a file or inserting it into another file.
Removing confidential information. Sometimes people must edit out certain parts of an image containing confidential information, like bank details or addresses.
Removing empty margins. By cropping excess empty space around the edges of a document, you can create a more space-efficient version of the document.
Enhancing aesthetics. Sometimes PDF cropping tool can improve the overall appearance and make it look better.
Adjusting the orientation. Cropping lets you adjust the orientation of the PDF to make sure it's displayed correctly.
Achieving these goals without Adobe Acrobat is possible with online services like PDF Candy, which offer intuitive tools for cropping PDFs quickly and easily.
How to Crop PDF Without Adobe: Conclusion
In conclusion, cropping a PDF without Adobe is a relatively straightforward process. All you need is the right tools and several simple steps to accomplish the task. It is important to keep in mind that the quality of the output file depends on the quality of the input file, so be sure to check your document after cropping it. Furthermore, keep in mind that some tools may not provide full support for editing encrypted PDFs. Therefore, make sure you check all of the features offered by each tool before deciding which one to use.
Overall, with the right application and a few easy steps, anyone can easily crop their PDF files without Adobe.
There's also a way to compress PDF without Adobe and add page numbers to PDF without Adobe Acrobat, too.
Also, you can edit PDF without software if you wish to switch to online PDF processing.