PDF is a format that cannot be naturally modified, so its contents remain intact. To edit its contents, refer to Word. How? What to do if you are in a hurry and don't have time to find a decent program? Follow along to learn how to convert PDF to Word document without any software.
It can be done with just a couple of clicks in any browser of your choice. The whole process is quick and easy: no need to download and install anything.
How to convert PDF to Word online?
Add the file to the PDF to Word converter. Read about all possible options below.
The conversion will start automatically. Note: by default PDF will be converted to DOC format.
Download the created Word document or share it immediately via the created URL link with a QR code.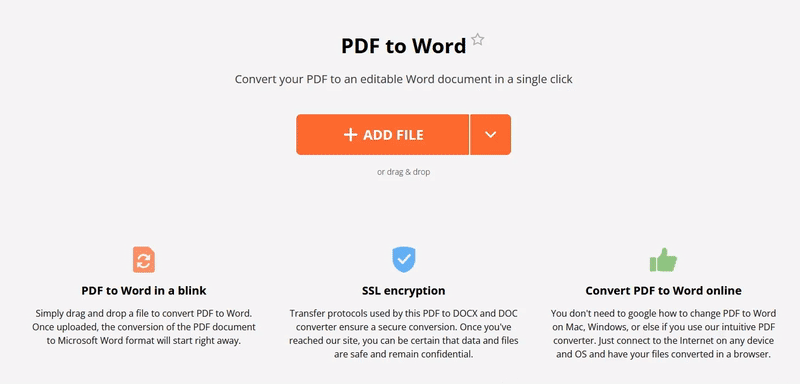 After downloading the file, the tool automatically converts the PDF into a Word document without any software. This saves you time and effort.
After the conversion process is complete, you will see a new page that says 'Done'. Click the 'Upload File' button to save the PDF in Word format.
Ways to add file to the online PDF to Word converter
Add a file by dragging it or by clicking the '+Add File' button.
Alternatively, upload a PDF to text document from cloud storage. Just click on the appropriate icons and you're done. Google Drive and Dropbox are supported.
The created Microsoft Word file can be uploaded back to these cloud storage locations.
Free PDF to Word converter online
You just learned how to convert PDF to Word document without software on the go. In short, open the site on any device and in any browser and convert the file in seconds.
The definite advantage is that there is no need to configure any additional settings. Thus, there is no need to spend extra time converting PDF to Word.
Besides, another advantage is that our converter is available for any system and on any device. You don't need to download many applications or programs if you use macOS at home, Windows at work or iPhone in your everyday life. All you have to do is open the PDF Candy website and get the job done in seconds.
What's more, whenever you visit the site, you get access to the latest version of the service, unlike the software. No lengthy updates are required.
What else you can do with your PDF
PDF editor online will help you to edit PDF text, draw on PDF, highlight necessary info, add text or graphics, and many more.
PDF to Excel converter will turn your document into XLS spreadsheet.
Compress PDF service will shrink the file size to transmit it further without any difficulties.