Word is one of the most common document formats used in both business and education. Unlike PDF, these files are easy to edit and work with, so many people prefer to convert PDF to Word.
PDF tends to be more difficult to edit and often requires expensive software to work with, especially when dealing with Apple products. That is why we offer you a guide showing how to convert PDF to Word on Mac for free. This method certainly has a lot of advantages, such as high speed file creation and absolute ease of use. Follow along with us!
How to convert PDF to Word on Mac for free?
Upload your file (from a device or cloud storage) to PDF to Word converter.
The service starts turning PDF to Word right away. Note: by default your PDF will be changed to DOC format.
Download the output document or upload it back to cloud (Google Drive or Dropbox). You can also share it via a shareable URL link with a QR code.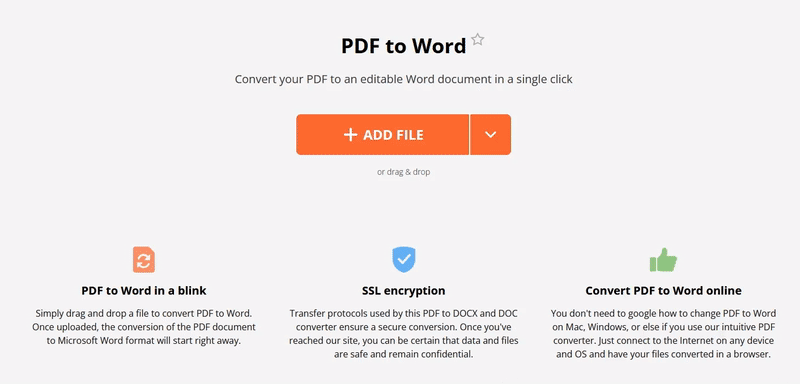 macOS native software VS online PDF converter
Mac users usually have to pay high prices for software or work with free but limited services to convert PDF files into Microsoft Word. Besides being expensive or limited, Mac software always takes up valuable computer space that could be used for other projects or data.
We provide the ability to convert PDF to Word on Mac online, which means no computer space is used, and the service is free. There are no ads here either!
Advantages of PDF Candy
The best part is that our site is not limited exclusively to PDF to Word converter for Mac users. Our tool can be used on any device with Internet access because it is an online platform.
Moreover, your data is safe with us. We do not store any input or output files. You can control whether they will be deleted automatically after two hours of processing or immediately after the job is finished.
If you need to work with PDF files for other tasks, such as correcting scanned PDF files of poor quality, check out PDF OCR, which allows you to extract and edit text inside a PDF document.
If you found our instructions on how to convert a PDF on a Mac helpful, you should check out our other services and features for working with PDF.
Other ways to work with PDF on macOS
Merge PDF with images for more convenient file sharing and storing.
Convert PDF to PPT if you prefer keeping a document in a presentation format.
Sign PDF – use this simple tool to add a signature to your work files. You can draw it, type it in or upload an image.