One of the most convenient ways to store documents is keeping them in PDF format. If you have several files saved in cloud storage and on your devices, you can merge PDF files online to bring together documents, photos, or any other additional papers.
The online method has plenty of benefits. First, there is no need to find the right program that runs on your computer or smartphone as you can work on any OS. Then, when you merge PDF online, the files are processed on our side, so you get the results very fast thanks to our powerful servers.
Another big advantage is that you can upload documents directly from Google Drive and Dropbox to the service without having to save them first and then re-upload from your device back to the service.
Read on to see how to merge PDF file online in just a couple of simple steps. The process is intuitive and free!
How to merge PDF files online?
Upload your PDFs by clicking '+Add file' or drag and drop them to our PDF merger. Repeat step 1 for all the docs that you need to work with further. Upload files from Google Drive and Dropbox, too.
If necessary, reorder the added files manually or use A-Z/Z-A sorting before combining PDFs.
Click the 'Merge files' button to apply the changes.
Download or share the output PDF.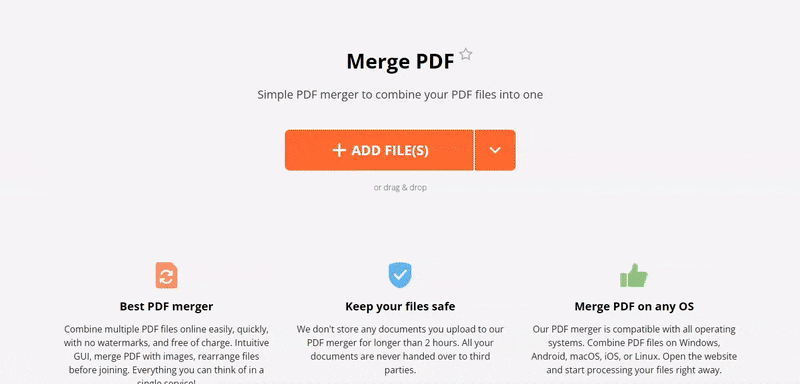 Merge PDF files with images
It's important to note that the service is not limited to combining PDF files with each other. If you have images of such format as JPG, PNG, BMP, GIF, and TIFF and you need to merge them into a PDF, you can still use the free PDF merger tool.
Just upload the documents and pictures altogether and arrange them according to the steps above. We offer a simple process to merge PDF files online along with images for free, without the need to download any software. Everything is available in your browser.
Secure online PDF merger
You can merge PDF files online knowing that your personal data along with the uploaded and created files are safe. We won't save any of your personal information or the PDFs you upload or process with our service.
What else you can do after you merge PDF online?
If you added some extra pages to the PDF, use the "Delete pages" tool to remove the necessary pages.
Turn to the "PDF to Word" tool to make an editable DOC out of a PDF file.
"PDF OCR" will help you to recognize the characters in your created PDF if that's a scanned file.