Sometimes you only need a certain image or piece of PDF to reuse in other projects. Hence, finding a way how to crop a PDF on Mac is a need. For example, you may want to crop a PDF to use a header for a brochure or adjust the margins of your file.
In this article, you will learn about 4 ways to crop a PDF on Macbook or iMac with online tools and offline software. Keep on reading to familiarize yourself with various PDF croppers and pick the one you like the most!
1. How to crop a PDF on Mac online
Acquiring the knowledge of cropping PDF files on Mac is an essential skill for those who work with this format on a regular basis. It allows you to resize PDF pages, remove extra space or elements, or add focus to specific parts of the document.
Below is the guide on how to crop PDF online and free with a web-based platform on your Apple device:
Open the online PDF cropper in any browser on your Mac.
Click the "+ Add file" button or drag and drop the PDF to crop into the working area.
Move the dots on the vertical and horizontal lines to adjust the cropping area.
Once satisfied with the result, hit the "Crop PDF" button to apply the changes. Note that PDF cropping will be applied to all pages of the document.
In the new window, click "Download file" to save the PDF on your computer.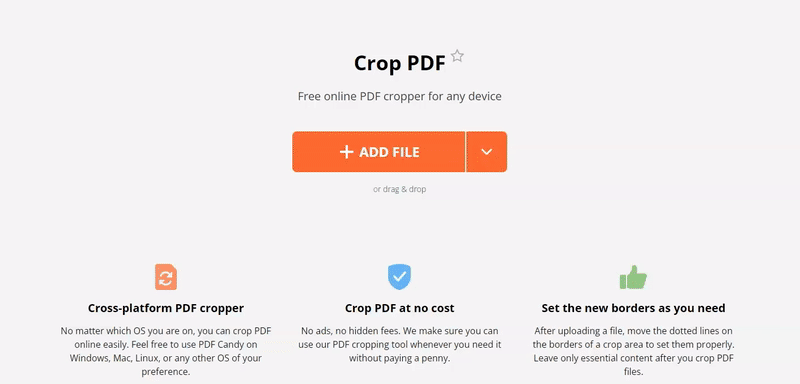 Alternatively to downloading your resulting file, you may choose to further edit a PDF you just created. Your options include compressing a PDF, rearranging pages, merging two PDF files, adding a watermark, etc.
PDF Candy is a free website that can be useful to customize your document before sharing or using it. Cropping PDFs ability makes a great addition to your skillset of working with this format. It is compatible with all iMac, MacBook Pro and Air, and even iPhones - iPhone Pro, Pro Max, Mini, Plus, and SE.
Overall, utilizing this toolkit for Mac to crop PDFs is a simple process that requires no resources from your computer. Save the files you create to the cloud via Google Drive or Dropbox or share them via a URL. If the created document is too large, you can reduce the PDF file size on Mac in a couple of clicks.
Moreover, other tools of the online PDF editor will help you manipulate your files without having to download a third-party application. All manipulation can be done within one platform. Give it a try and crop your PDF online and free!
2. How to use the Adobe online PDF cropper on macOS?
This is another way to crop a PDF for Macbook and iMac users. This is a great approach to adjusting PDF documents to fit your needs, whether you are trying to print them or just need to make some quick changes. Here is an explanation of how to crop a PDF on a Mac with this tool:
Open the Adobe website and proceed to the cropping tool.
To upload your PDF to crop, click the button "Select a file".
If you do not have an account with Adobe yet, the system will hint you to create one.
In the menu on the left, find the "Crop pages" instrument. Adjust the page settings to the desired crop.
Click "Crop" to save your changes. Download the file.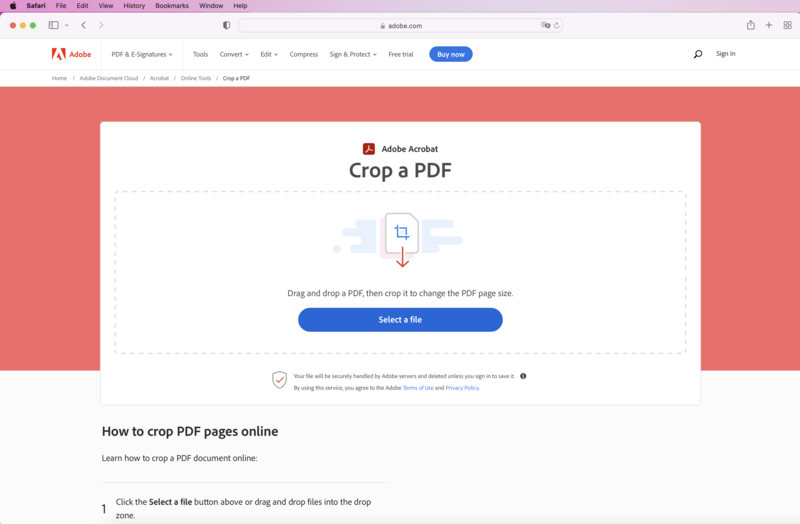 Even though you cannot crop your PDF for free with this service to cut PDF is only available with the upgraded account, many people find it worth investing in the advanced access. With Adobe Acrobat, you can convert PDF to Word or some other format, compress your file, and more.
3. How to crop PDF on Mac offline with a default application?
Although more and more people begin to incorporate cropping PDFs online into their work process, some still prefer desktop software. Mac computers come with the Preview app, which features a built-in PDF cropping tool. Below is the instruction on how to crop PDF in Preview:
Open the PDF to crop with the program.
Click "Show Markup Toolbar" to see all the instruments offered.
Pick the "Rectangular Selection" to open the functionality to crop a PDF.
Mark the area of the file you want to keep. Hit the "Crop" button to proceed with changes.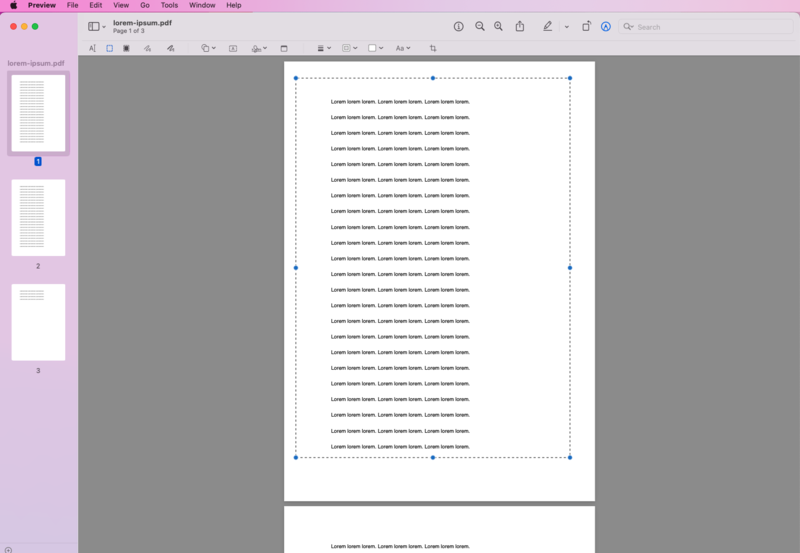 Beware that when you crop a PDF in Preview all the changes are saved automatically. Therefore, if you wish to keep the original file, make a copy before you start altering it. Also, this is an inefficient service if you have a PDF with multiple pages. Preview will only allow you to crop PDF's one page at a time.
Knowing how to utilize a PDF cropper is a vital competence for those who handle this type of document regularly. The built-in program is a great alternative to the possibility to crop PDF online. Plus, it offers some other instruments, like highlighting text in PDF or annotation of your paper.
4. How to use third-party software on Mac to crop PDFs?
If you need more flexibility, there are plenty of third-party apps available to crop a PDF on macOS. These editors usually provide advanced options such as being able to extract images from a PDF or rotate pages of the document, etc. One such program is PDFsam Visual. Below is the description of how to crop a PDF on Mac with this editor:
Download the software from the website and install it on your PC.
Open the main menu and locate the "Crop" tool.
Upload the PDF to crop to the program or drag or drop the file with the mouse.
Adjust the cropping area manually or enter the specific values for the top, bottom, left and right margins.
When satisfied with how the new document looks like, hit the "Save" button.
After processing, you can "View File", "Open Folder", or continue manipulations with the resulting PDF.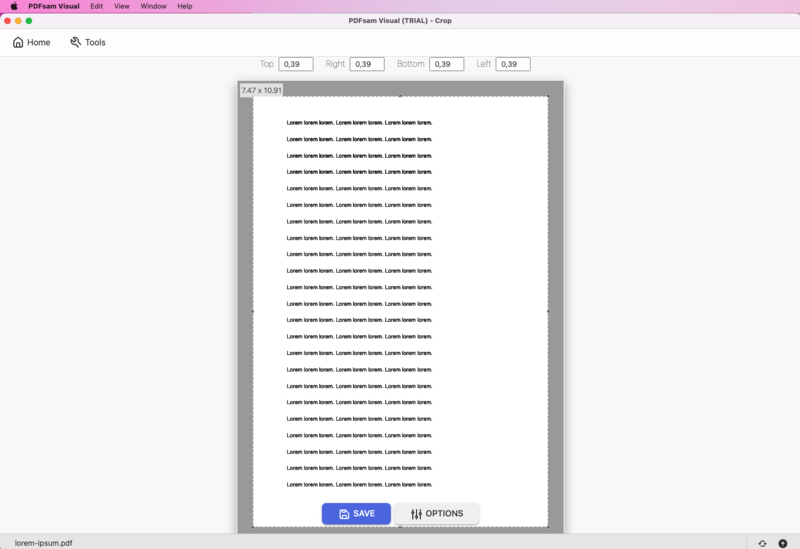 PDFsam Visual is the extended version of PDFsam Basic, which is open-source software. On the contrary, the discussed PDF cropper requires paid access as all its features are Pro. However, you can still crop a PDF for free with this method by using a free 14-day trial.
Overall, this Mac program for cropping PDF files is an excellent tool for quickly adjusting documents with extensive borders. Moreover, when exploring other program's features, such as the ability to extract pages from a PDF or convert images to PDF, you may find yourself ready to commit to a paid subscription.
Online PDF croppers vs software for Mac to crop PDFs
Cropping PDFs electronically offers an effective means to delete superfluous components of a document whilst preserving the original quality. However, desktop PDF croppers have their own advantages too. See the comparison of online and offline tools below:
Advantages of the instruments to crop PDF online:
Convenience. Cropping PDF files on the web is quick and easy. All you need is an internet connection and a browser. Also, web-based editors do not take up any storage of your device.
Affordability. Many platforms allow you to crop PDF online for free or are very inexpensive. Most of them offer free accounts with basic features, while premium has additional instruments for a fee.
Shareability. After cropping your PDFs online, you can easily share them directly from the website via a link or cloud storage services such as Google Drive or Dropbox, which many PDF croppers are connected to.
Advantages of offline programs to crop PDF on MacOS:
Efficiency. Offline PDF cropping allows for quick and easy editing. You can make changes to your PDF without any need to wait for an online tool to process the document.
Security. By installing an application to crop a PDF on Macbook or iMac, you do not have to worry about your documents being stored online. Your documents remain secure on your computer and are not accessible by anyone else.
Accessibility. When you crop a PDF file offline, all the files you are working with are stored within the program and you can easily retrieve them later. Whereas the websites will generally delete your PDFs within a certain time after you last edit them.
Today, both offline and online PDF croppers provide users with an extensive set of instruments. For instance, you can edit PDF text, add and exchange images. Above all, developers strive to make their desktop and web-based PDF editors as simple as possible to remain in the competitive market.
Conclusion
This article described 4 various methods of how to crop a PDF on Mac. As you can see, the process of cropping a PDF, regardless of the method you pick, is not too hard. There are plenty of options for Mac to crop PDF files. Try the suggested methods and pick what fits your current needs when working with PDF files!