People who work with documents in PDF format often need to crop pages. In this article we will explain how to crop a PDF on Windows in both online and offline way. You might need a PDF cropper, for example, to make a bank check look more presentable and readable. Or to remove unnecessary fields and headings with watermarks, trademarks, labels. The offline method is more stable because it does not depend on Internet connection. The online method is simpler because it can be opened and used very quickly. Choose what suits you best.
1. How to crop a PDF on Windows: Offline way
Let's start with a method to crop PDF that will work for Windows 11, 10, 8 and 7. You will need to download PDF Candy Desktop for Windows and install it. Below you will find step-by-step instructions.
Open the "Crop PDF" tool in PDF Candy Desktop.
Upload a file from your computer. Alternatively you can drag the PDF over the tool's icon in the software's window.
Use the dotted lines on the edges of the page to crop PDF.
Click the "Crop" button to create a new file.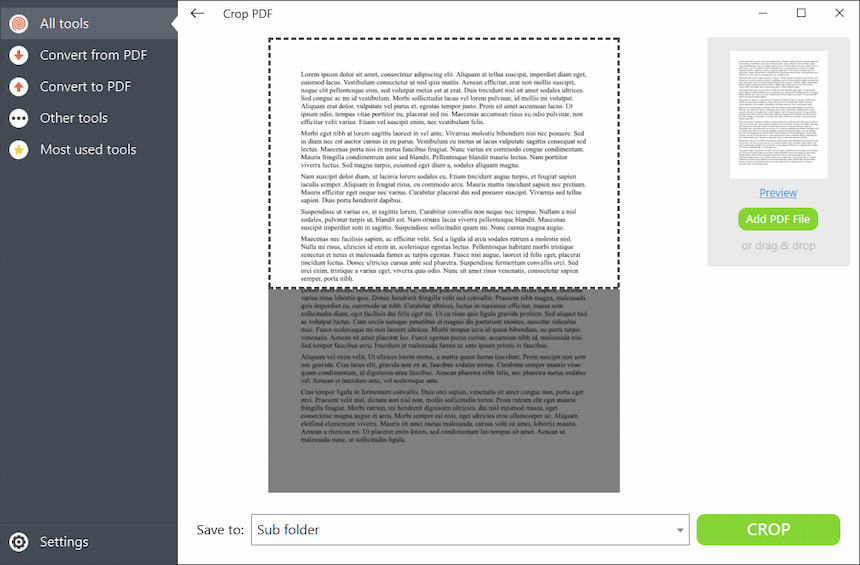 Pros
Crop a PDF even without the Internet.
No worries that the page might reload and you'll have to start all over again.
A great option for working with private files. All input and output data remain only on your computer.
Set a destination folder for created files.
2. How to crop a PDF on Windows: Online way
First, open the browser on your computer, and head over to Crop PDF tool.
This will open the main working window, where you need to upload a PDF file. To do this, click the "+ Add File" button and use the File Explorer to select the document you want to crop. Drag&drop mechanism is supported, too.
After uploading, the first page of the document will appear. Set the new frames or boundaries for all the following pages in the file. This is done with the help of a dotted line, which can be stretched and squeezed with the mouse. Click on the corner or any side of the selected area and move the lines across the working window. This way you set the area you want to keep in the document, the rest will be cropped by the program.
After making all the settings, click "Crop PDF". The system will start to process the data, and then will display a message saying that the procedure was successfully completed.
If you want to save the modified PDF to your PC, click "Download file" and select a folder to save it.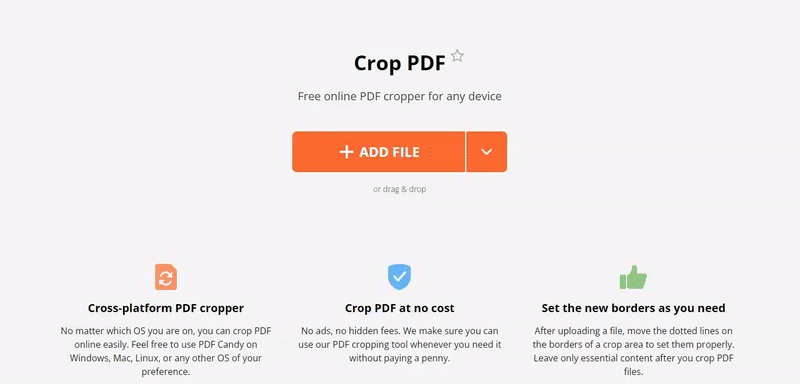 Additional features of the service to crop PDF online
You can take advantage of the opportunity to use Google Drive or Dropbox cloud storage to upload and save the desired file. This will save the disk space of your PC, which is relevant, e.g., for laptops with a small hard drive.
This tool crops all PDF pages at once. If there is more than one page in the file, others will be cropped the same was as the first one. It is very convenient if you wish to crop a PDF to remove a trademark label or watermark on all pages at once. Thus, the user does not have to first split PDF into separate sheets and then process each of them.
Before saving the resulting document to their PC, the user can use the online PDF editor to make the document more accurate.
Advantages of online PDF Cropper
Crop PDF online even on weak PCs with low performance. It requires only a stable Internet connection to work, which allows you to use the online service anywhere and anytime.
The user-friendly interface will be clear to a novice user. Users don't have to waste their valuable working time studying the settings and functionality of the platform.
Integration with cloud storage platforms allows you to store and use your files online. It also saves hard drive space, which is important for weak laptops.
The platform allows unregistered users to crop PDF for free. In addition, the paid version will not ruin your budget too much and will allow you to work with any number of files.
Accurate processing and system reliability allow the user to obtain high quality documents for further use.
Works on mobile devices, too.
Summary
Now we told you how to crop a PDF on Windows in 2 convenient and reliable ways. without resorting to third-party, sometimes very confusing and complicated programs, in just a few minutes. Use offline PDF cropper for regular tasks.To crop a PDF online, all you have to do is open the website, select the right tool, and get the resulting file.
You can use other tools to create a high-quality PDF file that you can send to your manager, colleague, or teacher. You can crop presentation files for company employees, graduate qualification works for students and teachers, contracts for company management and so on. Make sure to compress the PDF file if it turned out to be way too large. Or add a watermark to PDF to protect your intellectual property.