Processing documents on your computer without an Internet connection makes sense if you're dealing with confidential files that you don't want to put anywhere online. Also, if you are working with a large number of heavy files, offline conversion and editing will be better than online. In the guide below you will find information on how to convert PDF to JPG offline and its obvious advantages.
How to convert PDF to JPG without the Internet connection
Download PDF Candy Desktop on your Windows computer. Install and run the software.
Drag and drop a PDF into the "PDF to JPG" icon. The relevant tool will be opened automatically. Note: you can add multiple PDFs by clicking the plus sign in the right menu or by dragging and dropping more documents into the program's window.
Preview the files, select specific pages to be converted. "Split" option automatically splits the documents into single pages, each one will be converted to an individual image.
Click Convert to turn PDF to JPG offline.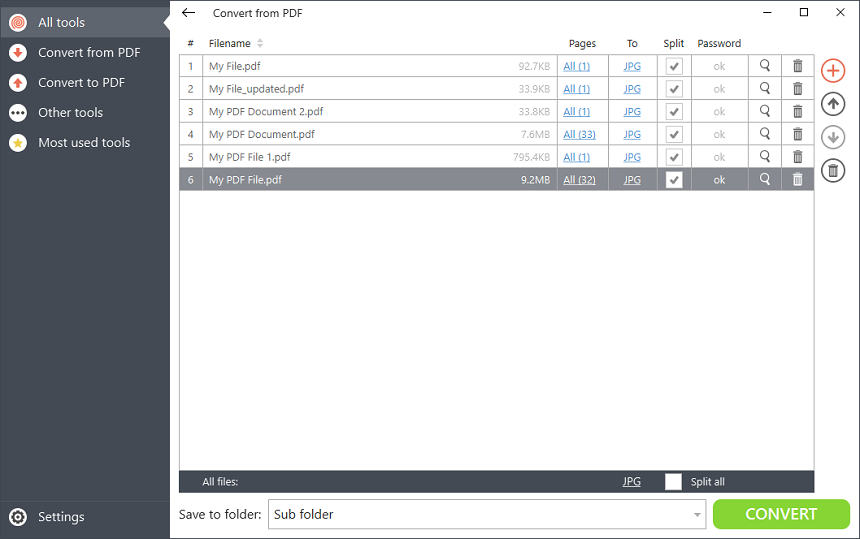 Why convert PDF to JPG?
PDF is a file type that contains text and images that are easily edited and formatted within the document. JPG is a compressed image format that is not as easy to edit unless you are a designer. Sometimes the difficulty of editing a photo is just what you need. That's why you may need to learn how to convert PDF to JPG offline. For example, you can take a PDF flyer and convert it to JPG for later customization.
Such a file might be smaller because the JPG image should be smaller than the PDF. You may also want to convert PDF to an image so you can use that file as an insert into another document. For example, adding a JPG to a Word document is easier than a PDF.
Benefits of offline PDF to JPG conversion
Sometimes the connection may be poor or non-existent. For example, you may be traveling and therefore have unreliable or insecure WiFi. It's also difficult to get online when you're riding the subway or visiting the countryside. In such cases, you have to convert PDF to JPG offline.
Instead of getting frustrated with an online converter, you can use PDF Candy Desktop. Our software can be downloaded to your Windows PC and is not dependent on wireless internet. This means you can be anywhere when you're working on your files, saving yourself the headache of finding the best place with web access.
| Online Converters | PDF Candy Desktop |
| --- | --- |
| Available only online and depends on your Internet availability | Available on your Windows PC regardless of your Internet connection |
| Require a subscription in majority of cases | Free to download and requires no login or account |
| Stores your data and personal information | Never stores any of your data |
| Files are in the cloud, so you have to get them in time | Saves files to your device for easy access |
Conclusion
Information is not always needed in a PDF file; sometimes it is easier to work with images, such as JPGs or JPEGs. Although there are ways to convert PDF to JPG online, it requires a reliable and robust Internet connection. If you are going to travel or have unreliable and unstable WiFi or coverage, PDF Candy Desktop is a standalone tool that will allow you to convert PDF to image on your Windows device. It's free to download and is easy to use while keeping your data safe.
What else you can do on Windows OS
Combine PDF files on Windows or merge PDF online on any OS.
Convert PDF to Word offline or turn PDF to Word in a browser of your choice.